Bonica Brown, a senior this fall at C-S High School, Battle Creek, MI, earned three gold medals, a silver, placed first in her weight category and won a Champion of Champions trophy at the North American Powerlifting Championships at the James L. Knight Convention Center in Miami June 18th and 19th. But perhaps her biggest accomplishment was her world record lift in the squat of 501 1/2 pounds.

The squat total makes Bonica the youngest female to eclipse the 500 pound plateau and puts her in a category of only a select few in any age category who have recorded a 500-pound squat lift.

She garnered international attention recently by bringing home four gold medals from the 2004 World Jr. and Sub Jr. Powerlifting Championships in Pretoria, South Africa Sept. 8-12. Brown earned gold medals in the deadlift, squat, bench and for a total weight, helping the U.S. Women's Team to a first place finish at the event. Her team scored 57 points, Russia was second with 48 points and Ukraine third with 44 points.

Bonica had reset the world record in her weight division (198 pounds) two previous occasions with lifts of 473 3/4 pounds and 479 1/2 pounds before recording the 501 1/2 lift for a gold medal. She also earned a gold medal in the bench with a world record mark she reset at 264 1/2 pounds (the world record mark was 248 pounds. The talented powerlifter earned a silver medal in the deadlift with a lift of 385 3/4 pounds and had a total weight of 1152 3/4 pounds for a gold medal.

She also earned the Champion of Champions trophy, which is given to a weight lifter based on a formula of how much the person lifts are according to their weight.

Bonica will now prepare for the Sub. Jr. Worlds Competition in Indiana in September.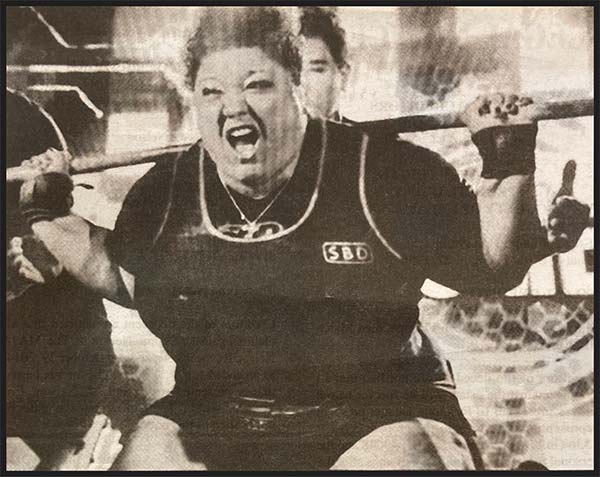 JUNE 25, 2021 UPDATE!
Bonica Brown Wins Gold On Back To Back Days
2006 C-S Graduate Unofficially Resets Her Own World Record


Bonica won gold at the 2021 USAPL Classic Raw Nationals at Daytona, Florida last Friday and then turned around and won a gold medal at the 2021 USAPL Equipped Nationals the following day.
Having to lift in back to back USAPL events has never been done, but Bonica's mother; Pam Brown, said the second event was held the following day because of covid. Typically, the meets are months apart.
At Saturday's event Bonita recorded a squat lift of 235.5 Kilos/650.4 Lbs; Bench pressed 210 Kilos/463 Lbs, had a Deadlift of 232.5 Kilos/513 Lbs, and a total weight of 737.5 Kilos/1,625.89 Lbs.
At the 2021 USAPL Classic Raw Nationals at Daytona, Florida last Friday she recorded a squat lift of 276 Kilos/608.47 Lbs, which is an American record. She also had a bench press lift of 155 Kilos/341.71 Lbs and a dead lift of 240 Kilos/529.1 Lbs for a total weight of 671 Kilos/1479.28 Lbs.The C-S graduate beat her own world record in the squat at the USAPL Equipped Nationals with a lift of 276 Kilos a short time after another lifter had eclipsed Bonica's record with a lift of 275.5 Kilos.
Her previous World Record is 273 Kilos, however a lifter can not set World records unless they are competing at the Worlds event.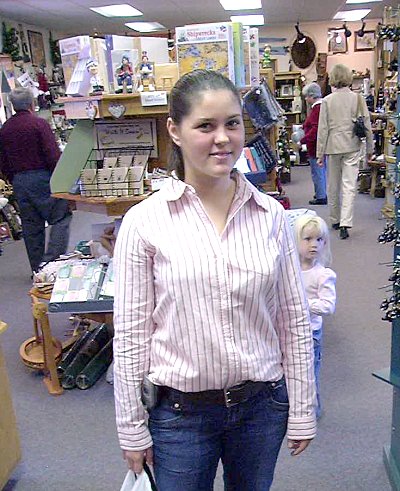 Here's Tara Weston from Atlanta, Georgia
with Gracie Weston (little girl behind here) from Ishpeming, Michigan...
Tara is visiting her brother and enjoying the wonder of it all
here at Da Yoopers Tourist Trap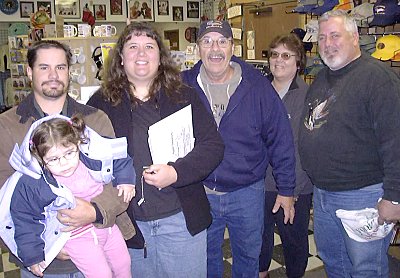 Here's Josh, Anna and April Gremel, along with Lynette and Bill Eremia from Unionville, Michigan
That's Hoolie da head Yooper in da middle, eh....
They are here in the U.P. enjoying the late summer snow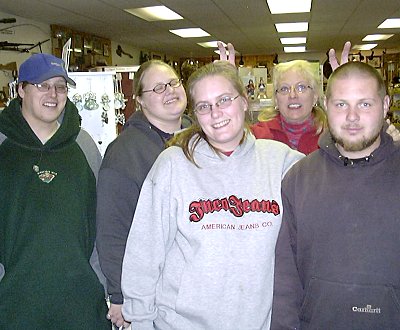 Here's Nick and Tara MaCartney from Duluth, Minnesota,
and Jerry Kreay and Rick Pohanku from Duluth, MN...
Dat's Lynnie-poo behind them....
Up visiting friends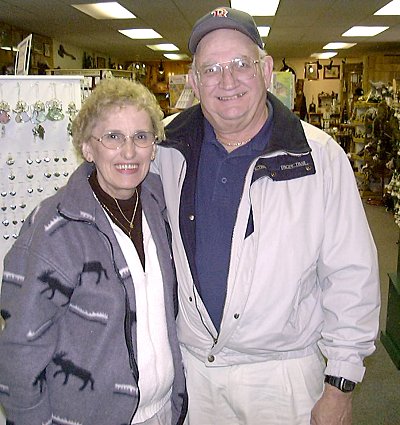 Here's John and Marilyn Moore from Milford, Michigan...
Taking a brake from the hassle of it all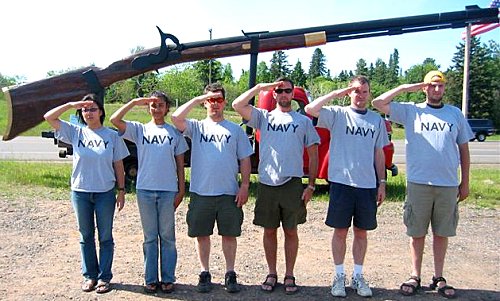 Here's Suerie, Reena, Amon, Paul, Tony, and Nils
on a post-Princeton graduation cross country road trip...
Here's were the gang's now residing;
Suerie – Congo, Reena – DC, Amon – DC,
Paul – London, Tony – NYC, and Nils – Boston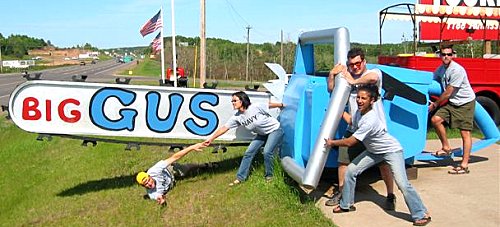 Let's see if dis ting works!
Hay Nils, you be da log and we'll operate da saw...sound good ole' pard?

Reena has a ting for Yooper Miners...


Here's Hoolie with Tony and
da gang...


While taking a dump, Nils takes a peek at da Buck's naked women book...


Amon decides to help da Buck out a little bit, pretty much...

Here's Hoolie with his cousin
Jeffrey DeCaire and family


(above and right)
Seth Anderson in
Yooper - 2nd Week of Deer Camp attire...
Traverse City, Michigan

Liza and Dan Smith
from Rockford, Michigan
(On their honeymoon)

Roberto and Pat from Chicago, Illinois
up visiting Ray of Skandia, Michigan
(And looking for Yooper Babes)

Bill and Virginia Sonier
from Crystal and Lanse, Michigan
and Lillian Madden
from Onaway, Michigan



click to view larger image)
(not necessarily in this order)
(This persons writing was very hard to decipher, I'm sure some of these names are misspelled, please send correct spelling)
Todd and Judy Aylin - Brillion, WI, Deb and Gary Anhalt - New Halstein, WI, Sandy and John Byrnes - Chilton, WI, Qynn and Mary Beelle - New Halstein, WI, Lerroy and Verlene Hauess - Brillion, WI, Spundy and Melly Maggi, Elly Mae, Tiffany
"We are on vacation viewing the fall colors"


Jim and Vicki Jonas
from Seattle, Washington
(Taking an American tour on the back roads)


(click to view larger image)
(not necessarily in this order)
(some of these names may be misspelled, please send correct spelling)
The Kruhak family: Boris, Draga, Igor and Jasmina from Croatia
and Dawn from Kingsford, Michigan
(family visiting for wedding of Dawn and Igor)


(left photo)
(not necessarily in this order)
Rich and Cheryl Duysen
from Moorhead, MN
and Murray and Roberta Duysen
from Fargo, ND

(not necessarily in this order)
Jerry and Lori Kobishop
and Tami, Mike and Jonathan Tiplee
from Peshtigo, Wisconsin
They're here to camp and are also taking part in the Barnes and Hecker Mine
Disaster Dedication

Sherry and Mike Nelsen (natives of Michigan)
with friends Sharen and Carlton Anderson
(Foreigners from Illinois)
Touring famous sites

Bruce, Judy, Tanya and Tessa Burgess
from Grand Haven, Michigan
"We are visiting a Professor
at Michigan Tech"

Robbin Mackay-Hunt
and Theresa Mackay
from Livonia, Michigan
Came up to Yooperland for Wedding
and to bum around

Jeff and Donna Bourcier
from Mount Rose, Michigan
Just bumming around


Lora (from Denver, Colorado) Ann (from Boston, Massachusetts) and Sharon from Grand Rapids, MI) are on an excursion to find Moose, Bear and copper.
They are originally from Gaylord, Michigan

Amy, Sarah, Holly and Tom Vaness
from the great U.P. capital of
Green Bay, Wisconsin
"Just hanging out"

Hoolie with Craig Michaels;
President of Remudo Records
from Berrien Springs, Michigan
originaly from Ironwood
"Bumming around"


Rival and Frank Decaire
(Hoolie's lost relatives)
from Gaines, Michigan
Up visiting family in Escanaba
and bumming around


Peter, Carol, Amy and Jonathan Van Steen along with there pets Jesse and Riley
from Gladstone, Michigan
Camping in the Keweenaw

Bonnie and Sam Milligan
from Walled Lake, Michigan
"Touring the Upper Peninsula on
our Honeymoon"



Chuck and Becky Twididell
from Mesquite, Texas
Visiting Brother in U.P.