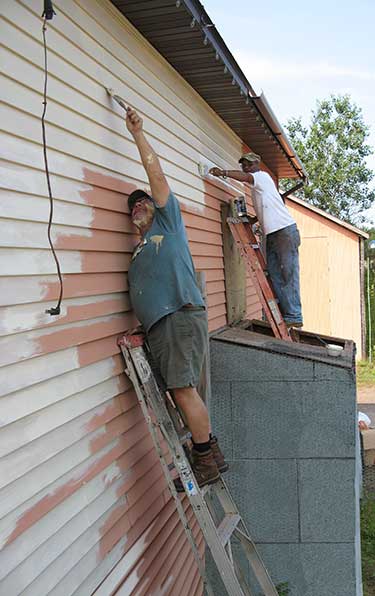 08-01-14
It's time to give the Trap a fresh new look!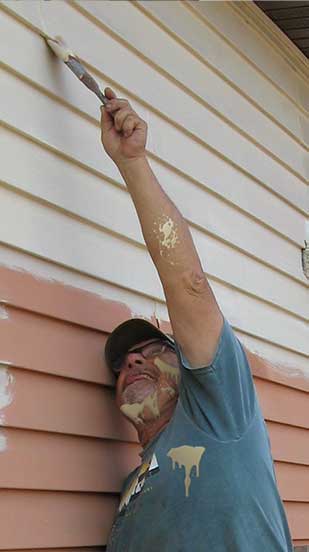 08-01-14
Hoolie ends up with a fresh new look In the process.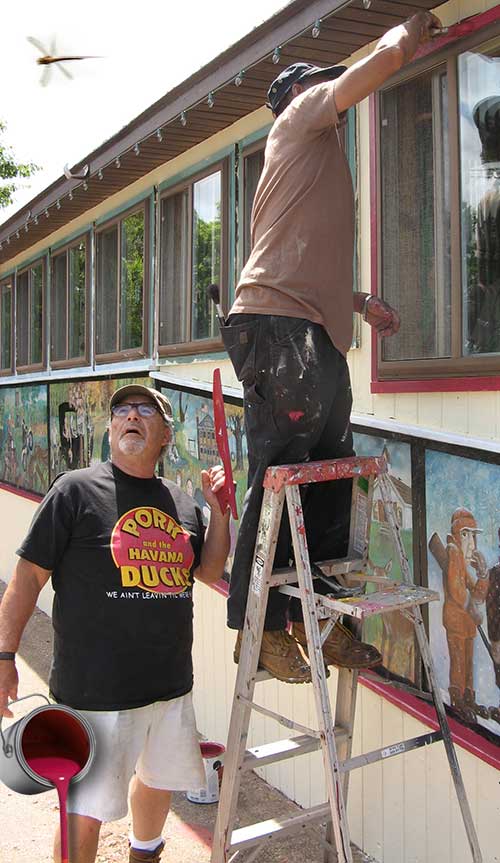 06-27-14
Here's Hoolie assiting Skeet and I with the east wall.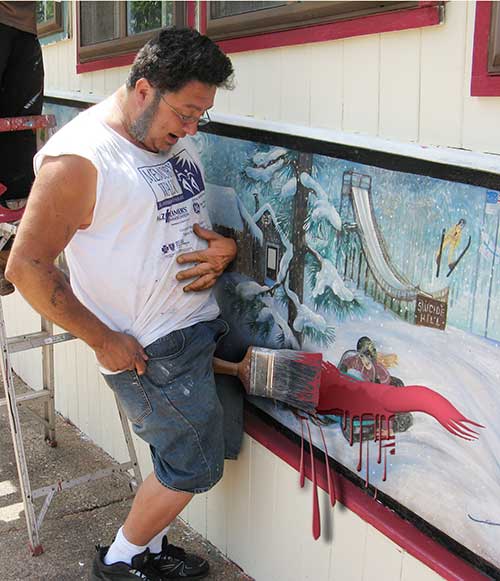 06-27-14
Though the sun was getting to me and Skeet, we still managed to finish the important east section that day.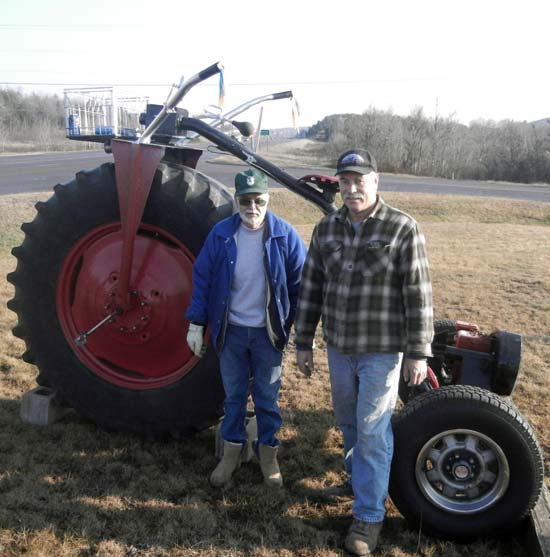 Here's "Big Shirley," The largest motorized Tricycle in Michigan, and possibly the largest in the world!
Standing with Big Shirley are Al Langevin (left) and Ron Giannunzio. They delivered it to us via trailer from Big Bay.
Big Shirley was designed by Dennis Takalo of Skandia, MI. Additional features were added by Ron Giannunzio (above) of Big Bay, MI.
SPECS: 3 HP Briggs n Stratton log splitter engine. 1970's Ford rear end with brakes. 1950 Massey Harris back tractor rim cut and re-fabricated for front wheel roll bar pipe frame. Bancroft Dairy basket & horn.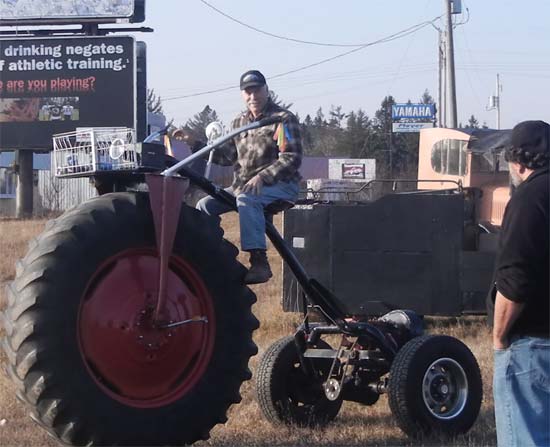 Here's Ron driving Big Shirley to its destination on the grounds here from the trailer. He was taking it slow, about 2 mph.
Ron informed us that earlier in the year, Mike Sleeman of Kalamazoo, MI. road the bike for 1 mile at 4 mph in Big Bay while many on-lookers cheered.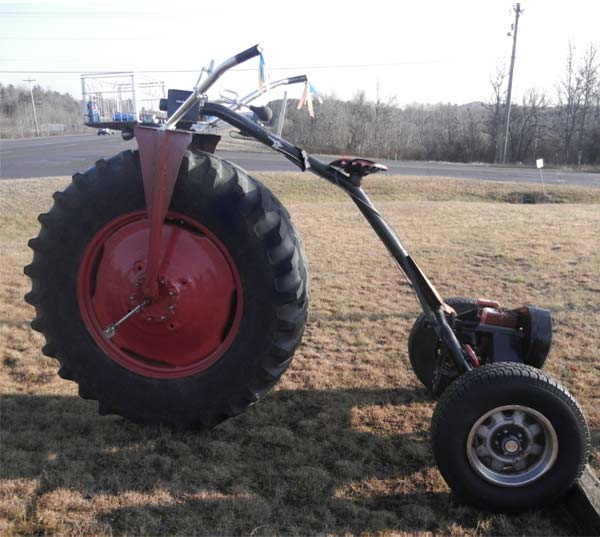 And here she is, Big Shirley, ready for all to enjoy here at Da Yoopers Tourist Trap!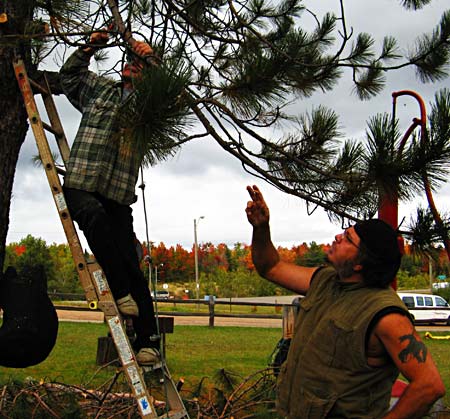 Tree Trimming Time!
Hoolie had an oversized wooden lawn chair built for visitors to enjoy. The best spot for it is under this tree. So, Bob-a-link and I commenced to giving the tree a shave. Hoolie had yet to return from home with his chainsaw, so in the mean time we used a
hand-saw.
In the pic above you can see me back seat driving while Link handsaws a branch.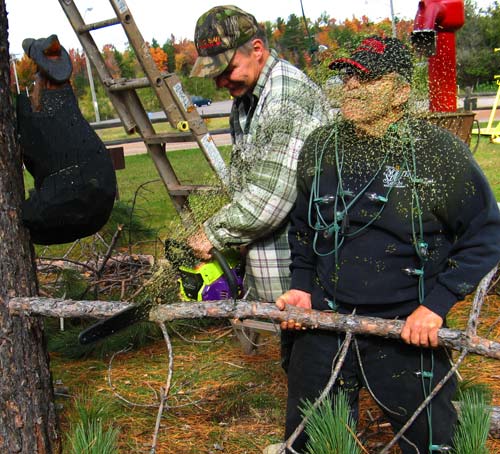 Hoolie returns!
Hoolie was attempting to take the Christmas lights down, which was tedious because they were tangled in the many branches and limbs we were cutting.
In this pic Hoolie takes time to steady a branch while Link saw's 'er off.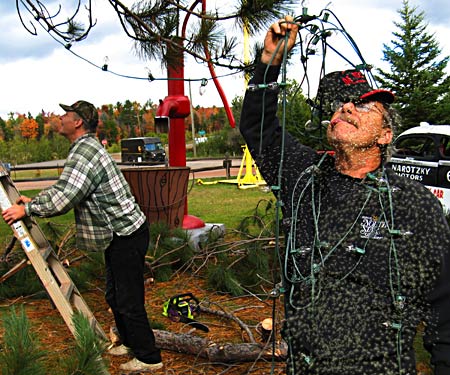 While Hoolie resumes removing the Christmas lights from the tree, Link positions the ladder for more sawing fun.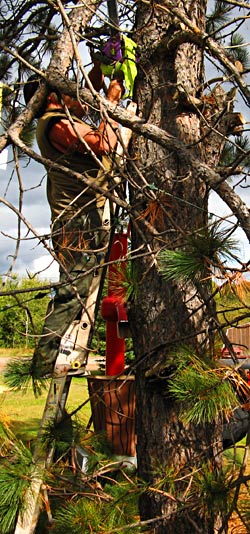 This chainsaw sure beats using a handsaw!
Here I am sawing away.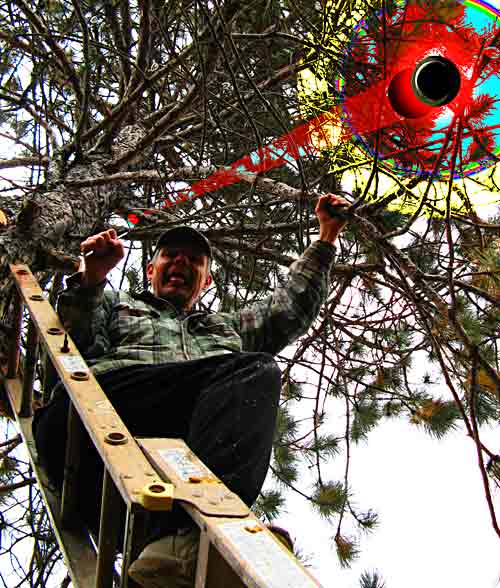 Smile for the camera Link-ee-poo!
OH NO! LINK'S FLASHING THAT ANNOYING LASER AROUND AGAIN!
HEY, IT'S BURNING A FRIKIN' HOLE IN THE CAMERA!
MAN! IT'S SENDING ME BACK IN TIME.. BACK TO A PLACE CALLED "NOW!"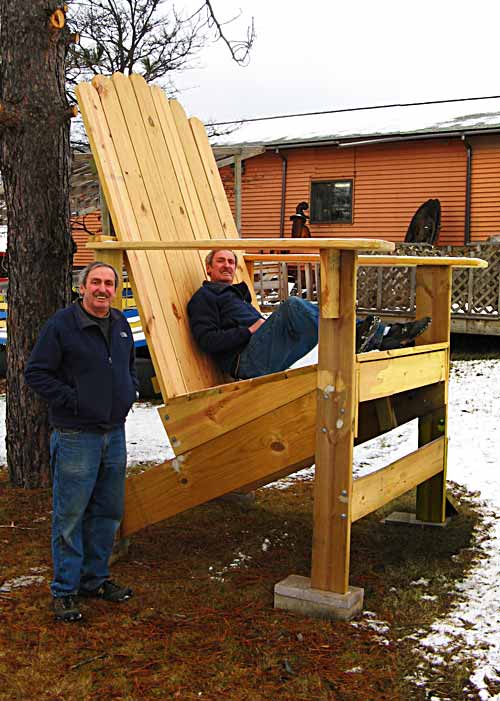 Here's Lil' Jimmy Tucker standing on your left along with his best friend Lil' Jimmy Tucker who's sitting in our new Jumbo Lawn Chair.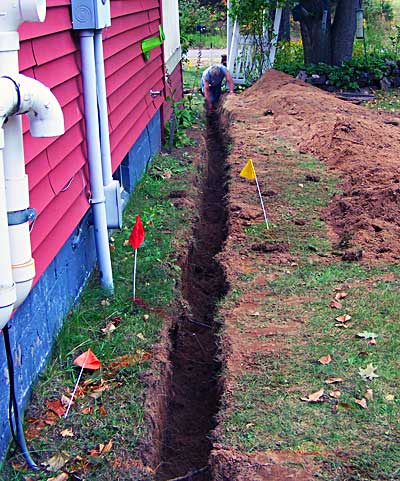 Hoolie took some shots of Nipper and I hard at work at his home. Hoolie said he detected what registered as "gold" on his metal detector in his yard, then told us were to dig. He told us we'd receive 20% each of what was found.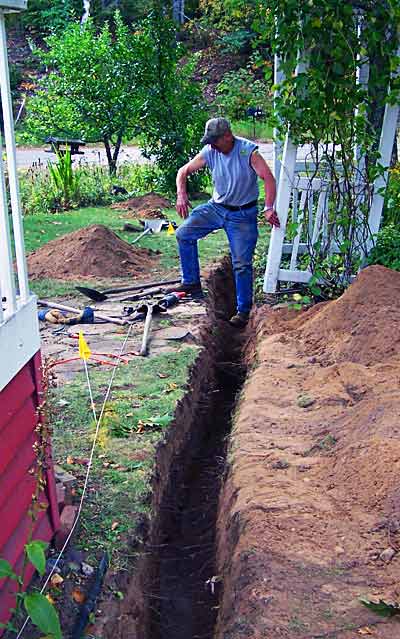 Nipper and I worked up and sweat while shoveling and removing stubborn tree roots, some as thick as baseball bats, which had to be axed and sawed.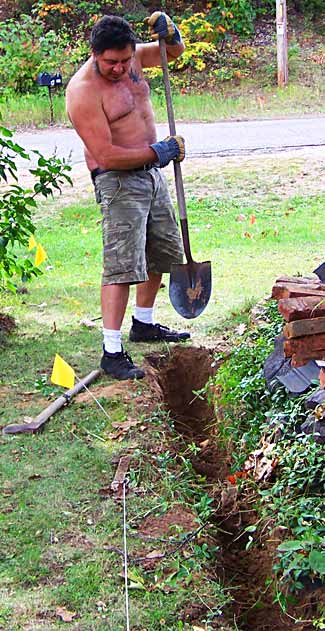 Every hour and a half, Nipper and I would take a break and talk about all the things we were going to buy with our share of the gold, though we had yet to find any..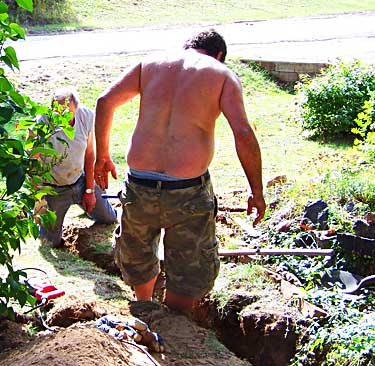 After 8 hours of hard work, Hoolie told us to call 'er quits. We told him we hadn't found the gold yet. His reply was, "you can't win 'em all, I may as well have a drain pipe put in where you guys dug."
Nip and I sure were bummed!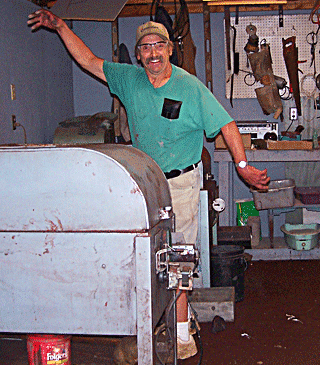 Here's Norm's brother Nipper hard at work at the Trap!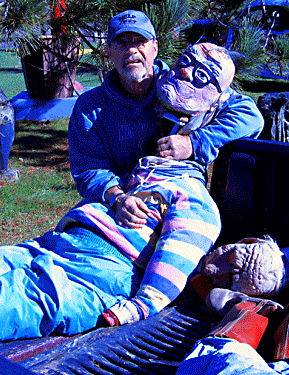 Another Summer has come and gone which means it's time again to prepare the grounds at the store for Winter. Hoolie loads the pickup with display-dummies which will then be hauled off to storage..

Hoolie wonders why this dummies' such a struggle to get into the truck! After realizing it's Skeet, Hoolie apologizes for touching his bum..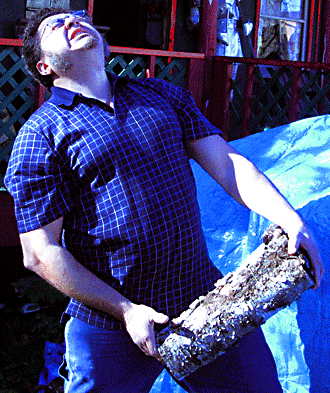 Here I am wrestling with wood..
wood that is needed for holding down a tarp which covers one of the displays..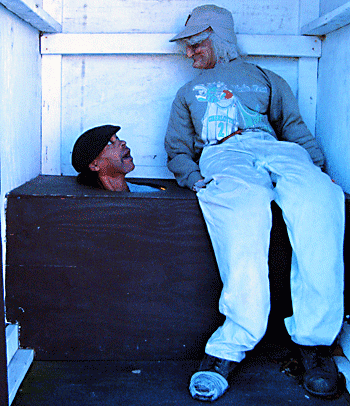 Skeet gives the out-house dummy one last pose and smile before carting him
off to storage..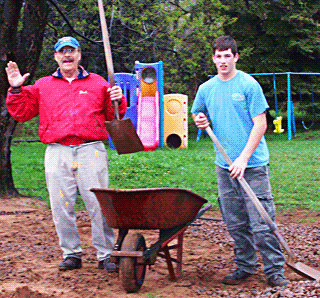 Hoolie directs Cory and Scott while spreading gravel in the back of Da Yoopers Tourist Trap..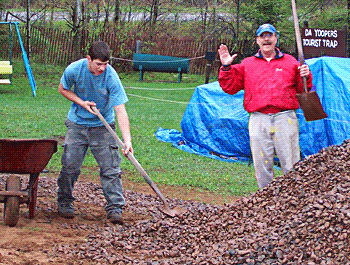 Cory tells Hoolie he may have found a hunk of copper, or gold, or a treasure chest, or something. Hollie yells, "DIG MY BOY, DIG!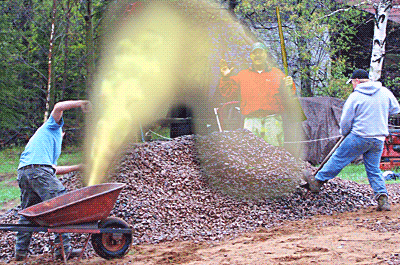 Hoolie then gets drenched in something stinky and foul, he yells, "MAYBE IT'S OIL?!?... It wasn't..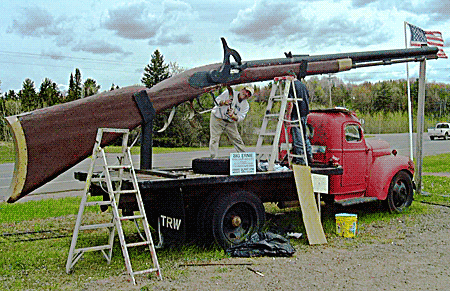 Hoolie and Cory do some maintenance on Big Ernie...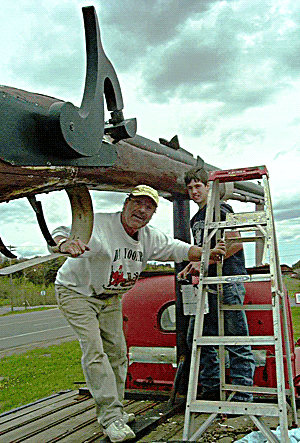 Hoolie's feeling good, his headache from the night before (fell asleep with the wrong pillow) has finally gone away...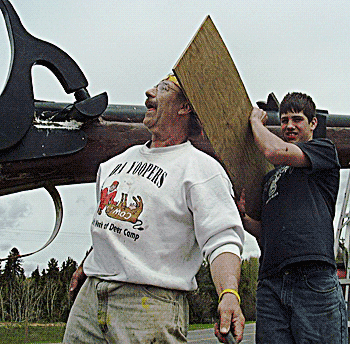 Cory smiles for the camera and inadvertently reintroduces Hoolie's melon throbber...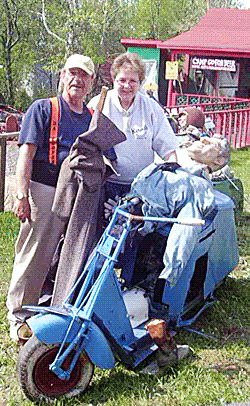 Hoolie and Norm setting up da dummies with new duds for 2006...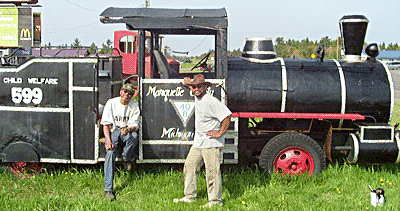 Skeet and General do some body work on the old Marquette County Parade Train ...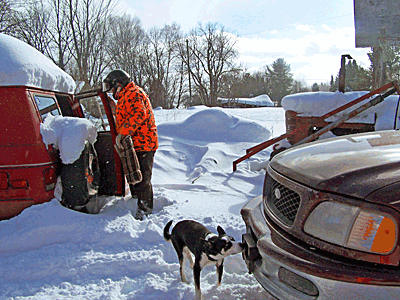 Glen takes a pee before he and Hoolie take off on da sled for some ice fishing...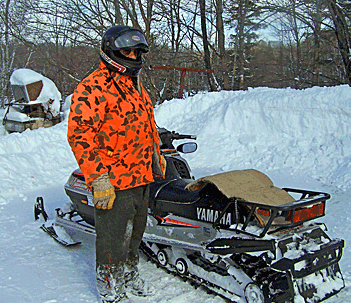 Glen shows Hoolie where to place his bum and tells him to hold on...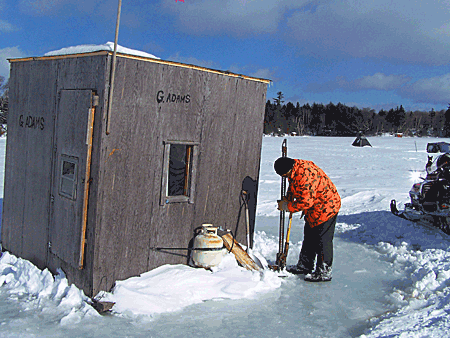 On the way there, they flipped da sled over... Hoolie flew off and rolled through da snow laughing, only to find Glen totally motionless on his stomach. Fortunately, Glen was only in mild shock. They spent the next hour digging da sled out, but finally made it to the ice shack.
Glen jacks up da shanty, which is slowly sinking...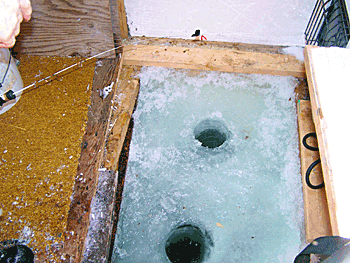 Glen promises Hoolie an exciting catch, "da lakes full of plump, tasty fish!" he says...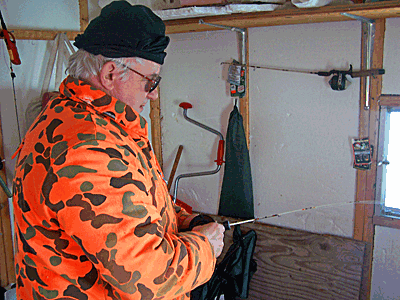 "See Hoolie, dere's a way to work da rod, a magic touch, see? See?"
Glen shows Hoolie his technique...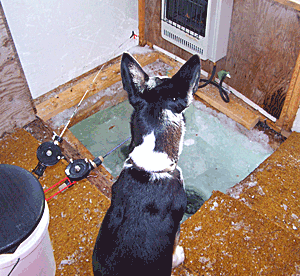 Glen's dog alerts da chatting pals to the twitching rod...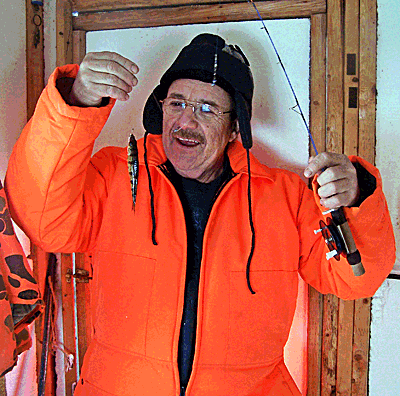 Hoolie screams "I win," and thanks Glen for the lesson as he reels in a monster...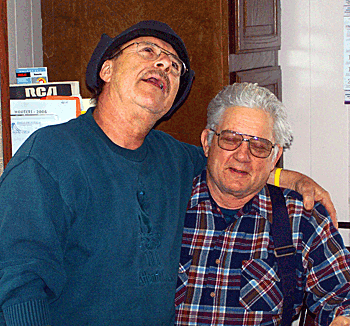 After an exciting day, Hoolie sits on Glens lap as they reminisce on there adventure..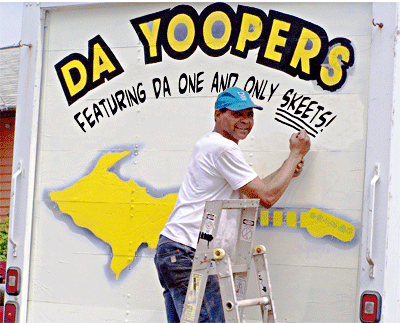 Hoolie has Skeets touch up the bands Equipment truck...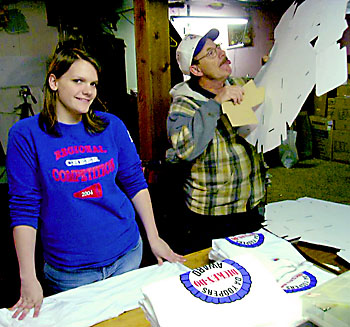 Hoolie attempts to show Ashley how to assemble the cardboard CD displays...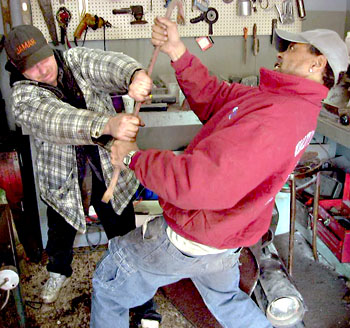 Skeet's and Bill-bob get along and work well together, here they are deciding who gets to use the crowbar...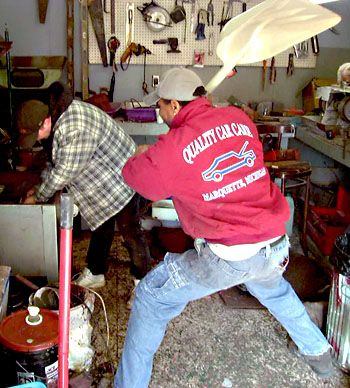 Mosquito's tend to pop up in the spring... Skeet, being the respectable fellow that he is, spots one on the back of Bill-bob's head...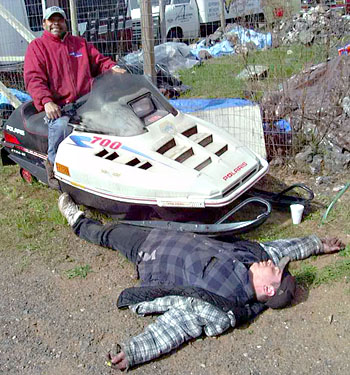 Who says a brother can't drive a snowmobile?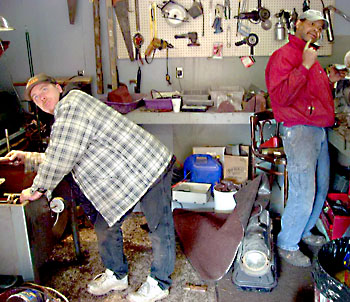 Bill-bob wonders where he left the tools he used in the fall, Skeet's remembers finding them, and then leaving them somewhere...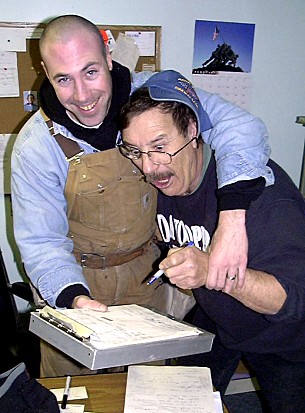 Here's Richie Lusardi (son of Hoolie's sister Denise) showing Hoolie where to sign da bill for some cables he ran in Da Tourist Trap for high speed internet. Hoolie pulled out a "Lincoln" from his wallet and offered that as payment, dat's when Richie politely gave Hoolie da pen and kindly helped him sign da bill showing amount owed...