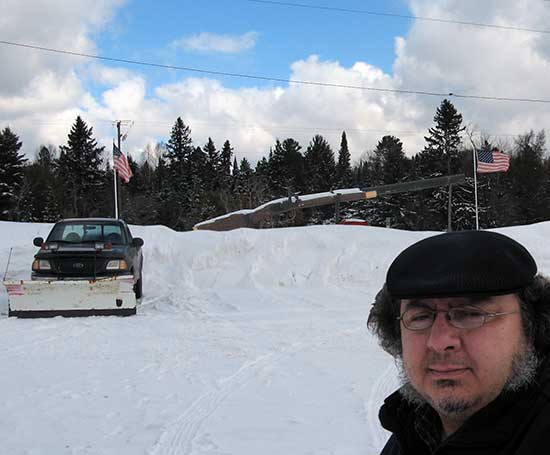 03/20/14
Here's a selfie I took after plowing showing that as far as Spring is concerned, we are experiencing early February conditions here in Yooperland.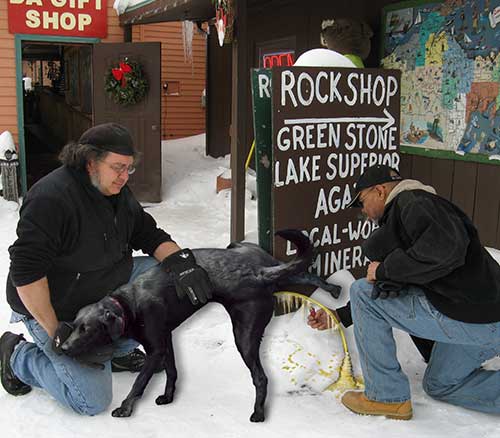 02/04/14
It has been an exceptionally cold winter so far, and yes, we've received a lot of snow also.
Here's Skeet and I tending to "Rocky," a local business owner's pet who usually stops by several times a year during the summer to say hello and get his treat. Rocky was attempting to take a leak when the frigid below zero temp caused his stream to freeze solid before he could finish. Notice Skeet carefully working the lighter while I comfort lil' ole Rocky-poo....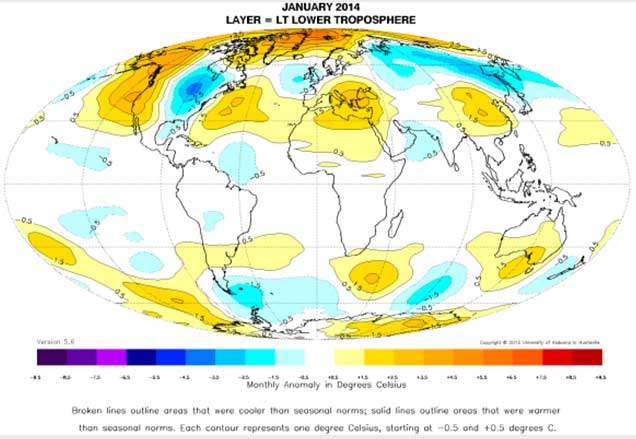 02/04/14
Compared to seasonal norms, the coldest place on Earth in January was the upper peninsula of Michigan near Iron River, where temperatures were as much as 3.86 C (about 6.95 degrees Fahrenheit) cooler than seasonal norms, according to Dr. John Christy, a professor of atmospheric science and director of the Earth System Science Center at the University of Alabama in Huntsville. This was part of a large area of cooler than normal temperatures that covered most of the eastern U.S. and Canada in January, stretching from just south of Hudson Bay through the Gulf of Mexico.
Generally, however, Earth's atmosphere was warmer than normal in January, with the warmest spot over northeastern Greenland by the Arctic Ocean. Atmospheric temperatures there averaged 6.24 C (just over 11.2 degrees Fahrenheit) warmer than seasonal norms
for January.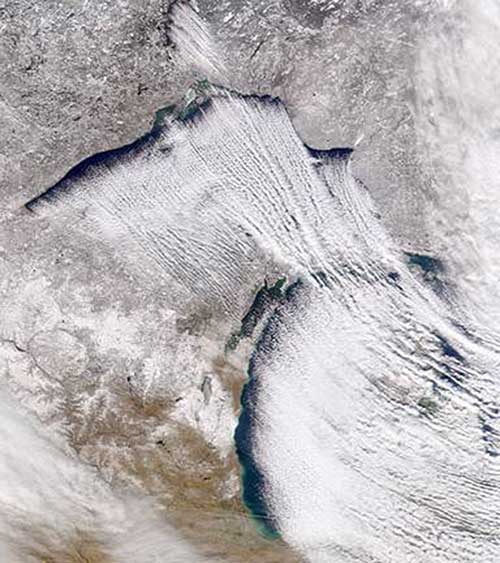 02/04/14
Above is a satellite photo of Cold northwesterly winds creating lake-effect snowfall over Lake Superior and Lake Michigan. It sometimes seems Amazing that we humans can live in such conditions.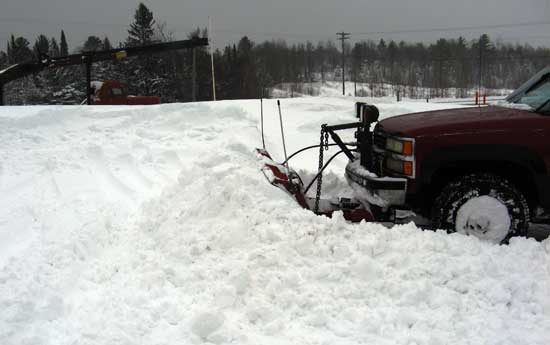 04/12/13
We're into the second week of April and still receiving loads of snow! More is forecasted for tonight into tomorrow, so it looks like I'll be plowing Saturday also!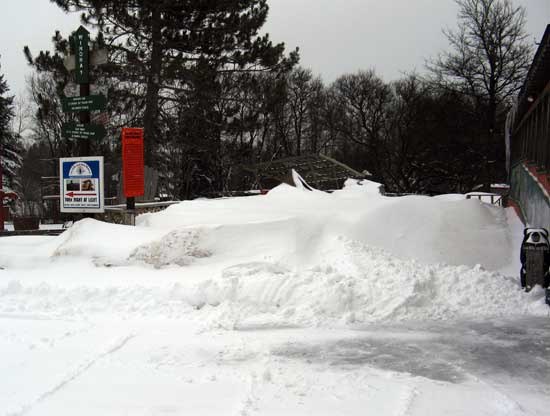 04/12/13
Last year at this time we had already setup many of the displays. We literally had no snow! Hard to believe when viewing these pics...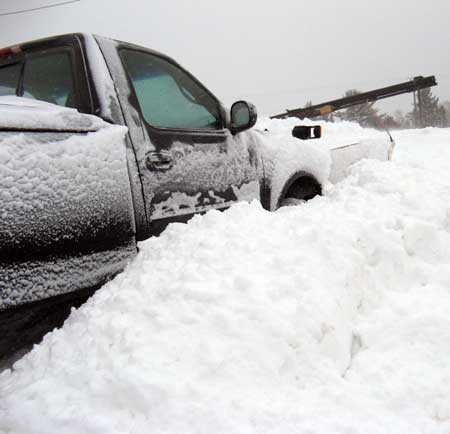 03/15/13
With wet, slippery and heavy snow like this, you have to be careful not to bury and hang up the front end while plowing...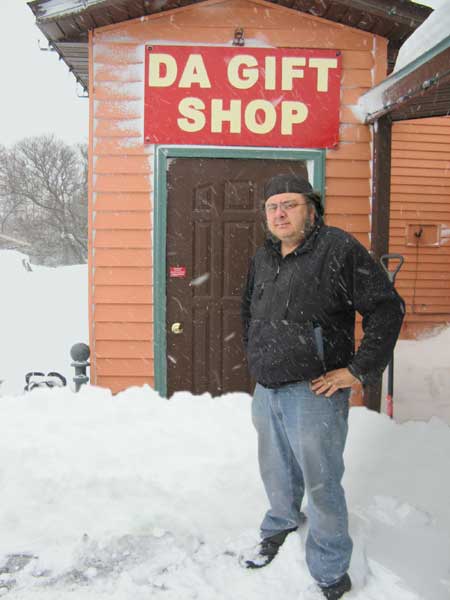 03/15/13
It's hard to believe that last year at this time we had virtually no snow...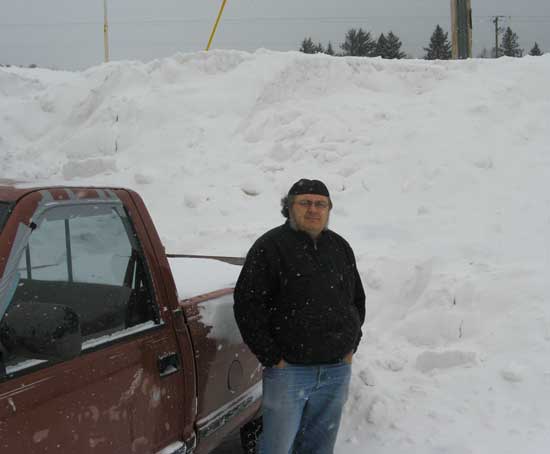 02/20/13
Man, the parking lot is becoming smaller because of all the snow. In this pic the highway is behind the mountain of snow I'm standing in front of.
We snapped these pics after two days of steady high winds and snow, and all the plowing, shoveling and snow blowing that comes with it.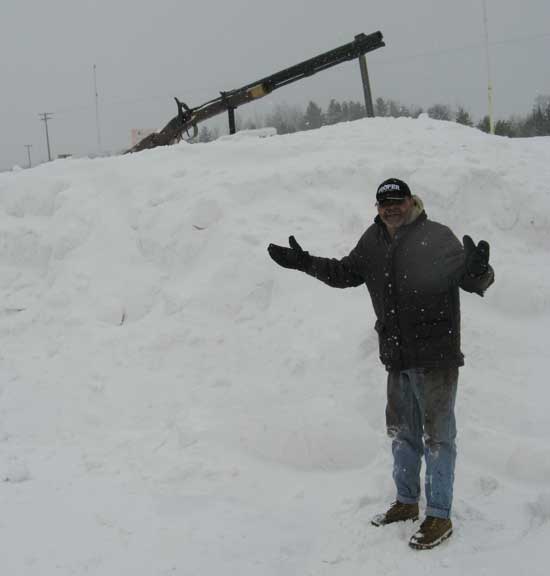 02/20/13
You can still see Big Ernie behind Skeet. You wouldn't guess that Big Ernie is mounted on a flat-bed truck if you didn't already know, that's how high the snow banks are!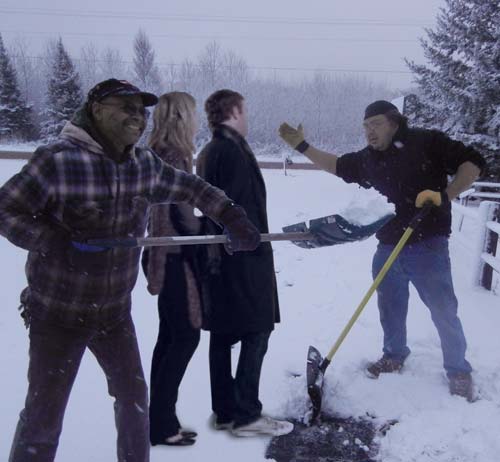 10/30/12
While Skeet and I were shoveling after our first snowfall, a couple of tourists from Detroit came over and asked why the outdoor displays were covered up.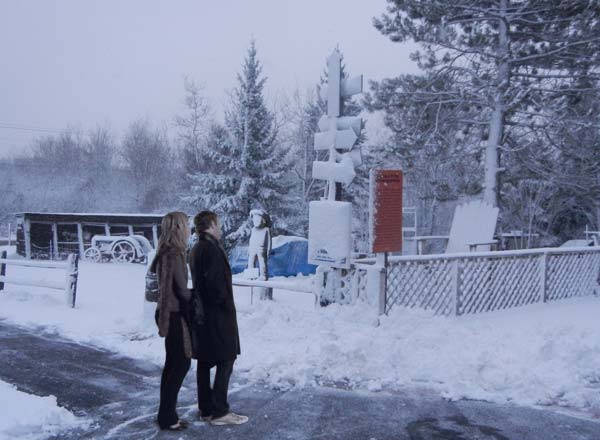 10/30/12
Here they are wishing they had visited a month or two earlier...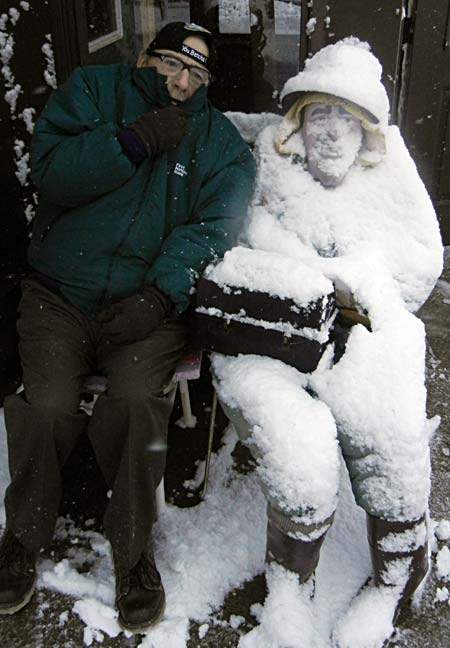 10/30/12
Hoolie takes a seat and chats with one that still needs to be put away til Spring ...

Hoolie in the parking lot here at the Store during the first week of March
03/01/02



Here's the same spot ten years later during the first week of March
03/07/12
03/07/12
It's amazing! It's astounding! It's also a bit scary...
Most of our snow has melted and it's not even mid March.

Here I am at the back entrance of the Store
in mid March
03/13/06


Here I am on the same spot during the first week of March
03/07/12
03/07/12
Records are being broke all over the planet concerning climate changes. There are still many experts that believe it's a natural cycle. I hope they're correct.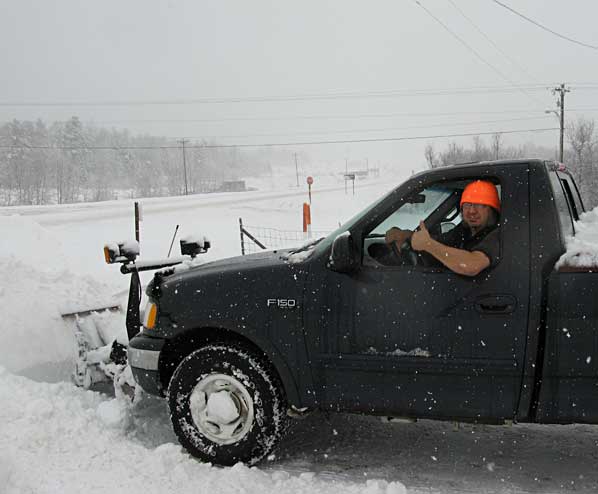 01/25/12
Our third day of continuous snowfall... I'm so sick of snow! Here I am wearing my favorite orange plowing hat.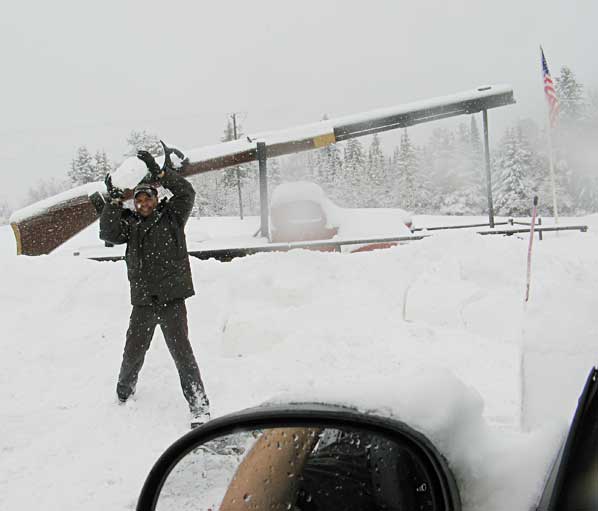 01/25/12
Skeets sick of snow too... Here he is seconds before clobbering me with a giant snow-bolder....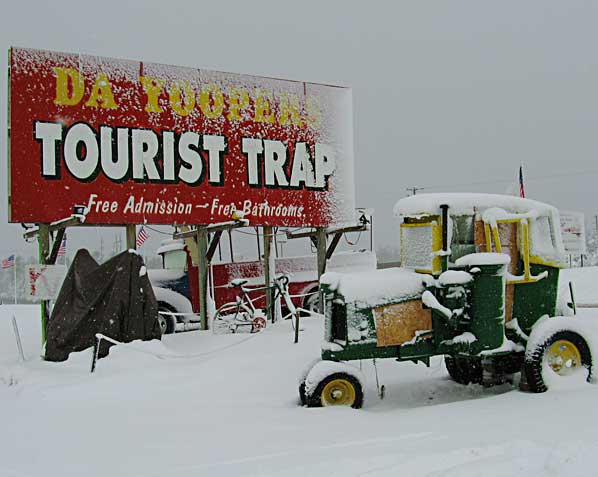 11/10/11
Our first storm of the winter, a heavy wet headache of white everywhere you look here
at Da Trap!
National Weather Service forecasters in Negaunee Township said the storm, which began dropping snow on areas west of Marquette late Wednesday morning, left a total of 12.2 inches of snow at the NWS office, with 13.1 inches in some areas of Baraga County.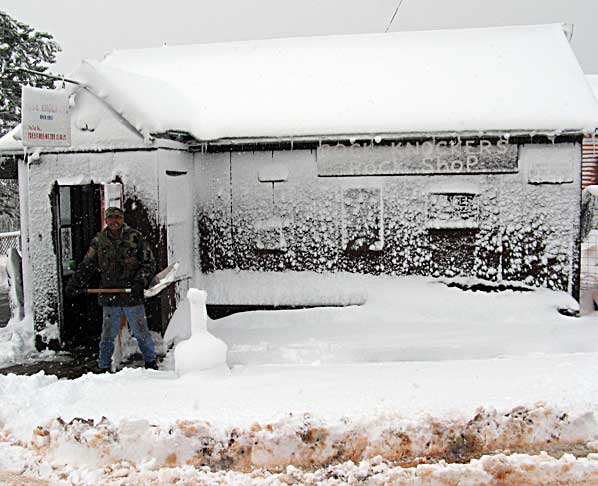 11/10/11
The higher terrain of western Marquette County got the most, while some areas near Lake Superior (Marquette for instance) saw little more than an inch, due to higher temperatures near the shore
.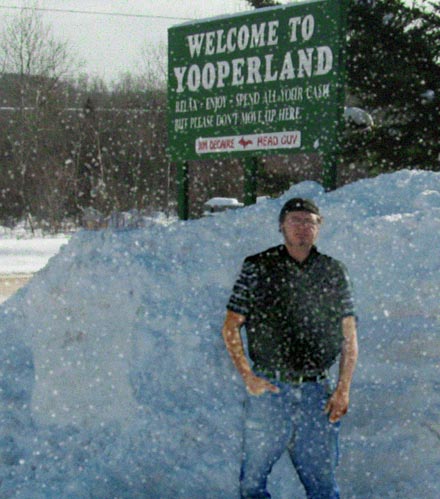 01/15/11
Here I am Showing how high one of our snowbanks became by mid January.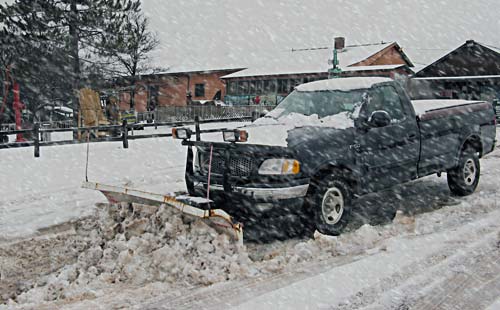 03/10/11
Over all this Winter has been easy. Much less snowfall resulting in a easily maintainable melt-off. Here I am plowing while Skeet snaps a pic.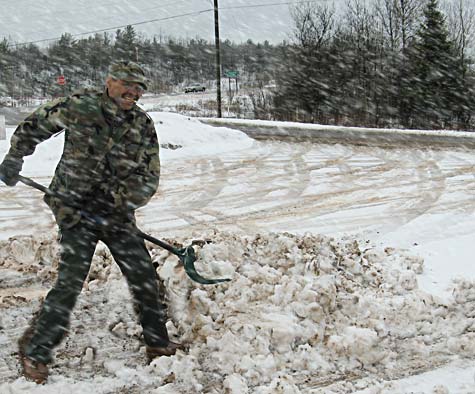 03/10/11
I needed to give the plow truck a break, so I snapped a pic of Skeet shoveling what was plowed. He's frowning... in case you can't tell....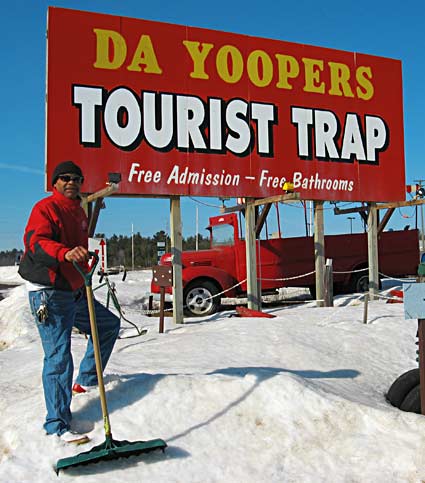 03/09/10
By looking at this pic, you can see that we've received our share of snow so far this winter. Though other areas of the country are dealing with ice-storms, record snow falls, etc, we're actually happier then ole hell. Why you ask?

03/09/10
...Because the last few days have been relatively warm, resulting in much of the snow melting away! We all know that at least two more major snow falls are going to hit us in the next couple months; above is Skeet waiting patiently for the next storm.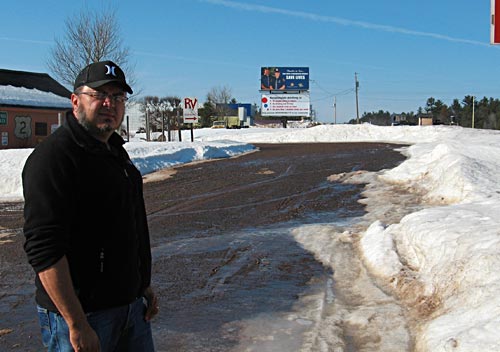 03/09/10
Look, you can actually see the gravel in the parking lot!
There really is a Joulupukki!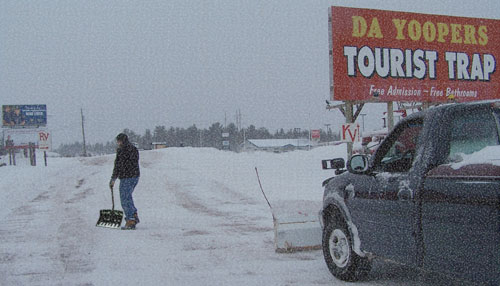 12/29/09
Yes, we've received a lot of snow for the month of December, and to think this is only the beginning! Here I am shoveling the parking lot. I had the plow truck warmed up and ready in case my back got sore.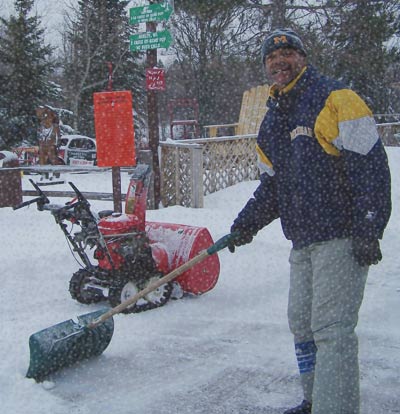 12/29/09
Here's Skeet shoveling the store and Rock Shop entrances. He had the snow blower warmed up and ready in case his back became sore.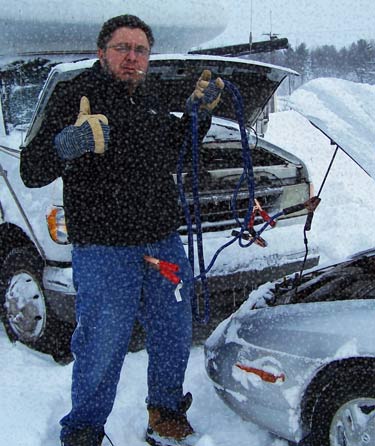 12/29/09
Here I am preparing to jump the tour bus. I needed a jump first.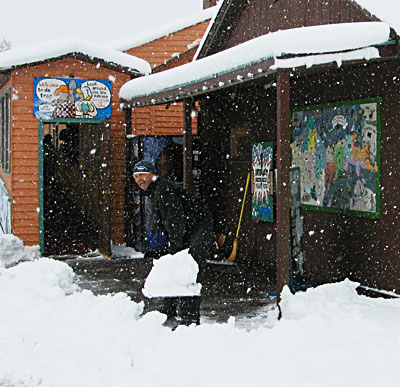 04/21/09

Skeet moans, gripes and groans while shoveling, and for good reason..
Almost all of our snow had melted, there were only a few small patches in the back. The weather had been reasonably warm for this time of year and it looked like Spring had truly arrived.. that is until the night before these pick were taken.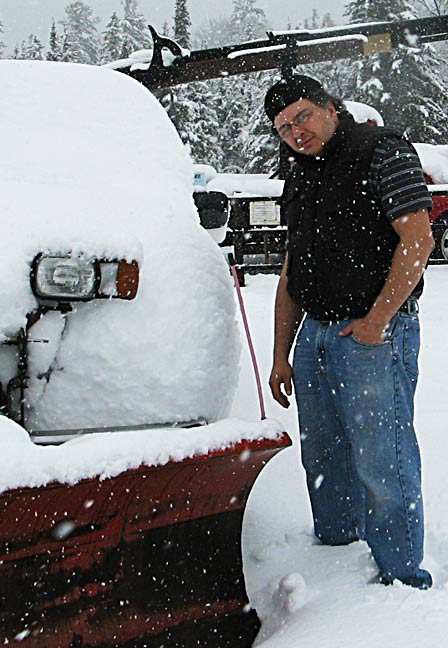 04/21/09

The big spring storm hit mostly the western 2/3rds of the U.P. dumping totals of 5 to 15" of very wet, heavy snow. Here I am waiting for the snow covering the plow truck to melt before hopping in.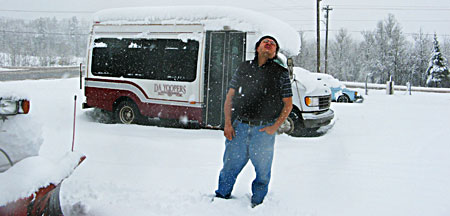 04/21/09

Because I was so depressed with our interrupted spring, I contemplated ending it all by standing in the same spot and letting the falling snow bury me alive. Knowing that would be impossible, I proceeded to plow instead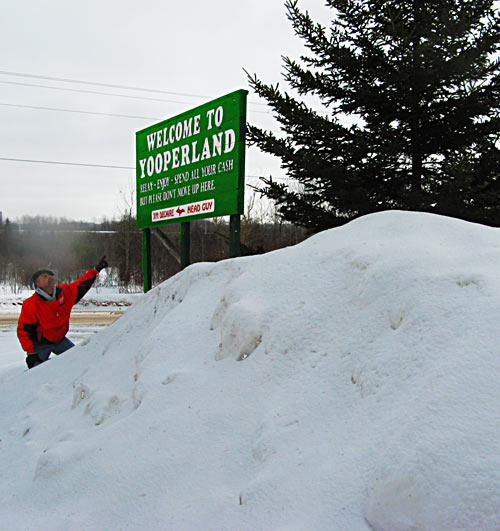 02/26/09

Skeet stands near our welcome sign, providing a great reference point in showing just how high some of our snow banks are.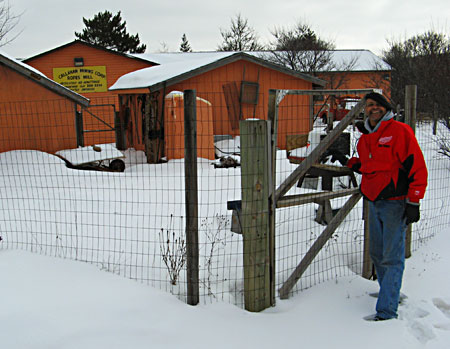 02/26/09
Skeet knows he left a hammer somewhere inside the rock barn gate last fall.. he stands at the entrance waiting patiently for the snow to melt as to reveal the missing tool.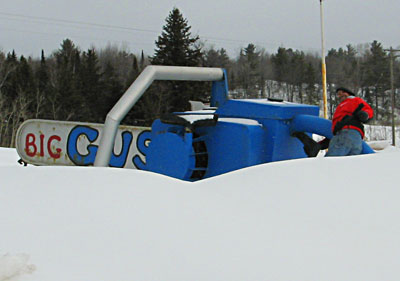 02/26/09
Skeet trudges through s sea of snow so I can get a pic of him with Big Gus.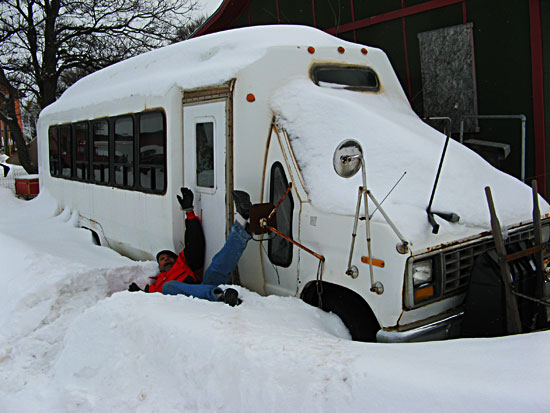 02/26/09
Here's Skeet floppin' around after slipping on an icy patch while trying to get into our old tour bus; which we now use for storage.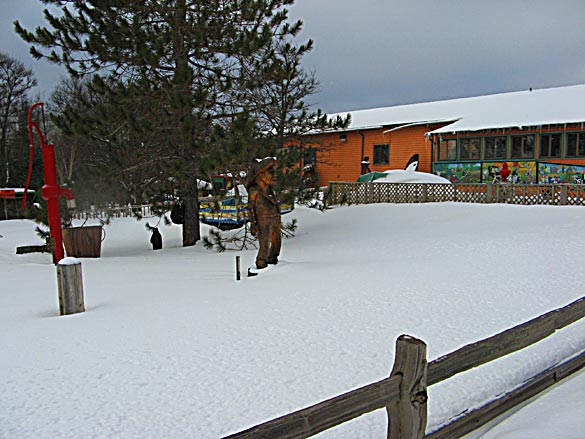 02/26/09
Of course, we keep our parking lot and walk ways shoveled, plowed and salted, so no worries here at the Tourist Trap.
But yes viewers, it's like living on another planet. A sea of snow surrounds you at every turn. Every step where there's solid ground needs to be observed for ice. Because of this you have to change the way you walk a bit; you have to be ready to catch your balance in case of slipping. And as for driving, accidents have been occurring almost daily throughout the U.P. If someone pulls out in front of you, you better hope you're able to come to a stop or safely turn to avoid them, and with icy roads this can be impossible even at half the speed limit.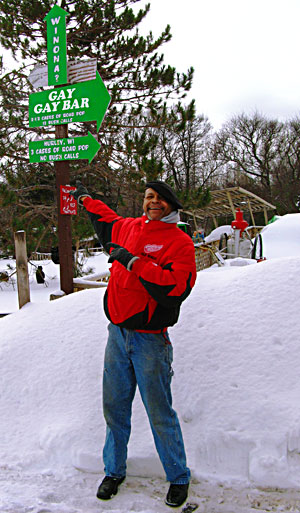 02/03/09
Skeet suggests we take a break from work and head to the Gay Bar in the town of Gay, MI. Located up in the Copper Country area of the U.P.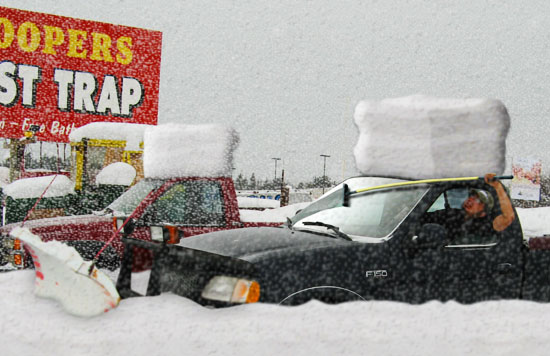 02/03/09
It's February now and we've already received tons of snow, I mean tons and tons. Did I mention cold? We've received tons and tons of cold. Did I mention chest colds, bronchitis, sniffles, coughing etc? We've had tons and tons of chest colds, bronchitis, sniffles, coughing etc.
Total inches of snow so far this year: 155.60