Spring May-2023
05-02-23
WHAT DA HECK?
Most of our snow was gone by the third week of April. Three days prior there was no snow in these areas here at the Trap. Damn!
Winter Jan-2023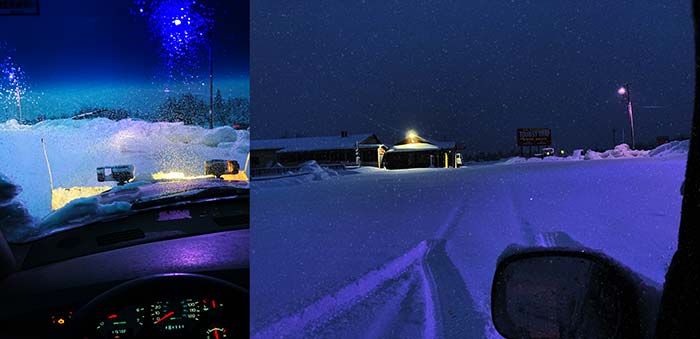 01-11-23
Early morning plowing after major dumpage , still dark... .
Winter Oct-2022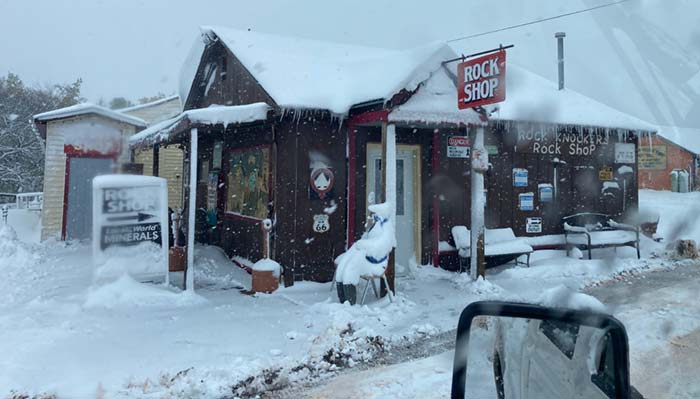 10-18-22
SNOW, STRONG WINDS, POWER OUTAGES, AND IT'S ONLY OCTOBER 18th, EH!
Up to 18" of snow fell in Marquette County Monday and Tuesday, resulting in national news coverage... here's a look at Da Trap & Rockshop...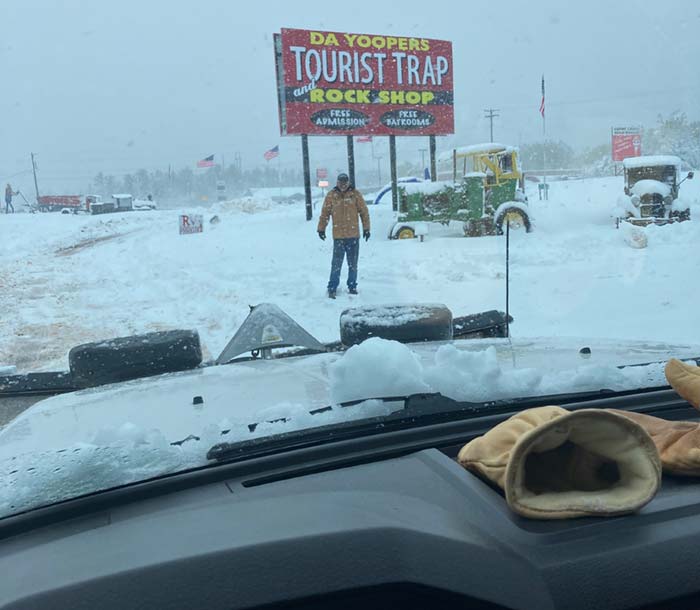 10-18-22
To reiterate, SNOW, STRONG WINDS, POWER OUTAGES, AND IT'S ONLY OCTOBER 18th, EH!
Here's a shot of Skeet standing in front of our billboard....
Winter Feb-2022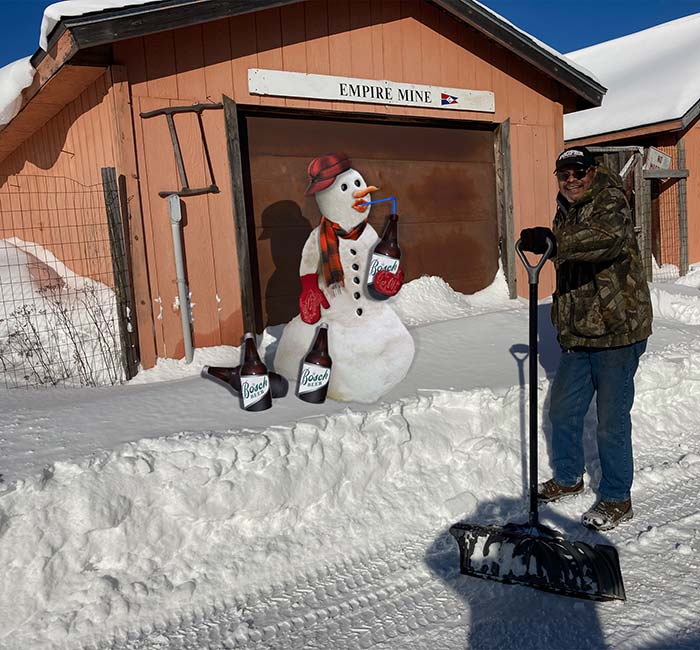 03-02-22
Here's Skeet along side the snow man he and I built after work the previous day. Hoolie had a case of vintage jumbo's of *Bosch Beer he had been saving for fifty odd years now, and Skeet and I decided to utilize them; rather than letting them sit in a box somewhere... we drank a few of them also... pretty flat, but we felt pretty good afterwords.

*Bosch Beer was a brewery from the Keweenaw Peninsula of Yooperland that closed in 1973 after 99 years of quenching Yooper's thirsts.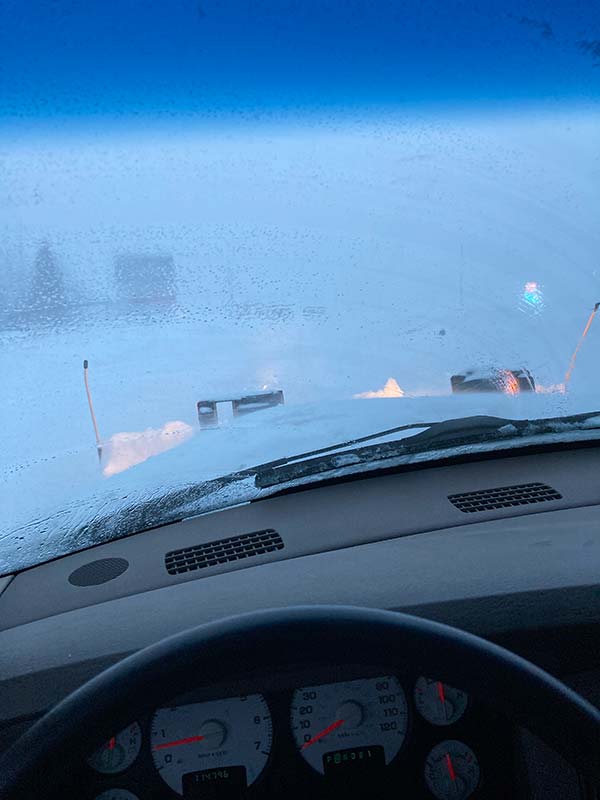 02-21-22
Man the snow was non-stop for two days, plus high winds, hard to see because of "snow blindness" etc.
I snapped this from inside the plow truck before heading home after work (it was getting dark) and after even more plowing.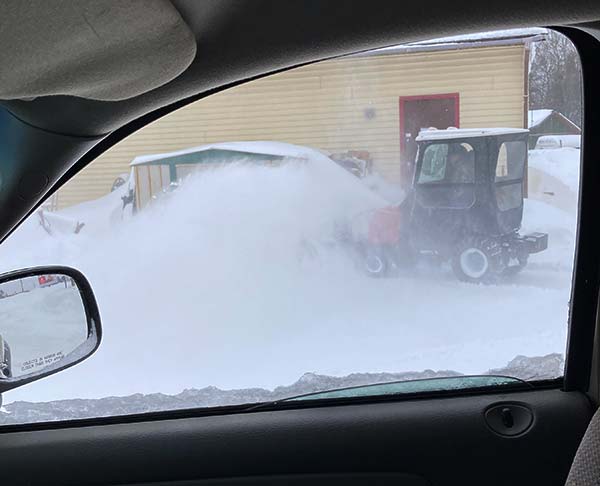 02-22-22
Here's Skeet blowing snow while I plow. We spent most of the previous day doing the same thing... what a storm eh!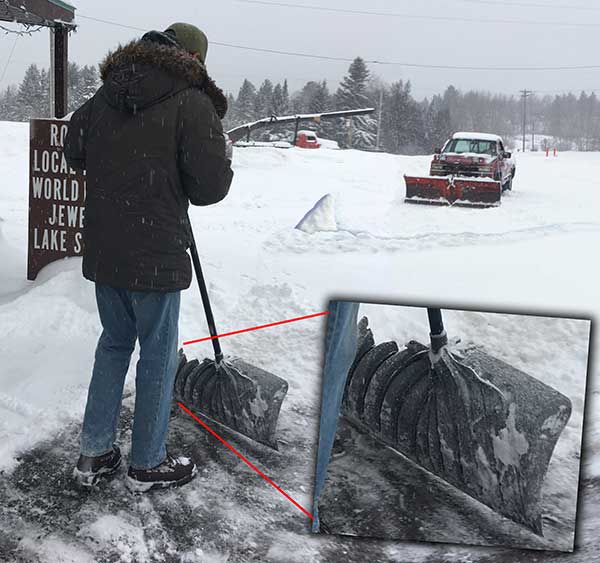 01-25-20
We've received loads and loads of snow so far and it's only January!
There's been a lot of excitement here at Da Yoopers Tourist Trap because we have a new visiter that's been hanging around.
Skeet and I noticed that one of our shovels was damaged, and later on we spotted a fin cruising through the parking lot and in and out of our snow banks... you people aren't going to believe this, but we have a "Snow Shark" hanging around the property!
Anna happened to catch it in this pic of Skeet and I removing snow.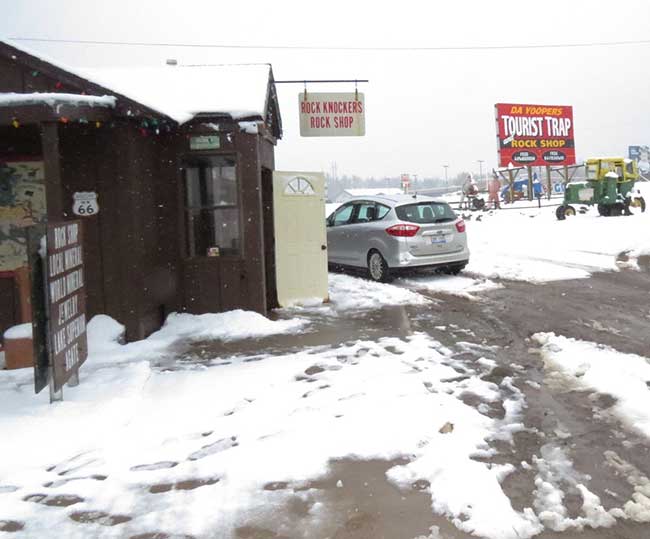 05-01-19
The pic along with the date says it all.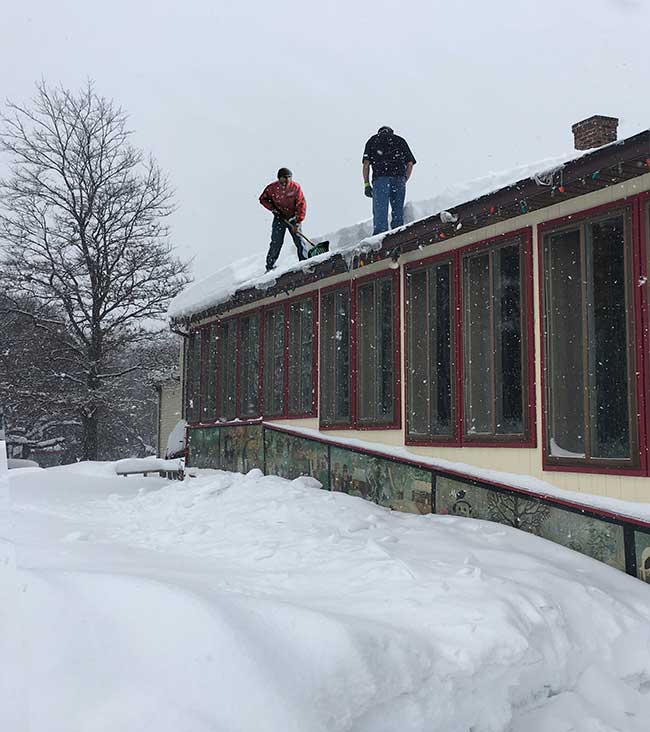 02-024-19 BLIZZARD!
Skeet and I sharing a shovel up on the roof here at Da Trap.
Man, talk about snow! Many here in Ishpeming are saying this is the most snow they've seen in 45 years! People are having to rethink as to were to put the snow, and snow related roof problems have many on edge because of ice dams etc.
Here's what the National Weather Service had to say:
Significant winter storm impacted all of Upper Michigan late Saturday night through Sunday, bringing with it heavy snow, sleet, and freezing rain. Several roof collapses were reported across the area due to the weight of the snow on top of what has already been a very snowy last 5 weeks.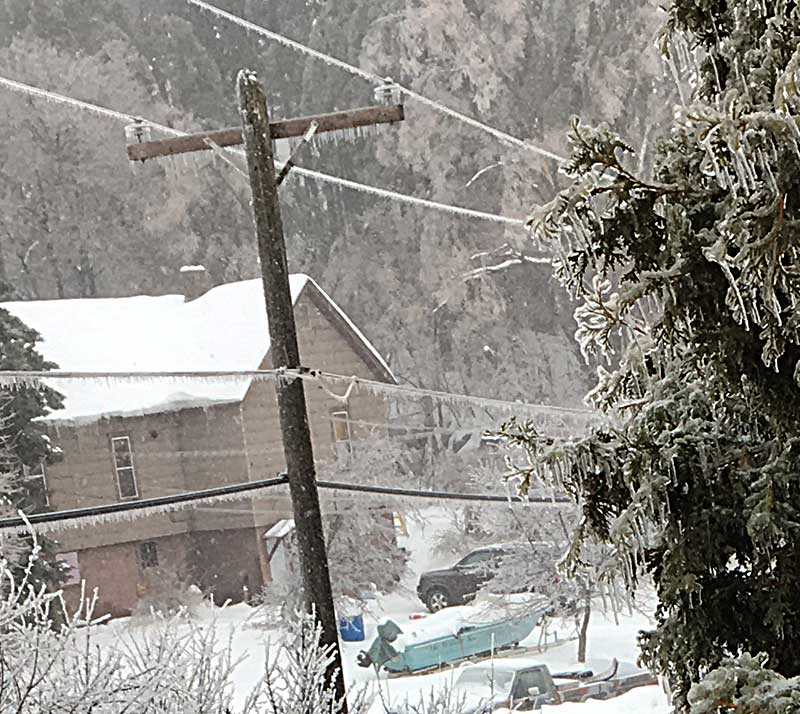 02-04-19 FREEZING RAIN!
Power outages, slippery roads, trees/branches down, schools closed etc.
While taking these pics I could hear the sound of tree limbs cracking every 30 seconds or so.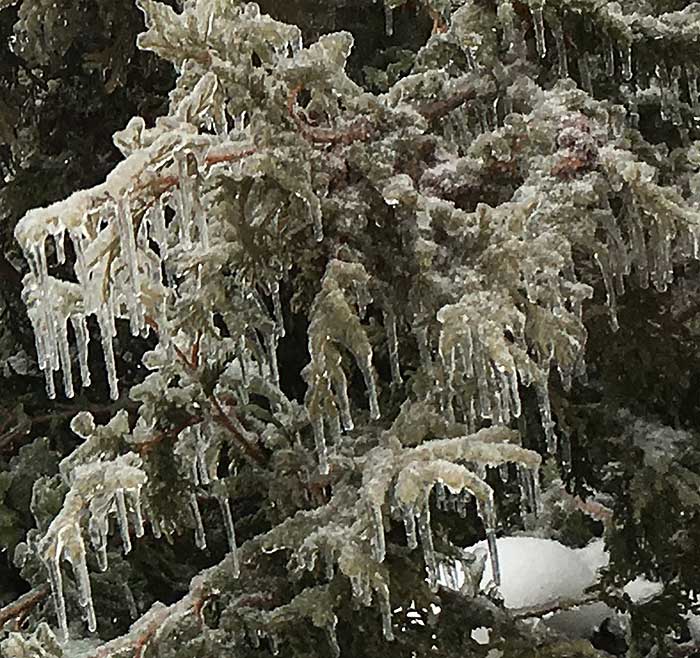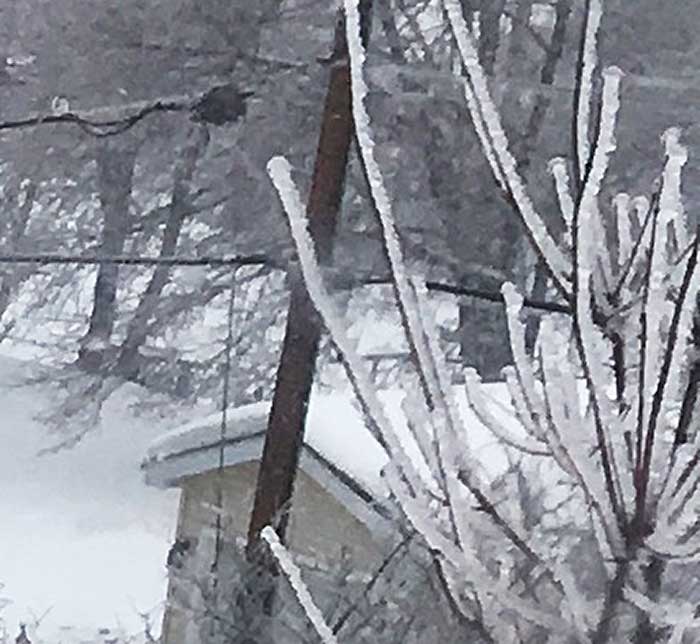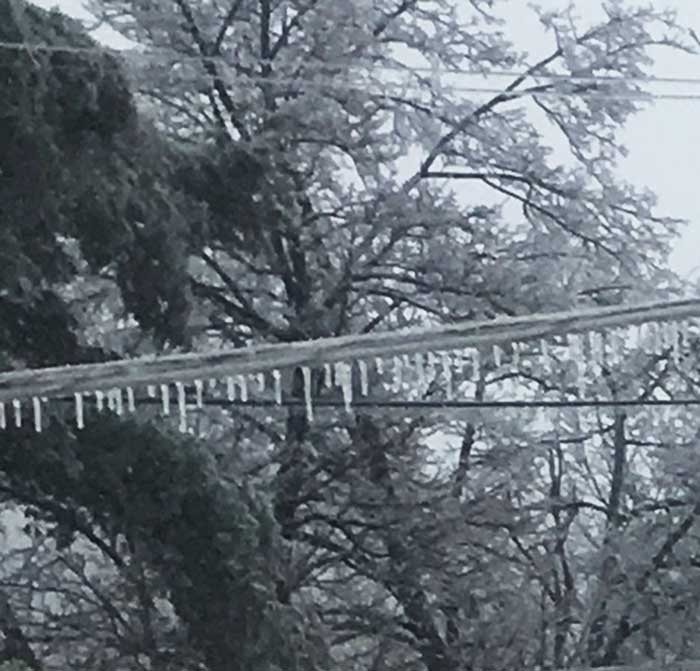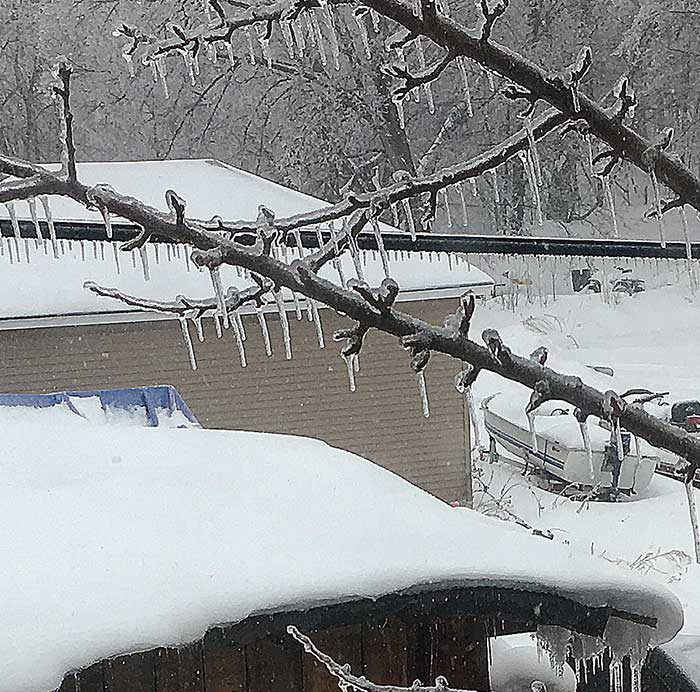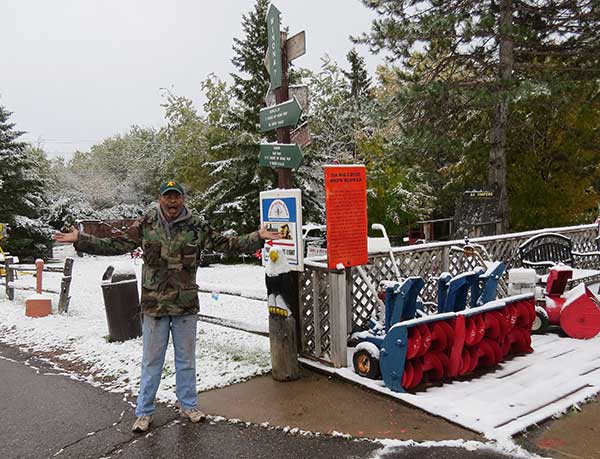 10-05-18
Our first snow for the upcoming 2018-19 Winter.
Above is Skeet saying "What... already?"



10-05-18
Our first snow for the upcoming 2018-19 Winter.
Above is Skeet saying "Man, that freakish Snow-man is back, that thing has been chasing me around this place
for the last three Winters, I SWEAR!"
I told him I've never seen it and that it's all in his head, though I admit that there appears to be
something in this pic that I snapped.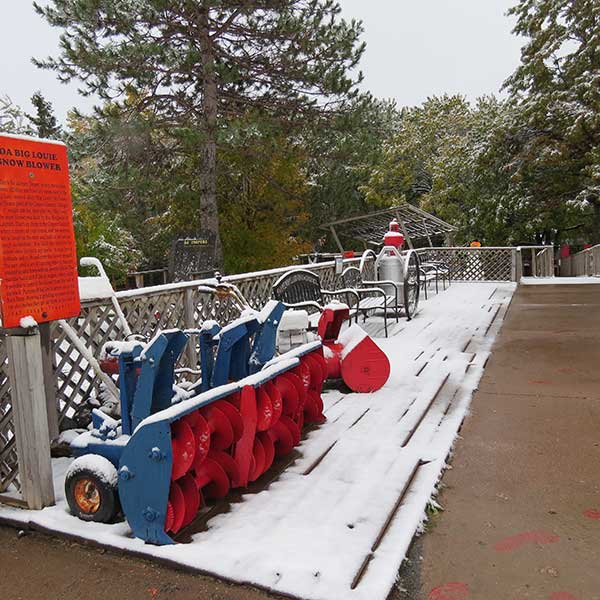 10-05-18
Our first snow for the upcoming 2018-19 Winter.
There appears to be something in this pic that I snapped also, though I didn't notice it when taking the pic... so maybe Skeet has been seeing something... nah, can't be true.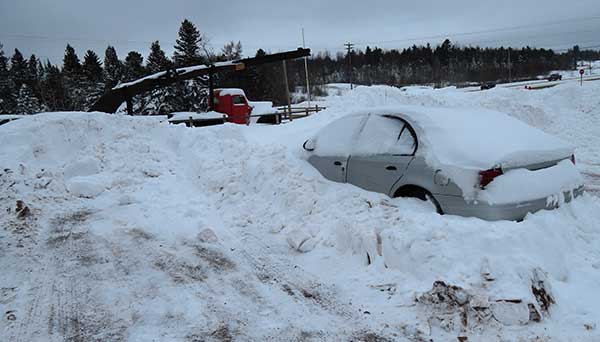 04-17-18
The car above was free from snow several days earlier.
Man oh man, did we get dumped on! three days of steady wind and snow, in fact 18+ inches on average, and up to 24.5" in some areas of the Yooperland...



04-17-18
...and that's not counting the snow drifts! Our parking lot, including the area you see in the above photo was
clear of snow just one week earlier!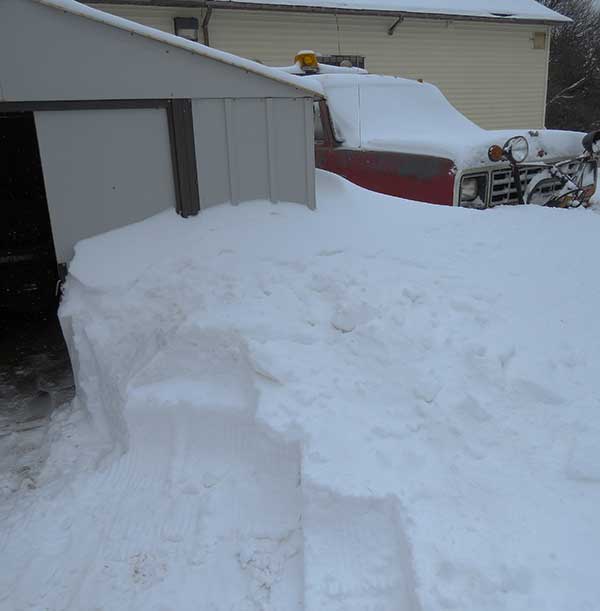 04-17-18
Menominee, MI, which is on the Wisconsin border, got dumped with more than 2 feet over the weekend; apparently the most snowfall in a single storm ever recorded since 1919 in the city; and again let's keep in mind,
we're talking April here!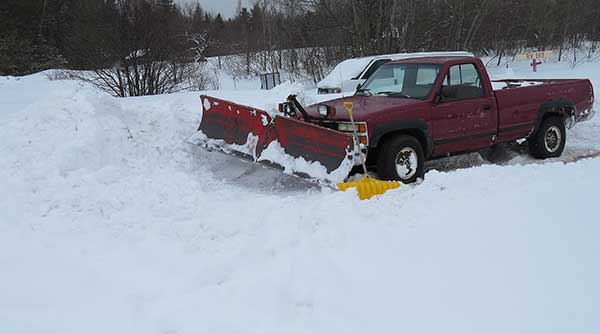 04-17-18
Lower Michigan was also hit with heavy snow and also icy rain in areas. The storm was powerful enough to draw in moisture all the way from the Gulf of Mexico before dumping it here.
Some people who've lived here all their lives reported snow drifts 10 feet and higher and say they've
never seen anything like it.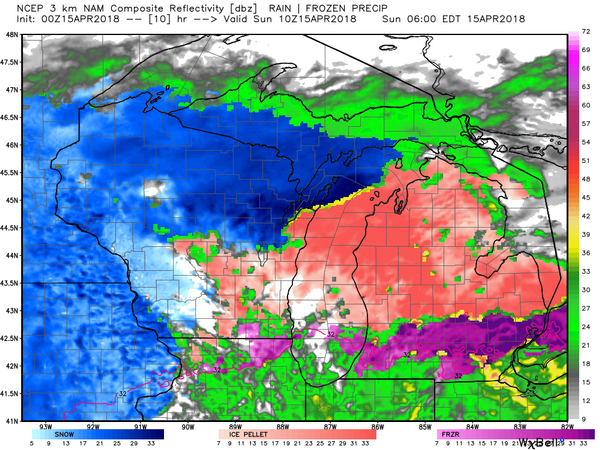 04-15-18
Above is the Radar forecast at 6 a.m. Sunday, April 15, 2018 showing the large area of precipitation that developed. The purple was an area of quickly thickening freezing rain. (weatherbell.com)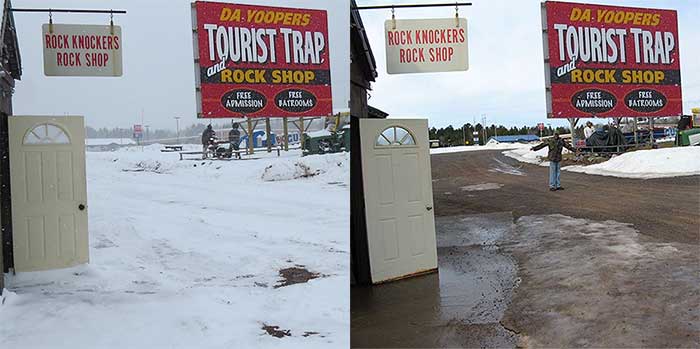 03-31-18 03-24-18
Above right shows what the west side of our parking lot looked like a week before what you see on the left. The ice and snow had been melting nice and steady for a good two or three weeks... and then on the last day of March we get dumped on. Another 5" to 8" is expected today (04-03-18) into tomorrow
.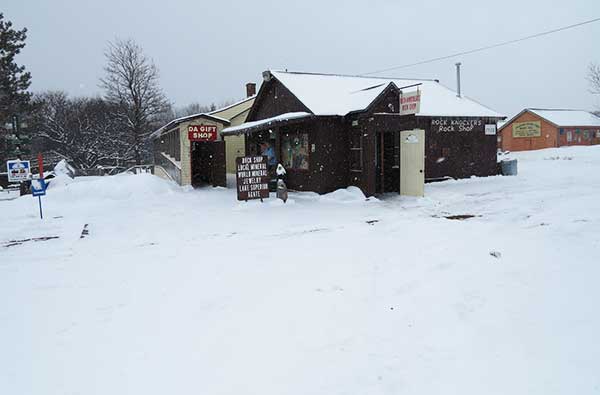 04-03-18
To reiterate from above, our parking lot was 95% void of ice and snow just three days before this pic, and a lot more is expected later today.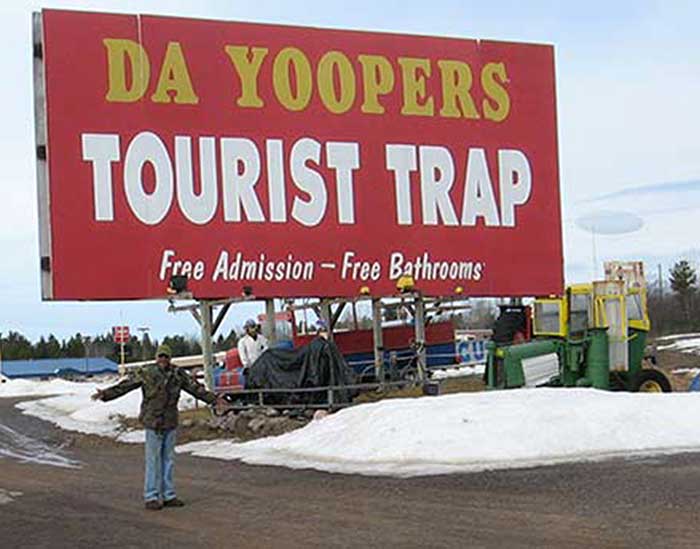 Above is Skeet standing in front of our bill board on February 19th 2017.
It was 60 degrees that day, very odd for February.

Below is a pic from the morning of March 8, 2017.
Upper Michigan had just experienced what was probably the worst pure windstorm since November 10, 1998.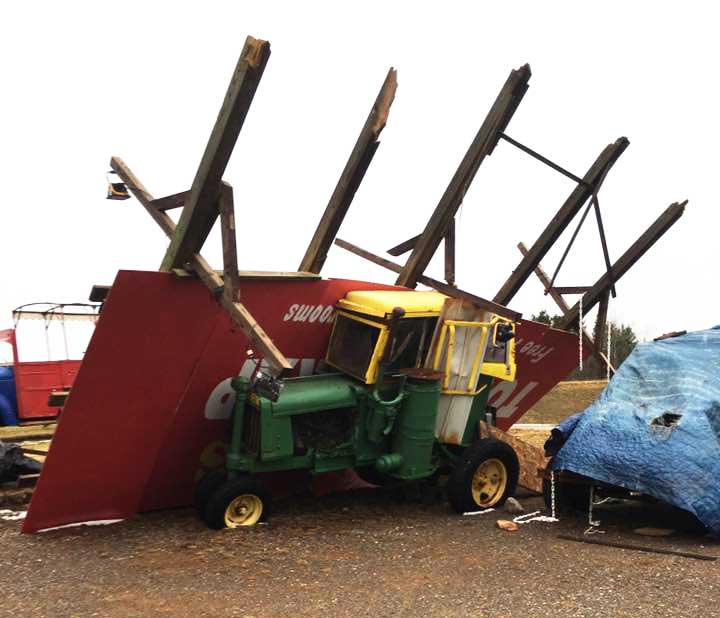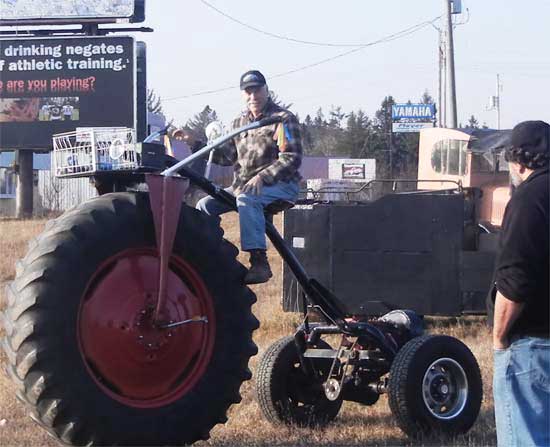 Above is Ron Giannunzio riding our latest addition to the family, "Gravel Gurdy," the largest motorized Tricycle in Michigan, and possibly the largest in the world!

Below is a pic showing Gurdy on her side along with our billboard after the March 8, 2017 Windstorm..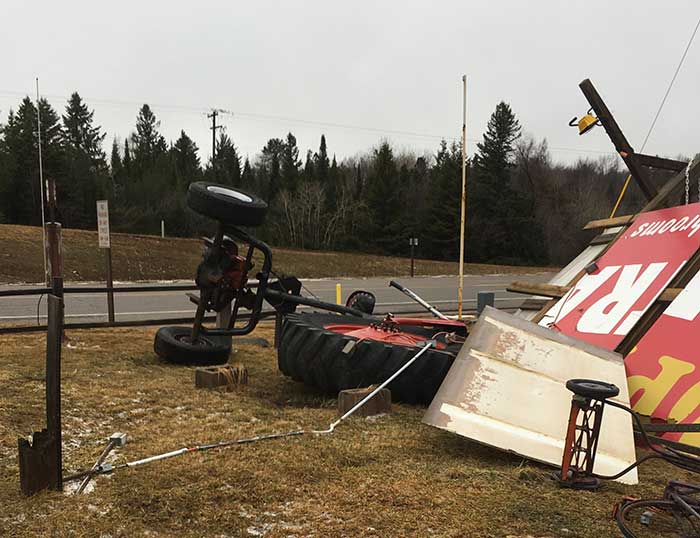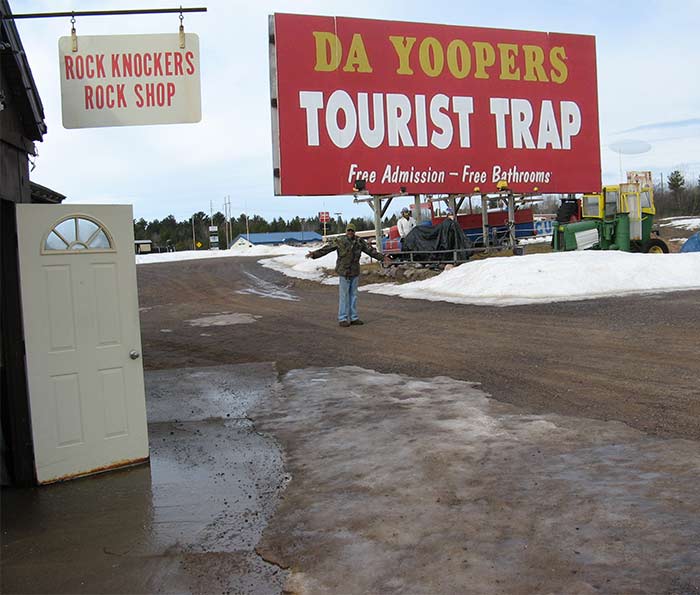 02 - 19 - 17
Skeet strikes a pose; "Looky here, it's mid Feb... it's 60 degrees fahrenheit and our parkin'
lot is over 90% exposed!