Dominic Jacobetti
Negaunee
Dominic Jacobetti of Negaunee had been in the State Legislature longer than any other legislator in the history of the state.

Nels Flodin
(If you have an image or know the source of one please email me (Jim Bellmore) at: youguys3@charterinternet.com
Marquette
The first outboard motor in the world was invented by Nels Flodin in 1896 in Marquette, Michigan.

Olympic Ski Jumpers
(If you have an image or know the source of one please email me (Jim Bellmore) at: youguys3@charterinternet.com
Ishpeming
United States Olympic Ski Jumping team members from Ishpeming include - Walt Bietila(1936), Roy Bietila(1940), Ralph Bietila(1948), Joe Perrault(1948), Wilbert Rasmussen(1952), Rudy Maki(1950), Jon St. Andre(1960), Jack Bietila(1960), Jerry Goyen(1964), and Jim Grahek(1980).

T.E. Deegan
(If you have an image or know the source of one please email me (Jim Bellmore) at: youguys3@charterinternet.com
Marquette
Captain T.E. Deegan was in command of the Marquette U.S. Coast Guard Station for 43 years. No one else in the U.S. Coast Guard has commanded a post longer.

John Bartlow Martin
Author, Speechwriter, Long time Lover and Writer of the Upper Peninsula
and Confidant of Democratic Politicans
who also served as
Ambassador to the Dominican Republic
Hamilton, OH
1915 - 1987
John Bartlow Martin, a freelance writer who had spent long weeks in northern Wisconsin and Michigan, was struck with the idea of a book on Michigan's Upper Peninsula when he was there on his wedding trip. Returning each summer to the area, and considered a fellow Yooper by many he befriended, Martin discovered the region's diverse history, full of colorful and interesting personalities and events. The territory has been wilderness, a haunt of the Chippewas and the Hurons, copper country, iron country, lumber country, and lastly, a vacation land. Filled with stories of adventure and daring, Call It North Country recounts the lives of miners, hunters, trappers, and lumberjacks — the hardy breeds who first populated the harsh land of the Upper Peninsula.
Here is his story:
Mr. Martin, whose peripatetic career took him to coalfields in Illinois, racially divided Southern communities, the treacherous political byways of the Caribbean and aboard presidential campaign planes, produced 15 books and scores of prize-winning articles for America's leading magazines.
Equally at home in the worlds of politics and diplomacy, he served as Ambassador to the Dominican Republic from 1962 to 1964 under President John F. Kennedy. Mr. Martin held that post during great instability and political change on the island nation.
Mr. Martin also lent his political skills and talent for choosing words to the presidential campaigns of Adlai E. Stevenson, Robert F. Kennedy and Hubert H. Humphrey. He was, in the words of one book reviewer, ''a devoutly liberal Democrat, unabashed and unregenerate.''
A modest, bespectacled man whose diffidence belied great intensity, Mr. Martin established himself as one of America's premier seekers of fact in a writing career that spanned almost 50 years. Praised as a Reporter
''The best living reporter'' and ''the ablest crime reporter in America'' were among the superlatives editors and critics applied to Mr. Martin.
Yet Mr. Martin's sympathies echoed through many of his works, which focused on people cast off or forgotten by society: criminals, prisoners, the troubled, the hurt and the powerless.
Asked once to define the common denominator of his writing, Mr. Martin said: ''I've always been interested in the individual human being and what happens to him in a society that really doesn't work as well as it should. Sounds kinds of pretentious, but I think it's so.''
John Bartlow Martin was born Aug. 4, 1915, in Hamilton, Ohio, the son of a carpenter who never finished high school. The family moved to Indianapolis where Mr. Martin lived what he said was an unhappy childhood, marked by the death of a brother and parental disputes. 'Dark' Childhood Memories
''Many seem to regard the years of their youth as the easiest years of their lives,'' Mr. Martin wrote in ''It Seemed Like Only Yesterday,'' his recently published memoirs. ''Most of my childhood memories are dark.''
Mr. Martin became interested in modern literature in high school, and after graduating at the age of 16 he entered DePauw University where he was expelled before the end of the year for drinking in his room.
He began his journalistic career as a $9-a-week ''gofer'' in the Indianapolis bureau of the Associated Press. He later went on to graduate from DePauw where he edited the school paper and wrote for the Indianapolis Times.
With a check for $175, the profits from his first freelance magazine article, Mr. Martin moved to Chicago with one suitcase, a portable typewriter and a desire to write.
After several years divided between writing for pulp detective magazines, more serious journals and service in the army, Mr. Martin established his national reputation with an article for Harper's magazine about an explosion at a mine in Centralia, Ill., that killed about 100 people. The article, which at 18,500 words was the longest in the magazine's history, helped lead to a new Federal mine safety code. 'A Million Words a Year'
Several articles and books followed and Mr. Martin's name became a familiar site on the cover of the great mass-circulation magazines of the 1940's and 1950's: The Saturday Evening Post, Life, Look, Collier's, and The Atlantic.
''When I hit my stride,'' Mr. Martin recalled in his memoirs, ''I was writing a million words a year,'' producing long drafts at his home outside Chicago or in a cabin in the woods of upper Michigan.
Mr. Martin turned to politics in 1952 when he was hired by Governor Adlai E. Stevenson of Illinois as one of his ''Elks,'' a team of writers and advisers named because of their offices at the Elks Club in Springfield, Ill.
Mr. Martin specialized in advance reportage and the short, stump speech. ''No one then, and I think none since, could make a point more succinctly, support it more sharply with evidence and then, of all things, stop,'' wrote John Kenneth Galbraith of Mr. Martin's skill.
After working for the Stevenson Presidential campaign in 1956 and the Kennedy Presidential campaign in 1960, Mr. Martin was appointed Ambassador to the Dominican Republic by President Kennedy.
He arrived after the assassination of the dictator, Rafael Trujillo Molina, and witnessed that nation's first democratic elections. So close was he to the new writer-president, Juan Bosch, that when Mr. Bosch was ousted in a military coup Dominicans joked that Mr. Martin had been overthrown, too.
Shortly after President Kennedy was assassinated, Mr. Martin resigned. He returned to the Dominican Republic in 1965 as a special envoy when President Lyndon Johnson dispatched United States troops there.
In addition to his speechwriting and books from his magazine work, Mr. Martin was also the author of the 800-page biography, ''The Life of Adlai E. Stevenson,'' a book about American policy in the Caribbean and a political novel.
Mr. Martin is survived by his wife, Frances; a daughter, Cynthia Coleman of Philadelphia, and two sons, Daniel B. and John Frederick, both of Washington.

Hunk Anderson
Hancock, MI
Height / Weight: 5-11 / 170
Position: Guard
Years Played: 1918-1921
1974 inductee into National Football Foundation Hall of Fame . . . first-team All-American as senior in '21 on teams named by International News Service (INS) and Football World Magazine . . . four-year starter at left guard for Irish, playing on Knute Rockne's first team and blocking for George Gipp . . . blocked two punts and recovered both for scores as senior vs. Purdue . . . helped Irish to four-year mark of 31-2-2 . . . served as Irish assistant coach under Rockne while also playing professionally for Chicago Bears from 1922-26 . . . coached at University of St. Louis in 1927-28, then returned to Rockne's staff in ?30 . . . Irish head coach from 1931-33 following Rockne?s death, with three-season record of 16-9-2 . . . spent 1934-36 as head coach at North Carolina State, then coached at Michigan in '37 and Cincinnati in '38 . . . spent 11 seasons as assistant with Chicago Bears . . . retired from football in '51.

As taken from the Notra Dame Official Athletic Site.

The Healy brothers
("Boots" Bob, Jake, Tim, and Pete Healy)
(If you have an image please email me (Jim Bellmore) at: youguys3@charterinternet.com
Eagle Harbor, MI
Inventors of Guts Frisbee
and founders of
The International Frisbee Tournament
Ever wonder how scary it would be to have an 80 MPH Frisbee® flying straight at your face from only 15 yards away? Think you could catch it with just one hand? Well that's what it's like to play Guts Frisbee, the original extreme sport for flying discs. This high-speed game of throw and catch has now been played for an amazing 50 consecutive years at the International Frisbee Tournament, being held this June 30th and July 1st in Hancock, Michigan.
The International Frisbee Tournament is the oldest and most prestigious flying disc tournament in the world, dating back to 1958, when the Healy brothers at a family picnic in Michigan's Upper Peninsula took a Pluto Platter—the direct ancestor of the modern Frisbee—and invented a simple game of throw and catch between two teams standing about 15 yards apart. They called it "Guts Frisbee" because to score a point, you had to throw the disc so hard that the opposing team couldn't catch it cleanly in one hand—then have the guts to try catching the screaming-fast disc when it was thrown back at you. The Wham-O® company—fresh off their success with the Hula Hoop®—acquired the rights to the Pluto Platter around the same time, renamed it the Frisbee, and launched a major fad that swept the nation.
This IFT promises to be the biggest, most historic, most competitive Guts Frisbee tournament ever, drawing players old and new from all over the United States and Canada. And for the first time ever, two strong teams from Japan—including "Katon", the World Flying Disc Federation World Champions—will be joining the intense competition. The sport's official sanctioning body for North America, the United States Guts Players Association (USGPA), is also planning to induct some of history's most outstanding players into the Guts Frisbee Hall of Fame at their Saturday night players' banquet. New inductees George "Thor" Anderson, Bill Begoske, Dave Bradshaw, Tom Field, Bill Hodges, and Gerard Newman will join the ranks of such flying disc legends as Fred Morrison, the inventor of the original Pluto Platter, the Healy brothers who started the IFT and the sport of Guts Frisbee, and "Steady Ed" Headrick, the visionary who won two IFTs and is credited with inventing the standard "pole hole" basket used on modern disc golf courses.
As the years went by and millions of Frisbees were sold, that humble family picnic grew and grew, until tens of thousands of people were attending what had become known as the International Frisbee Tournament, or IFT. By the early 1970's, the game of Guts had spread across the country, then around the world, with coverage on radio, television, major newspapers, and even TIME magazine. (http://www.time.com/time/magazine/article/0,9171,877893,00.html)

The Original X-treme Sport
As Guts Frisbee evolved during the 1960's, players started throwing faster and faster, until it wasn't unusual to see presumably unbreakable Frisbees traveling at 60 or 70 mph shatter on impact with some unlucky defender's hand. Catching the speedy disc—either straight on or after a teammate deflected it into the air—now really took Guts! With over 60 teams at a tournament, matches became knock-down, drag-out affairs, as everyone tried to battle their way into the Finals and a chance to win the IFT's coveted Julius T. Nachazel trophy. One player even required 15 stitches to close a gaping wound across the palm of his hand after repeated pummeling by one of the world's fastest throwers. With radical curving shots, deflected Frisbees bobbled frantically among teammates,and spectacular diving catches, Guts Frisbee had become an extreme sport demanding lightning-quick reflexes, physical endurance, and steely concentration.

Guts Frisbee Rebirth
Since its heyday in the 1970s, when even ABC's Wide World of Sports was televising Guts action and tournaments were springing up everywhere from Toronto to Chicago and Los Angeles, the sport has gradually declined in popularity in America. Guts had been introduced in Asia by Wham-O in the 1970s, and by the 1990s it had become even more popular in Japan and Taiwan than in the U.S. Recent years, however, have seen pockets of strong, young American players who are taking the sport to an even higher competitive level. Plenty of older players have also stirred from retirement to revel in the game's rebirth and take part in this historic 50th IFT. Organizers anticipate the largest turnout in decades, with both players and spectators from the past fifty years converging on the Driving Park fields in west Hancock for two days of the most thrill-packed Frisbee action imaginable.
As taken from The 50th IFT Organizing Committee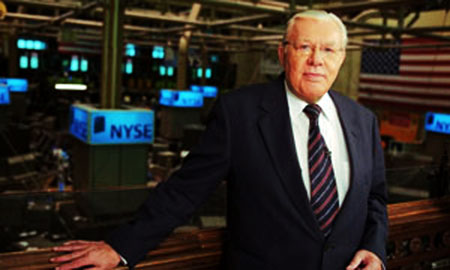 Paul Kangas
Houghton, MI
Miami-based Anchor and Financial Commentator
for public television's Nightly Business Report and television's leading provider of daily stock market information.
Paul Kangas is the Miami-based Anchor and Financial Commentator for public television's Nightly Business Report and television's leading provider of daily stock market information. A former stockbroker with more than 12 years experience, Kangas joined Nightly Business Report when it began as a local program on Miami's public television station, WPBT2, in 1979.
In addition to delivering the daily market summaries, Kangas conducts each Friday the "Market Monitor" interview with noted market observers. He is known for his fast-paced delivery, sharp wit and encyclopedic knowledge of the financial markets.
In 2003, Kangas' signature segment, "Stocks in the News," won a Financial Writers and Editors Award from the Medill School of Journalism at Northwestern University as "best broadcast feature or series useful to investors."
The media has noticed and praised Kangas for his expertise. The Detroit Free Press has dubbed him "the Walter Cronkite of business broadcasting" and the Village Voice has noted that Kangas is "not content to merely rattle off stocks and prices." Analysis is a key part of his presentation. Utilizing his extensive contacts on Wall Street, he has earned a reputation for ferreting out the hidden reasons behind stock moves. This prompted TV Guide to praise his "fine stock market coverage" and the Miami Review to comment: "How would brokers answer their clients' questions about the market without watching Paul Kangas' summaries?"
Kangas began his career in business broadcasting at the Miami CBS Radio affiliate, WINZ. He was actually a stock broker at the time, but his biggest client owned the station and asked Kangas to do a stock market wrap-up segment. He gave up his work in the stock market when he joined Nightly Business Report in 1979.
In addition to his duties for Nightly Business Report, from 1985-1989, Kangas hosted a five-minute weekly wrap-up of U.S. financial markets for distribution on cable television in Germany (originating in Munich and Dusseldorf). The segment was part of a program entitled Economic Magazine and was distributed by Handelsblatt, the business news publications group.
Kangas also previously authored a syndicated weekly column in Cox Newspapers. He is a frequent speaker to seminar and convention groups.
Kangas was born in Houghton, Michigan and is a graduate of the University of Michigan. He earned his brokers license after studying at New York University's Graduate School of Business.
An avid golfer and ham radio enthusiast, Kangas and his wife, Peni, live in Miami.
As taken from Nightly Business Report - www.pbs.org
Read Paul's exclusive column, Paul Kangas' Stocks In The News

Robert J. Flaherty
(1884-1951)
Iron Mountain, MI
Creator of his silent masterpiece "Nanook of the North"
which is also credited as the first documentary film
"Nanook of the North" (1922) has a place in cinematic history as the first feature-length documentary, shot and directed by Robert J. Flaherty of Iron Mountain, near Inukjuaq on Hudson Bay in the arctic part of Quebec, Canada. A former explorer and prospector in that region, Flaherty decided to document the lifestyle of the Inuit, with funds provided by the French fur company Revillion Freres. The result was an early opportunity for people to see a movie that showed that a distant place and a foreign culture, rather than something staged on a set in a studio. Focusing on the title character and his family, "Nanook of the North" showed the traditional Inuit ways of hunting and fishing, building igloos, and other cultural aspects. Consequently, Flaherty's film is considered a prime example of what is called salvage ethnography, which had to do with capturing a record of a culture before it disappeared.
This film is credited with being one of the first documentary films. When first released it became known worldwide. Although the film was staged it is partially accurate. At the time of the film was being made, Inuit society was beginning to modernize and the film was made to portray traditional life for the Inuits.
To this day the film remains one of the most famous documentaries ever made.
The film is well photographed and is the first silent film the Criterion Collection has released on DVD. The new musical score is excellent and often appropriate for the particular scenes. This film is generally appropriate for all ages but near the end of the film there is a scene of brief female nudity.
The 1922 documentary runs 79 minutes and remains in fairly good condition, with a passable chamber music score. There is also a brief interview with Flaherty's widow from the 1950s and a selection of still photographs from both the "Nanook of the North" shoot and some of Flaherty's other trips through the Arctic north.
The Criterion Collection has resotred the film to its original frame rate and the special features include photographs of the region where the movie was filmed and also inclused a rare interview with the director's widow.
As taken from reviews by
Ted Merriman and Lawrance M. Bernabo

Tom Izzo
Iron Mountain
Head Coach for Michigan State University Basketball
A native of Iron Mountain, Izzo and Steve Mariucci were Iron Mountain High School teammates in football, basketball, baseball and track. As college roommates at Northern Michigan, Izzo walked on to the basketball team, while Mariucci did the same with football. Both would go on to earn Division IX All America honors.
Izzo originally came to MSU from Northern Michigan, where he had been an assistant from 1979-83.

| | |
| --- | --- |
| | Henry Ford |
Henry Ford had spent a tremendous amount of time and money in Marquette County and the Western U.P. after 1910. This was after he had created the assembly line that Henry Ford quietly began to explore the idea of being the owner-handler of all the national resources that went into making an automobile. The Upper Peninsula had become his playground and he couldn't get enough of it. Ford spent a lot of time, both summer and winter, traveling all over the U.P., often by train. For two or three summers he took junkets accompanied by his friends Thomas Edison and Harvey Firestone. Henry Ford had a camp at the Huron Mountain Club north of Marquette at Big Bay. He was often seen walking the streets and visiting with the local adults and children of Big Bay.

| | |
| --- | --- |
| | Thomas Edison |
Way back in 1880, Thomas Edison had experimented with a benefication plant at Humbolt, west of Ishpeming. This proved to be unsuccessful. The trouble was he was about 75 years ahead of his time. With plenty of high-grade iron ore around there was no need for such a plant. Since the 1950's four similar plants have been built on the Marquette Iron Range and many others elsewhere. Edison also designed the outside street lights in Michigamme.

George "The Gipper" Gipp
Laurium - Calumet
Athlete
The most successful and widely followed college athletic program in history is Notre Dame football. No other athlete in the school's glorious history typified that success better than George Gipp. Growing up in Laurium, Michigan, George Gipp never played high school football, but was an avid participant in track, hockey, sandlot football, and organized baseball.
The beginning of Gipp's college football career is clouded in mystery, but nothing is mysterious about the numbers he produced once on the gridiron. Over a 4-year career, the Gipper scored 21 touchdowns en route to Notre Dame's amazing 27 wins, 2 losses, and 3 ties. On the defensive end, not a single pass was completed against his protective zone during his four years with the Irish. On November 20, 1920, during a game against Illinois, Gipp contracted a serious streptococci infection of the throat which later worsened in his final game at Northwestern. As the story is told, Notre Dame coach Knute Rockne visited his superstar player in the hospital. Gipp supposedly told Rockne that when the "breaks are beating the boys," tell them to "win one for the Gipper." George Gipp died on December 14, 1920. Eight years later, with Notre Dame trailing to Army at half time, Rockne supposedly told the story of his dying star player. Not a single eye was dry, and when the speech was concluded, the Irish went out there and won one for the Gipper.

• Played football at Notre Dame for four years.
• Inducted into the Michigan Football Hall of Fame, National Football Hall of Fame, and Upper Peninsula Hall of Fame.
• Scored 21 touchdowns on offense.
• Not a single pass was completed in his protective zone during four years on defense.
• Gipp was Notre Dame's first member of the All-American team.
• Died from pneumonia and strep infection.
• The George Gipp Award is awarded to an outstanding senior athlete. It was started at his high school, Calumet High School, in 1934.


Lee LeBlanc
Iron River
Animator, Painter
Lee LeBIanc (1913-88) a graduate of Iron River High School in 1931, studied art and in 1937 began his Hollywood motion picture career as animator to Loony Tunes and Merry Melodies. From 1941 to 1956, he was an artist for Twentieth Century Fox, leaving to become administrative head of MGM Special Photographic Effects Department. He retired In 1962 and he and his wife returned to the iron River area. While at MGM, he painted backdrop scenes for such movies as 'Never So Few", "Green Mansions", "Please Donut Eat The Daises", and the classic "Ben-Hur'.

When he first came back to Michigan, he wasn't sure what field he would follow, until one day he had a luncheon with wildlife artist Les Kouba. Kouba suggested that LeBlanc get into the wildlife field. Lee LeBlanc had received many awards, among them the Golden Mallard Award from the state of Arkansas, Artist of the Year in 1975 in Tennessee, Artist of the Year in 1978 in Michigan, and Wild Life Artist of the Year by the Arkansas Wildlife Federation.


Carrie Jacobs-Bond
Iron River
Trained Musician, Skilled Cina Painter, Song Writer, Song Publisher
Carrie Jacobs-Bond was the most distinguished citizen of Iron River. She was born in Janesville, Wisconsin in 1863. A trained musician and skilled china painter, she became the wife of Dr Frank Lewis Bond, who began his medical practice in Iron River In 1881.
With the help of a friend, Walter Gale, Carrie Bond organized Bond Publishing Company with her son as partner. She composed several songs Including "A Perfect Day", which resulted in the sale of over five million copies. Others: "To A Wild Rose", "I Love You, Trudy", and "Just a 'Wearyln' For You".