During his celebrated broadcasting career, Kris Eric Stevens became one of the biggest air personalities of the rock radio era. He not only captured Billboard magazine's "Air Personality of the Year" award while at WLS Radio in Chicago, but he also was consistently rated #1 in his time slot on major market stations like KIIS-FM-Los Angeles, CKLW-Detroit, KQV-Pittsburgh, and WQXI-Atlanta.
Seeking a new challenge, Kris opened a Broadcast Creative Services company specializing in advertising, recording, and syndicated radio programming, shortly thereafter, Kris Stevens Enterprises, Inc. began winning awards for their radio commercials and nationally syndicated radio programs. Kris Eric Stevens conceptualized, produced, and hosted the first satellite delivered weekly radio program for the CBS Radio Network, "Entertainment Radio Program" of the year.
His believability and impressive voice style has enabled Kris to become one of the most sought after voice talents in the country. He's a multi-talented voice performer with an extensive list of commercial credits. Kris is also the signature voice of leading television and radio stations nationwide.
Kris now resides in Calabasas, Ca. were his studio is located. Cool eh!

Commercial Voice Talent.
His believability and impressive voice style have enabled him to become one of the most sought after voice talents in the country.
Kris is a multi-talented voice performer with an extensive list of commercial credits. He's also the Signature Voice of leading TV and Radio Stations worldwide. Commercials
Kris Erik Stevens is a nationally recognized voiceover talent:
PONTIAC
THE ORKIN MAN
DELTA AIRLINES
SHERWIN WILLIAMS PAINT
LEVI'S
MEXICANA AIRLINES
McDONALDS
HOT WHEELS/MATTEL
PONDEROSA
SOUTHWESTERN BELL
CAPITOL RECORDS
WALL STREET JOURNAL
HEALTH NET
STOUFFER'S HOTELS
AMC THEATRES
GOODYEAR TIRES
MOVIETICKETS.COM
DISCOVERY CHANNEL


TV Promos
Kris Eric Stevens is heard worldwide:
ABC/CBS/NBC NETWORKS
ESPN
TRAVEL CHANNEL
HBO/CINEMAX
MTV
HGTV
FOX NETWORK
CARTOON NETWORK
FOX FAMILY CHANNEL
ENCORE TV
UPN
VH1
TNT
THE WB
E! TELEVISION
THE DISNEY CHANNEL
SHOWTIME
GOLF CHANNEL
CNN
HISTORY CHANNEL


Movie Trailers
You've heard the Voice of Kris Erik Stevens on
many Movie Trailers such as: The General's Daughter, Last Man Standing, The Thomas Crown Affair, Eyes Wide Shut, The Long Kiss Goodnight, Runaway Bride, The Rock, Pocahontas, etc:
UNIVERSAL PICTURES
CASTLE ROCK
TOUCHSTONE PICTURES
MGM PICTURES
2Oth CENTURY FOX
WARNER BROTHERS
WALT DISNEY PICTURES
COLUMBIA-TRISTAR
DREAMWORKS
MIRAMAX
UNITED ARTISTS
PARAMOUNT PICTURES


Narration
The Voice of Kris Eric Stevens speaks for:
AT&T
JAGUAR
CINEMAX
HBO FILMS
DISCOVERY
HISTORY CHANNEL
CHEVRON
GMC/TRUCKS
NATIONAL CINEMA NETWORK


Voice Talent
Animation/Character
Kris Eric Stevens performs Character Voices
and Saturday morning fun:
X-MEN-MARVEL SUPERHEROES
THE FLINTSTONES
MAD-TV
DIGIMON
SCOOBY DOO
RICHIE RICH
THE SMURFS
AND MORE...


Movie Tunes
Kris Eric Stevens is the voice of MOVIE TUNES...
In the 90's a new concept in movie theatre entertainment was introduced. For the first time, moviegoers began to experience a music entertainment program heard throughout the entire theatre prior to the start of the movie. The program was called MOVIE TUNES, and overnight it became a huge success. Today Movie Tunes has grown to become the world's largest in-theatre music network, reaching more than 75 million moviegoers each month.
Always an innovator, Kris Erik Stevens became the host and narrator of this now legendary in-theatre entertainment program, and today he's heard on over 20,000 movie screens worldwide.
Additionally, Kris Erik Stevens is the Signature Voice of the NCN On-Screen Countdown Show. It's another cutting edge credit for Kris Erik Stevens as America's first 'Image Voice' for Movie Theatres worldwide.


Infomercials
The Voice of Kris Eric Stevens sells:
THE FIRM
BIOSLIM 3
EXCELERATE
POUNDS OFF (1997 Award Winner)
THE COMPLETE GYM
FLIP TRACK/KATHY SMITH
MOTOR-UP
PURE SPIN DIAMOND FACE WEDGE
REEBOK
Host and Narrator for the now legendary Theatre Entertainment Program (over 13,000 screens world wide).

As taken from, Professional Profile - Kris Stevens Enterprises

Dr. Charles Van Riper
Champion Boy
One of the founding fathers
of the Science of Speech
Pathology
Dr. of Psychology
Charles Van Riper was born in 1905, the son of Dr. Van Riper. He grew up hearing the stories of the miners and loggers and clearly enjoyed hearing this local history. He wrote a series of books about his childhood in Champion under the pen name of Cully Gage. In his youth he was known for practical jokes. Several of his exploits were shared. He suffered from severe stuttering. This lead to many embarrassing moments as a child, and he spent much time alone in the woods in a small cabin. He eventually got a teaching degree. His stuttering continued to be a major impairment leading to attempted suicide. He attended graduate school majoring in psychology. The problem became manageable over time and he helped to develop the science of speech pathology - becoming one of its founding fathers. Many articles and texts were written by him and he lectured throughout the world, but he returned each summer to Champion and the woods and lakes of his childhood. Charles Van Riper died in 1994.

As taken from, Marquette General Health System www.mgh.org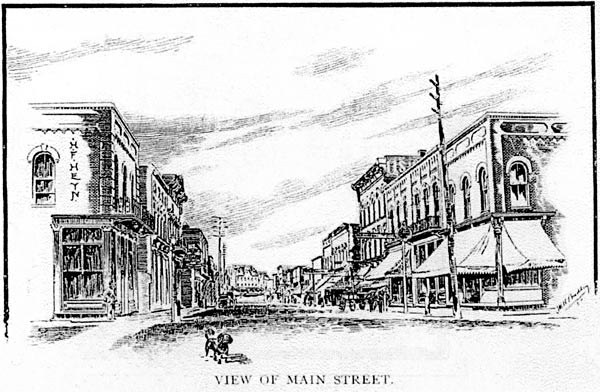 Will Bradley
Ishpeming Boy
Famous Illustrator of Advertisements, Magazines, Books and Posters
Above is artwork of Main Street Ishpeming
William H. Bradley lived in Ishpeming and was a boy who became a famous artist illustrator. He was born in 1868 in Lynn, Massachusetts, just outside of Boston. Will's father, an artist for the Daily Item newspaper of Lynn, got Will interested in printing by bringing him home some type for a press that Will had bought with money earned from working. His father passed away shortly after when Will was eleven. There was no Social Security, so Will and his mother left for her sister's home in Ishpeming, MI. Will had to leave his printing press behind.
Will soon took a job at a newspaper print shop like his father. He quit school and worked so that he could eventually study art. He begin working at The Iron Agitator in 1881 at the age of 13. By the age of 15 Will was earning $15.00 a week, the wages of a man, and was a forman. At this time, his artwork was taking fruition.
Will left for Chicago with four $20.00 gold coins he had saved. Will had no luck finding a good job, and spent several week working for Rand NcNally to learn wood engraving. Down to his last gold coin, he decided to return to the home of Iron Ore.
It was now 1885. Mr. Newett of the Iron Ore (previously the Iron Agitator), gladly took Will back. Having missed Will greatly, Newitt offered half-ownership of the Iron Ore newspaper if he stayed until the age of 20. He was 17 at this time. Will turned it down, and at the age of 18 returned to Chicago to once again work for Rand McNally.
For a few years, though working in Chicago, Will continued do do work for the Iron Ore Newspaper. To make a long and interesting story short, Will went on to become a famous illustrator, his work being sought by many publications.
To learn more, and to see many of his early Ishpeming sketches, look for Robert D. Dobson's biography: E-mail: rddobson@vbe.com Or write to:
Robert D. Dobson - Teal Lake Estates - 224 Shoreline Drive - Negaunee, MI 49866

As taken from, Ishpeming's Will Bradley - Robert D. Dobson

Carol Anderson Goldsmith
Ishpeming Girl
Carol is the sister of Lynn Bellmore, business manager/co-owner and famous piano player from the musical group Da Yoopers.
Broadcasting
www.wyff.com
Carol Goldsmith grew up in the Upper Peninsula of Michigan and received a Bachelor of Arts in Mass Communications at Richmond College in London, England.
Early in her broadcasting career, Goldsmith worked in Marquette, MI and Rochester, NY. She anchored, produced, reported, edited, wrote and even ran the teleprompter before deciding to head south to warmer weather.
Goldsmith joined WYFF in 1985 as an anchor/reporter. Since then, she has successfully carved a niche as the area's best health and medical reporter, winning two National Headliner Awards for her series "The Vision Test" and "Friendship Check Four."
She has also received two Emmys, the Champion-Tuck Economics Prize for Business reporting and the South Carolina Broadcasting Association's "TV Newscaster of the Year" award -- twice.

As taken from, TheCarolinaChannel.com

Jason Jennings
Negaunee Boy
Broadcasting, Media Specialist, Author
"It's not the Big that eat the small - It's the Fast
That Eat the Slow"
Jason Jennings is a consultant to and investor in media, entertainment, financial, transportation, and internet start up companies around the world.
Growing up in a small community in northern Michigan, Jennings dreamed of a career in radio, and shortly before his 22nd birthday, he became the world's youngest owner of a radio station when he purchased KEOS in Flagstaff, Arizona. Five other stations quickly followed and one Jennings innovation after another propelled the stations ratings and revenue among the highest in the United States.
Upon hearing of the success of the wild kid in flagstaff, media owners began flocking to his speeches and seminars to listen to his revolutionary ideas on how to create more clients and grow revenues. From that came a consultation practice, Jennings-McGlothlin and company.
Founded as a company specializing in services to radio and television companies, the firm, now known as Jennings Partners, serves retail, manufacturing, distribution, and communication clients in the United States, Australia, New Zealand, Asia, and Europe. In this capacity, the southern California based Jennings has placed or advised on the placement of more then US$1 billion in media spending on behalf of clients, and he has created and hosted more than a dozen best selling audio and video instructional programs on sales and management that are used by more than 300,000 businesses around the world.
Tens of thousands of business people attend his speeches, lectures, and workshops each year, and Jennings serves on six religious, charitable, and business boards including the Marlin Homeless center, Lutheran Social Services, and First Bank Marin. He currently is acting chairman of a new webbed service for the buying and selling of media time and space.

As taken from, Inmaonline.com

Don Wixtrom
Witch Lake, MI
(If you have an image please email me (Jim Bellmore) at: jimb@dayoopers.com
Member of the American Linguistic Society, Professional Translator,
Member of the American Translators Association.
In his own unusual way, Don Wixtrom has made an impact on the world – even a dramatic one. Several years ago a young American, visiting Mexico, met and fell in love with a Mexican girl. After his return home they corresponded and their affair became more serious. She wrote her letters in Spanish, and his were in English with some attempts at Spanish. But translators on either end of the chain made a few mistakes, which sent the love affair tumbling. That was the end of it – until in desperation the boy appealed t oWixtrom, a professional translator, who smoothed the troubled waters and the couple became happily married.
Wixtrom lives in a very rural spot near Witch lake, in the Upper Peninsula, where he was born in 1929. Since early boyhood he has had an intense interest in languages. At the age of 19 he was confined to a sanatorium with tuberculosis, and he used those two years to study French, Russian, Spanish and other tongues. Well again, he enrolled at Northern Michigan University, but could not get enough of what he wanted – languages – and dropped out after a year.
Home again, he rigged-up short wave radios to catch foreign broadcasts, and lined his work room with foreign language dictionaries, encyclopedias, and works of fiction and nonfiction – literally thousands of volumes ranging from a late edition of a Russian chemistry text to a German version of "Huckleberry Finn." In all, he has taught himself some 30 languages, in which he can speak and write fluently. He has vocabularies of 10,000 to 15,000 words in each. He is a member of the highly selective American Translators Association and of the American Linguistic Society.
Clients of Wixtrom's services are worldwide, and they vary from translating scientific and technical papers to translating fiction, with an occasional unhappy love affair thrown in.
He has been offered good positions with the federal government and private industry, but prefers the life he enjoys on his little farm at Witch Lake.

Paul Everett Bietila
Ishpeming, MI
Champion Ski Jumper, Scholar, Gentleman
Paul Everett Bietila rode his skis for the last time on February 5, 1939. In a practice jump that morning at the American National Ski Meet in Minneapolis, he established a record for the day. Later he soared off the scaffold on his last flight, then crashed into an iron restraining pole at the edge of the runway. For three long weeks after the accident Paul Bietila fought hard to live. On Sunday, February 26, he died.
Paul Bietila, a native of Ishpeming, Michigan, was the fourth son in a family of seven, nearing his twenty-first birthday. In the school of Physical Education, he was reported as a clear, logical thinker and keen scholar, but like his Finnish ancestors, he was first of all an out door man. He loved the snow and the winter and the cold. He loved best of all to ski. His devotion to skiing subordinated every other interest to the mastery of his love. He had to be a champion!
He represented Wisconsin at the International Intercollegiate Ski Meet at Brattleboro, Vermont in 1938, and won first place. He held nine individual hill records. He was the best ski jumper in America at the time of his death. A sincere gentleman, Paul Bietila was an honor to his University.

Moe Brown
(left-Gene Autry, Al "Moe" Brown and Al's son and daughter -
I will try to find their names soon)
Ishpeming
Comedian/Actor
He was known as Al "Moe " Brown when he was in the UP, but preferred not to use Moe when he went to Alaska and Las Vegas. Al was born in Ishpeming and went to Ishpeming schools.
Al was the oldest of 9 kids of Al and Goldie Brown. He worked at the Mather Inn early on and the Hotel Northland in Marquette. While in high school he learned to do Al Jolson at the Ishpeming theatre during intermission of actual Jolson movies. This was before joining
the Air Force in the early 50's during the Korean War. He was a disc jockey/announcer for Armed Forces Korea as an airman and his commanding officer was Capt. George Kennedy, who later went on to movie stardom back in the states. Al had a show in Korea very simular to that of Robin Williams in Good Morning Vietnam. He would send home reel to reel tapes of his shows there.
Al returned to the UP after marrying in the Air Force and worked for WJPD before landing a job with WLUC as Al Brown the Bunny Man on the Bunny Tales show sponsored by Bunny Bread of Marquette. He appeared all over the UP and other states doing comedy and pantomime. He moved to Alaska in the early 60's and then to Las Vegas where he spent most of his career. In Vegas, he worked at all of the major hotels, with the main chain being the
Summa Corporation, then owned by Howard Hughes. He traveled to Atlantic City and the Bahamas as well as Vegas with a group know as the Bernard Brothers. They opened for all of the big major acts of the day, including Red Skelton and others.
While in Las Vegas he owned the Valley Bar, which was visited almost daily by Dean Martin when he played the Desert Inn and the Stardust. Dean considered Al a good friend and fellow entertainer. He had a part in Anatomy of a Murder and before he died he was about to sign on
with a TV production being filmed in Vegas, "Spencer for Hire." Many Yoopers were entertained by Al in Vegas, in the UP and overseas.
We miss his wit and humor and are very proud to have him as a member of the Yooper Hall of Fame. - Ken Brown

Bruce Lahti
(If you have an image or know the source of one please email me (Jim Bellmore) at: youguys3@charterinternet.com
Marquette Boy
General Manager Of The World Golf Hall Of Fame,
Michigan Tech Universty Graduate
Bruce played football for Marquette Senior High School, and after graduated from MSHS, he attended Michigan Tech University. After earning a degree in 1971, he attended the Detroit College of Law, which he graduated from in 1975.
Lahti worked for Bruce Norris, owner of the Detroit Red Wings for 12 years. During that time he Lahti booked Motown legend Diana Ross to perform at the Joe Louis Arena for the weekend of the 1982 Super Bowl. When Mike Illitch bought the Red Wings in 1983, Lahti decided to go into business for himself and became Manager for singer Roger Whitaker.
Bruce was in New Orleans for the 1986 Chicago Bears, New England Patriots game while working for a company that managed the Superdome.
He moved to Florida in 1988 and started his own business, and then became involved with the World Golf Village and it's Hall of Fame several years ago. Recently he has been involved with the coordination of the National Football League in Canton, Ohio, an exhibit saluting the Super Bowl that will be displayed at the golf hall of fame.

Henry Hall
Ishpeming/Ely Township
First American to hold ski jumping titles, as well
as the first ski jumper to soar lengths of more
than 200 feet.
Ski-jumping Legend
Born Feb. 27th, 1893, Hall and his five younger brothers grew up on Jasper Street in Ishpeming. While all six brothers were competitive ski jumpers, Henry, who began his ski jumping career at Suicide Hill, became the first american to hold ski jumping titles. He was also the first ski jumper to soar more than 200 feet by flying 203 feet in 1917 at steamboat springs, Colorado, breaking the previous record by 11 feet. He broke another record in 1921 at Revelstoke, British Columbia, by soaring 229 1/2 feet, a record that held for 10 years.
Hall went on to build ski-jumping towers and promote tournaments in down state Northville, Rochester and Brighton between 1926 and 1940. He continued to win ski-jumping titles until he was 43 years old.
Hall was inducted into the U.S. National Ski Hall of Fame in 1967.
Hall made his final jump in 1978 and continued to cross-country ski until he was 91. He passed away in 1986 at the age of 93.

As taken from, The Mining Journal