Novelty & Gag Gifts
Page 1 of 2
(click the yellow box above to visit page two)
the original
WEENER KLEENER SOAP



Large or small or inbetween-er, nothing beats a cleaner weener!
Glycerin soap.
For Adults Only.




Item #web1990
$9.99
Add to your cart

the itty-bitty
WEENER KLEENER SOAP

"for those with a leaner weener"

Large or small or inbetween-er, nothing beats a cleaner weener!
Glycerin soap.
For Adults Only.




Item #web34052
$10.79
Add to your cart
the
WILLY WARMER

a heater for your peter!





Item #web6600
$10.49
Add to your cart

the military
WILLY WARMER
a heater for your peter!

Item #web30882
$10.49
Add to your cart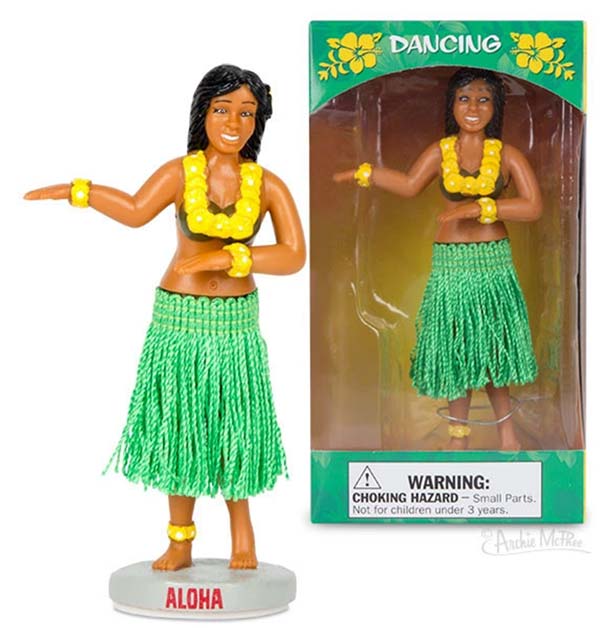 Dash Board Hula Girl
All dashboards can be improved by the presence of this quality Dashboard Hula Girl. She sways her 5-1/4" tall body gracefully to and fro on springy hips under a silky tasseled "grass" skirt. Made of vinyl with adhesive base.

• 5-1/4" tall, hard vinyl with adhesive base
• Wears tassled "grass" skirt
• Gracefully sways to and fro on springy hips
• Comes in two assorted colors (our choice)

Item #web29951
$9.99
Add to your cart

YOOPER COUNRTY
BRAND
SNOW

Actual ingredients: Instant Potatoes (do not eat)

Item #web15811
$.50
Add to your cart
wtf
SLAMMER BUTTON
Ten hilarious sound effects, including; "WHAT THE BLEEP!"
Requires 3 AGI13 batteries (included).
For Adults Only.
Item #web2084
$12.99
Add to your cart
BULLSH*T
BUTTON
Get your frustrations out in a harmless way, push button, alarm sounds along with voice announcing detection of bullsh*t. Six different alarms and announcements. Keep in your car, on your desk or anyplace you need some frustration release. Includes double sided tape for mounting. Lights up when pressed. Six Different Sayings. This bullshit button is 3" in diameter and 2" tall. Requires 2 AAA batteries (included). For Adults Only.
Item #webbullsh4347
$9.99
Add to your cart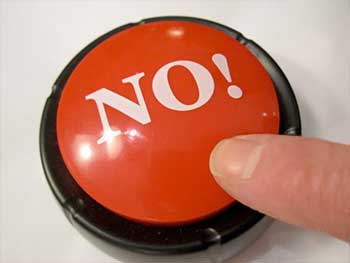 "NO" BUTTON

Can be used everywhere!
Can I borrow some money? NO!
Can I have a Puppy? NO!
Fun stress reliever!
Say NO to anything!

This bullshit button is 3" in diameter and 2" tall.
Requires 2 AAA batteries (included).

Item #webbullsh17608
$9.99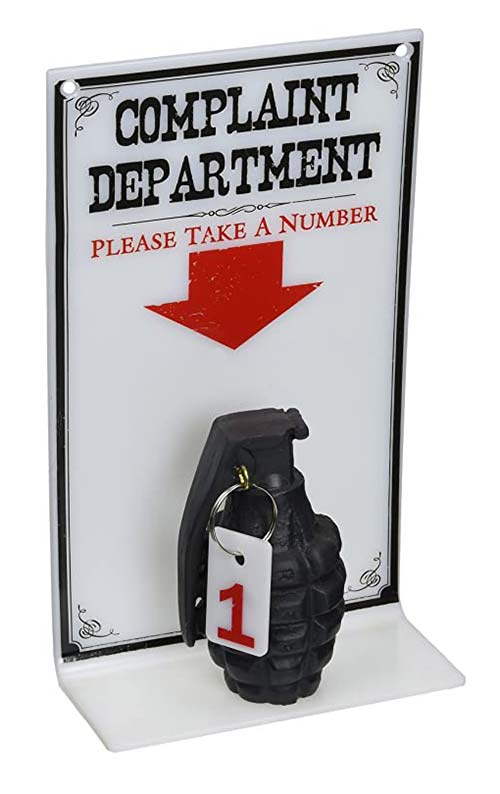 The Complaint Dept Office Sign
Got a problem? Take a number.
Look, not everyone is a "people person". Cut right to the chase with this best selling desktop sign, and let 'em know today is NOT the day for complaints.
• the perfect gift for anyone who deals with people
• replica grenade with pull ring & number tab
• 8.5″ tall and 5″ wide sign

Item #web9331
$10.99
Add to your cart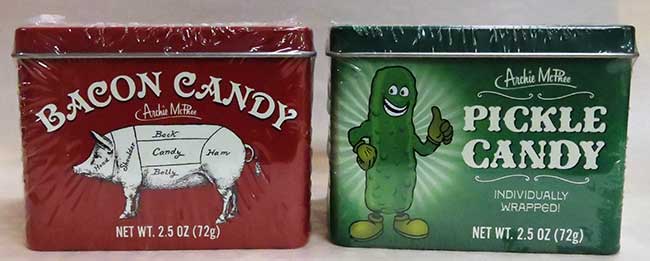 BACON CANDY

Meaty!

Individually wrapped!

2.5 oz

Item #webkch21701

$5.99
Add to your cart

PICKLE CANDY

Sweet, dilly and briny!

Individually wrapped!

2.5 oz

Item #webkch21361

$5.99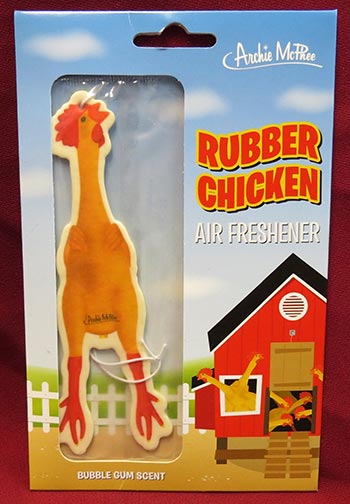 Rubber Chicken
Air Freshener



Bubble Gum Scent


Item #web26648
$3.99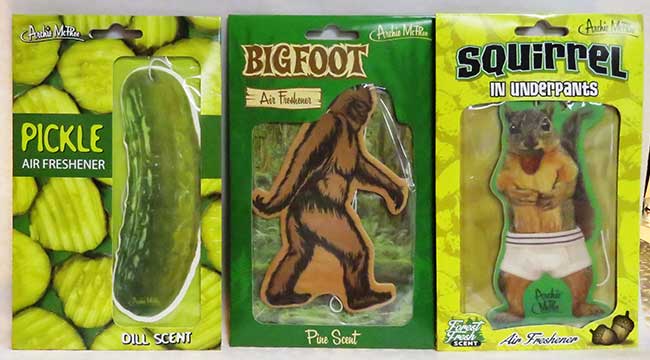 UNUSUAL AIR FRESHENERS!
Dangle some this 5.5" dill from your mirror for that fresh dill scent!
Enjoy the company of a 5" pine-smelling Bigfoot while driving!
Get nutty with a forest scented 4.75" squirrel in underpants!


PICKLE
Item #web21850
$3.99
out of stock

Squirrel in Underpants

Item #web18800

$3.99

out of stock
BACON
AIR FRESHENER
Sizzling Bacon Aroma! Funny, yes!
But also smells YUMMY!

Item #web21633
$3.99
Add to your cart
Electronic
Whoopee Cushion
Select a time delay, hide unit (under chair, etc) let the seething, rip-roaring, earth ending chaos begin!
Also uses 3 AAA included.
Item #web04810
$8.99
Add to your cart
YOOPER FACE LIFT


Contains two clothespins.

Item #web13509
$1.49
Add to your cart

YOOPER TOILET PAPER
Read n' Wipe, eh!

Contains one folded section of a page from
a newspaper.

Item #web7418
$1.49
Add to your cart
Yooper Jigsaw Puzzle

Actual Jigsaw wood debris.

Item #web85
$0.99
Add to your cart

Yooper Boob Job

Includes two balloons. You can't beat this price!

Item #web3355
$1.49
Add to your cart
YOOPER FIRE ALARM

Contains un-popped popcorn.

Item #web7460
$0.99
Add to your cart


YOOPER EMERGENCY REPAIR KIT

Contains a couple slips of duct-tape, a rubberband and a paper clip.

Item #web7418
$1.49
Add to your cart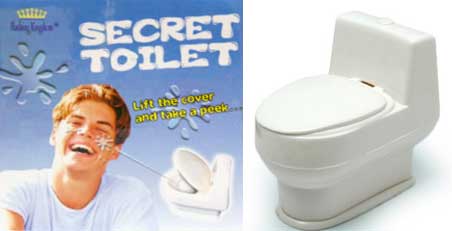 Secret Squirting Toilet
Being squirted with "toilet" water- that's gross. Being the one doing the squirting- now that's hilarious! Hand this small toilet to a friend or just leave it sitting around where people will see it. When curiosity gets the best of them, they'll lift the lid to peer inside and discover only a faceful of water! Ewww!
Item #web3650
$3.75
out of stock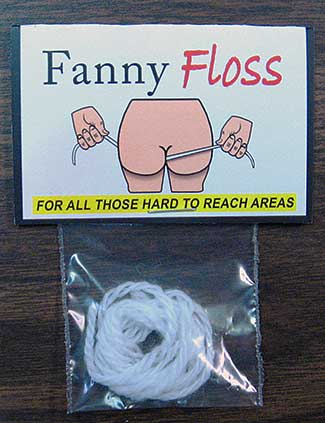 Fanny Floss

For all those hard to reach areas
Item #web96
$0.99
Add to your cart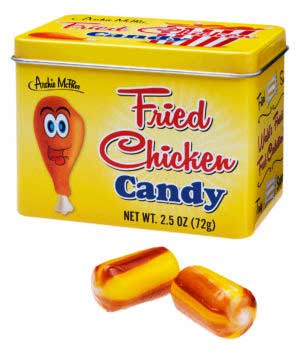 Fried Chicken Hard Candy


"It tastes like chicken" is a phrase used for so many unusual, out-there foods that it's become cliché. In the case of Fried Chicken Hard Candy, though, there's no other way to describe it.
Each individually wrapped hard candy lozenge tastes like a salty, savory, and sweetened version of fried poultry. The sensation of this sweet and salty bird is one you're sure to want to share.

Individually wrapped
Comes in a fun tin with a friction-fit lid
Tin dimensions: 3 1/4" x 2 1/2" x 2" (8.3 cm x 6.4 cm x 5.1 cm)
Net wt.: 2.5 oz (70.8 g)

Item #webkch23873
$6.49
Add to your cart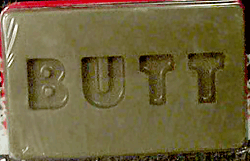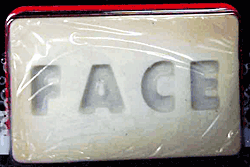 (double sided soap, one side for face, other side for butt)
Butt-Face Soap
Real soap!
Item #webi5290
$6.49
out of stock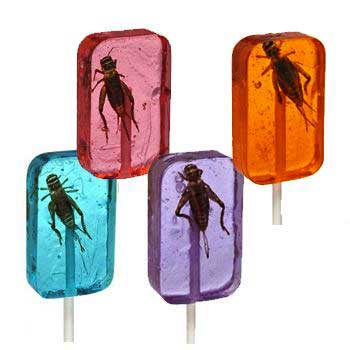 Cricket Suckers
Actual cooked, candied & ready to eat Cricket at the center!

Blueberry

#webkch23441a

$2.49


out of stock

Strawberry

#webkch23441b

$2.49


out of stock

Grape

#webkch23441c

$2.49


out of stock

Orange

#webkch23441d

$2.49


out of stock
CRICK-ETTES
Bacon & Cheese

Actual cooked, seasoned & ready to eat Crickets.

1.gram

Item #webi24098a

$2.75


out of stock

CRICK-ETTES
Salt N' Vinegar

Actual cooked, seasoned & ready to eat Crickets.

1.gram

Item #webi24098b

$2.75


out of stock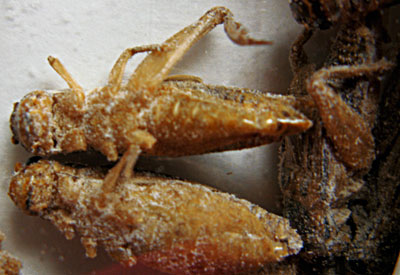 CRICK-ETTES
Sour Cream
& Onion

Actual cooked, seasoned & ready to eat Crickets.

1.gram

Item #webi24098c

$2.75


out of stock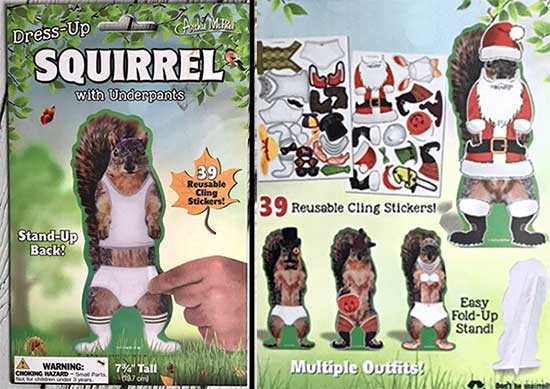 Dress-Up Squirrel with Underpants



Item #web21851
$8.99


out of stock
COMPLAINT DEPARTMENT MUG
PLEASE TAKE A NUMBER

Grenade shaped with pull ring and number tab -
Holds 16 oz. of your favorite beverage -
High quality ceramic construction -
Easy to clean

Item #web2004
$10.99


Self-Inflating Whoopee Cushion

All the fun without the smell!
Embarress your friends and family!


Item #webbullsh11007
$5.49