Books, DVD's & Calendars
Page 2 of 2
(click the yellow box above to visit page one)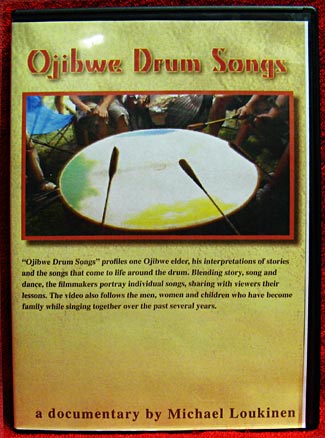 OJIBWE DRUM SONGS
DVD
Michael Loukinen, professor of sociology at Northern Michigan recently premiered his latest documentary film, "Ojibwe Drum Songs", which offers a revealing glimpse into the life of an Ojibwe elder, his stories and the songs that come to life around the drum. Dr. Loukinen produced the film with Grant Guston of Lake Effect Media.
Loukinen was invited by the Lac Vieux Desert Band of Lake Superior Ojibwe in 1996 to produce documentaries and a digital archive of their traditions. Ojibwe Drum Songs is the fourth film in the series. It blends story, song and dance.
"The drum is the oldest-known instrument and an essential aspect of Ojibwe life," Loukinen said. "It's believed a spirit resides in the drum and that it must be treated with reverence and respect."
Michael Loukinen
50 minutes.
Item #webf26404
$22.95
Sale! $12.99
Add to your cart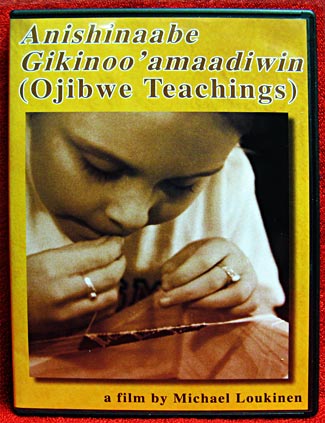 Anishinaabe Gikinoo' amaadiwin
(Ojibwe Teachings)
DVD
This is actualy three films, each edited for apprpriate classroom length. Those seeking deep understanding should watch it repeatedly.
Part 1: Childhood years were spent in distant Catholic boarding schools where expressions of tribal culture were punished.
Part 2: Documents the Lac Vieux Desert tribe's efforts to teach their expressive traditions of beadwork, drum singing, the Ojibwe language and other life lessons.
Part 3: Explores the identity one can derive by learning spiritual beliefs.
Michael Loukinen
110 minutes
Item #webf26403
$22.95
Sale! $12.99
Add to your cart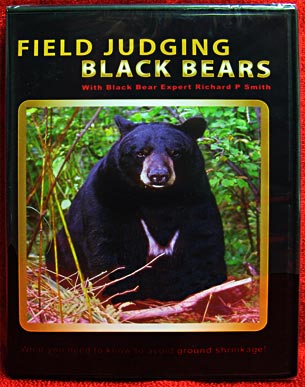 FIELD JUDGING BLACK BEARS
With Black Bear Expert Richard P. Smith
DVD
What you'll see in this video: Bears of all sizes, 4 Boone & Crocket kills. Learn to distinguish males from females and Record book animals.

Item #webf26091
$15.99
Add to your cart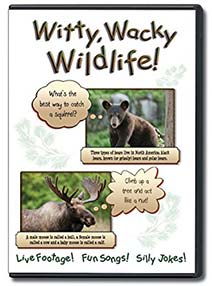 Item #webf721
$19.99
Add to your cart

Witty, Wacky Wildlife! DVD
"
"Witty, Wacky Wildlife" DVD on the Fun Tunes for Kids label by Brent Holmes. You and your children can watch live video of moose and bears and other wild animals while listening to your favorite songs from the Moose Tunes and Bear Tunes for Kids CDs. All of the music on this DVD was produced by Emmy nominee Dave Hoffner. Children will also learn over 120 fun facts about moose and bears as they watch this DVD. In addition to the cute songs, the great video and the fun facts, there are over sixty of the silliest wildlife jokes you'll ever hear. The bear asks "What's the best way to catch a squirrel?" The moose answers "Climb up a tree and act like a nut!" And it's all accompanied by the fine vocal talents of Brent Holmes! DVD is New, Factory Sealed. 40 Minutes
1. Hey, Mister Moose
2. Backpack Tree
3. A Moose in a Treehouse
4. The Peanut Butter Bears
6. There's A Chocolate Moose on the Loose
7. My Paw's Bigger than Your Paw
8. I'm a Moose and I Love My Lips
9. There Ain't No Bugs on Me
10. Moose Tracks
11. I've Been Diggin' Out My Bear Den
12. I'm a Moose with a Cowlick
13. I Can't Wait to Hibernate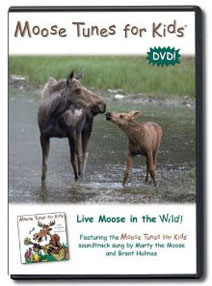 Item #webf16887
$19.99
Add to your cart

Moose Tunes for Kids:
Live Moose in the Wild! DVD
"Moose Tunes for Kids® is one of the bestselling children's CDs in North America. Now you and your children can watch live moose in the wild while listening to your favorite Moose Tunes! You'll see bull moose with their enormous antlers. You'll view cow moose and cute little moose calves. In the comfort of your home or vehicle you'll be able to watch moose swimming, walking, running, sleeping, eating and playing. And it's all accompanied by the fine vocal talents of Marty the Moose and Brent Holmes!"
35 Minutes
1. There's A Chocolate Moose On The Loose
2. A Moose In A Treehouse
3. I Am A Very Handsome Moose
4. The Moose In The Middle Of The Road
5. I'm A Moose With A Cowlick
6. Hey, Mister Moose
7. The Three Mooseketeers
8. Moose Don't Moo
9. I'm A Moose And I Love My Lips
10. The Marshmallow Moose
11. Moose Tracks
12. The Happy Moose Jam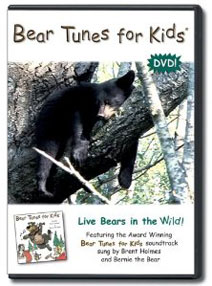 Item #webf16886
$19.99
Add to your cart

Bear Tunes for Kids: Live Bears in the Wild! DVD
Bear Tunes for Kids is one of the best selling children's CDs in North America. Now you can watch live bears in the wild while listening to your favorite Bear Tunes! In the comfort of your home or vehicle you can watch bears climbing, walking, running, sleeping, eating and playing. And it's all accompanied by the fine vocal talents of Bernie the Bear and Brent Holmes!
40 Minutes
1. I See A Bare Foot Bear
2. I Can't Wait to Hibernate
3. My Paw's Bigger Than Your Paw
4. Backpack Tree
5. The Peanut Butter Bears
6. There Ain't No Bugs On Me
7. Bears Have Coats Of Many Colors
8. I've Been Diggin' Out My Bear Den
9. A Bear With A Fiddle In The Middle Of The Woods
10. I'm A Bug Chubby Bear With A Furry Little Tail
11. When you Find A Bear Cub's Teddy Bear
12. Fur
Jerry Harju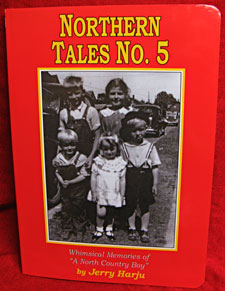 NORTHERN TALES NO. 5
Whimsical Memories of
"A Northern Country Boy"
By Jerry Harju
The fifth book in his "Northern" series revisits the primitive U.P. of his youth, giving the reader a uniquely humorous flavor of the 1940's to mid '50's era when life was full of risks.
Jerry Harju, Author
Item #webf23686
$12.95
Add to your cart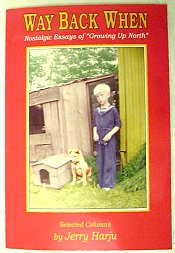 Way Back When: Nostalgic Essays of
"Growing Up North"
By Jerry Harju
Want to go back in time? Humorist Jerry Harju tells how it was when kids could bring knives to school but not marbles. And what was on the menu when his father was the first stay-at-home dad. Jerry will jog fond memories of 1940's radio commercials and christmas goodies, the Great Depression Syndrome of saving string and tinfoil, when the phrase "trick or treat" had teeth in it, and, yes, even some jail time. "Way Back When" is a collection of selected essays published in the Mining Journal, Upper Michigan's largest newspaper. Jerry Harju, Author
Item #webf7798
$12.95
Add to your cart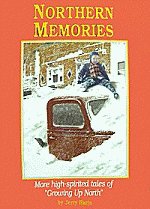 Northern Memories
More High-Spirited Tales Of "Growing Up North"
By Jerry Harju
This is the fourth book of short stories about my clean-cut, formative years in the U.P.; blood-stirring sagas that include trying to teach my Mother how to drive a Model-A Ford, punishing a dentist bent on extracting one of my baby teeth, a star-crossed 4th grade romance and many other mostly true tales.
Jerry Harju, Author
Item #webbook10
$12.95
Add to cart


Northern D'Lights
The 2nd book from Jerry. A collection of humorous short stories about the rigors of growing up in the U.P.
Item #web2499
$12.95
Add to cart
Northern Passages
The 3rd book by Jerry. More humorous short stories about growing up in the U.P.
Item #web2219
$12.95
Add to cart
Northern Reflections
Jerry's 1st book about growing up in the U.P.
Item #web2216
$12.95
Add to cart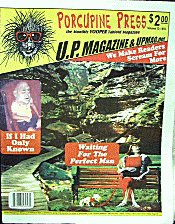 Porcupine Press
the Monthly YOOPER Tabloid Magazine
Hoolie's favorite mag featuring "The Never Ending Tales of Toivo & Eino," " Hilarious Humor from Jerry Harju," " Just Shut Up And Eat It" - the Porky's Yooper Food Column,
"The Great Outdoors" - column by Bill Moore
and a whole lot more!
Item #web3537
$5.00
Add to your cart
A Deer Gets Revenge
Humorous but true stories from a Game Warden
By Sgt. John A. Walker
Item #web058
$10.00
currently out of stock


But Honey It Wasn't My Fault
More stories from a Game Warden
By Sgt. John A. Walker
Item #web060
$10.00
currently out of stock


A Bucket Of Bones
More stories from a Game Warden
By Sgt. John A. Walker
Item #web062
$10.00
Add to cart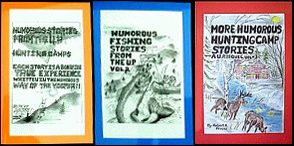 Humorous Stories From The U.P.
Hunting Camps
Vol. I
Each story is a bonafide true experience, written in the humorous way of da yooper!
By Bob Hruska
Item #web01097
$12.00
out of stock

Humorous Fishing Stories
From The U.P. Vol. II
These stories bring back to life experiences from the author's background of adventures in the U.P. and some Canadian Fly-in fishing trips.
By Bob Hruska
Item #web1096
$12.00
out of stock
More Humorous Huntingcamp Stories
A UP Sequel Vol. III
From the Upper Peninsula of Michigan to northern Wisconsin, here are stories of hunting camp humor, adventure, and local characters. A few fishing adventures are included to add an "off season" bonus.
By Bob Hruska
Item #web01098
$12.00
out of stock