Books, DVD's & Calendars
Page 1 of 2
(click the yellow box above to visit page two)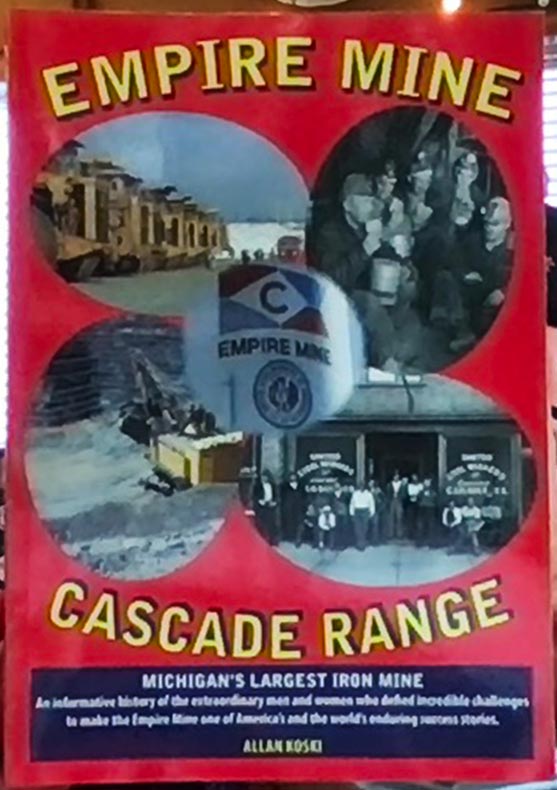 EMPIRE MINE
CASCADE RANGE
by Allan Koski
An informative history of the men and women who defied incredable challenges and made the Empire Mine one of America's and the world's enduring stories.
192 pages
Item #webv27224
$24.99
Add to your cart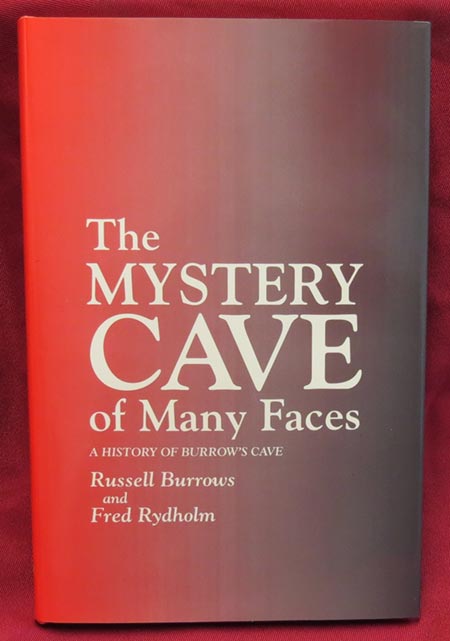 The MYSTERY CAVE of Many Faces
by Russell Burrows & Fred Rydholm
A History of Burrow's Cave. Rare documentation from Russel Burrows, the explorer and landowner who discovered the Evidence and facts proving the presence of worldly visitors to Ancient America (Amexem,Muu) including Asiatics, Nordics and West Afrikans.
243 pages
Item #webv27101
$9.99
Add to your cart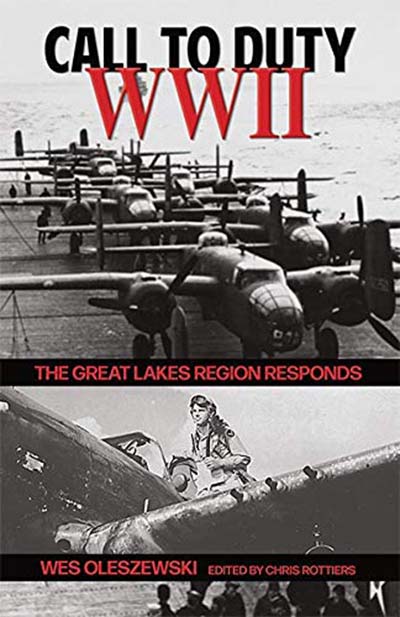 Call to Duty: WWII The Great Lakes Region Responds
by Wes Oleszewski

Noted for his meticulous research, Oleszewski has a knack for weeding out the greatest of details from the most obscure events and then weaving those facts into the historical narratives which are his stories. His tales of actual events are real enough to thrill any reader while every story is technically correct and highly educational.
203 pages
Item #webv25715
$17.95
out of stock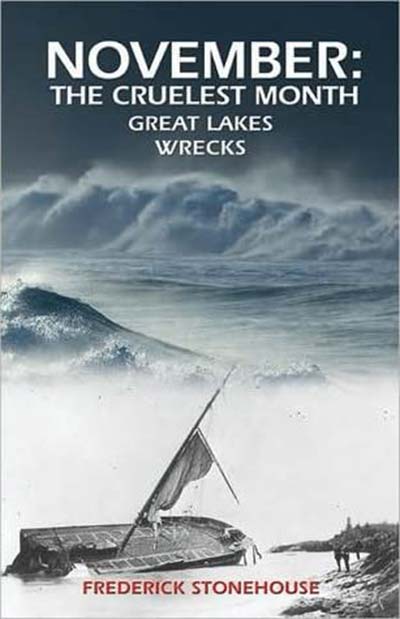 November: The Cruelest Month: Great Lakes Wrecks
by Frederick Stonehouse

Frederick Stonehouse has authored over thirty books on maritime history, many of them focusing on the Great Lakes and contributed to several others.
186 pages
Item #webv9503
$16.95
Add to your cart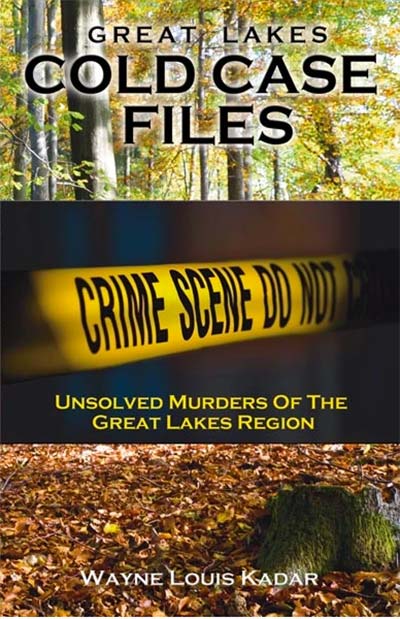 Great Lakes
Cold Case Files
Unsolved Murders of
The Great Lakes Region
by Wayne Louis Kadar

Examination and thorough research into many "cold" case throughout the Great Lakes region. Crimes of all kinds, murders, rapes, robberies and other such heinous acts. Who knows, maybe you the reader may have a clue that helps solve a case.
201 pages
Item #webv5485
$17.95
Add to your cart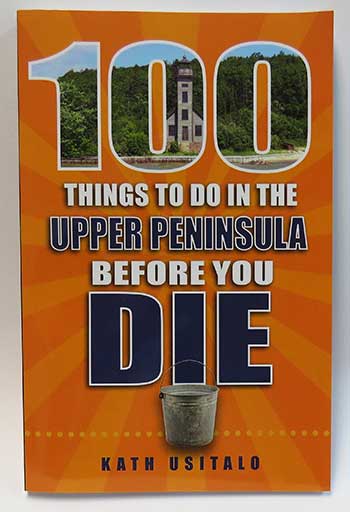 100 THINGS TO DO IN THE
U.P.
BEFORE YOU DIE
by Kath Usitalo

Features restaurants, trails, photo ops, theaters, cultural hubs and more that have made a name for themselves in Michigan's Upper Peninsula. And guess what!
Da Yooper's Tourist Trap is included as one of 100 things to do! Thank you Kath!
146 pages
Item #webv16660
$16.00
Add to your cart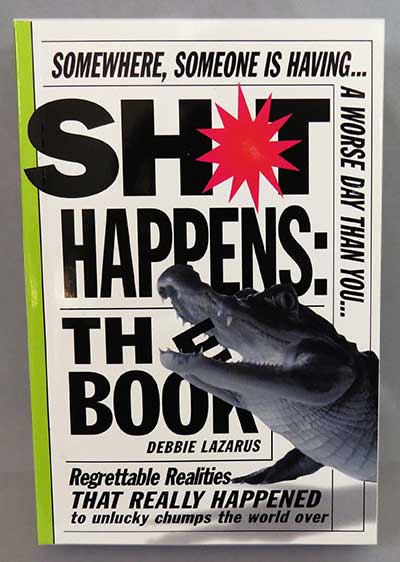 Sh*t Happens: The Book
by Deborah Lazarus

The lure of the morbid. The fascination of really bad news. The strange thrill of things going spectacularly wrong. Tragic, sensational, spine-chilling, and addictively entertaining, it's The Darwin Awards meets The Stupidest Things Ever Said. In story after story we meet the star-crossed, the extremely unlucky, and the fatally foolish. Sure—it's grim, sometimes ghastly. But isn't it nice to know that someone, somewhere, had a worse day than you?
Sh*t happens.
Sometimes it's natural: A driver goes for the ride of his life when a 100-mph gust blows his truck off the Verrazano Narrows Bridge in New York. (He survives the steep plunge into
the Hudson River.
Sometimes it's supernatural: The woman who peels an artichoke only to have it explode
in her hand.
Short-sighted: A rattlesnake owner kisses his beloved pet, and discovers that the
affection isn't mutual.
Delightful, Heartbreaking, Gross and grosser...
...and even, seemingly, cosmic justice: An incensed homeowner catches a mouse and decides to teach it a lesson by tying a kerosene-soaked rag to its tail and setting it on fire. The mouse flees; the man's house burns down.
325 pages
Item #webv44366
$9.95
out of stock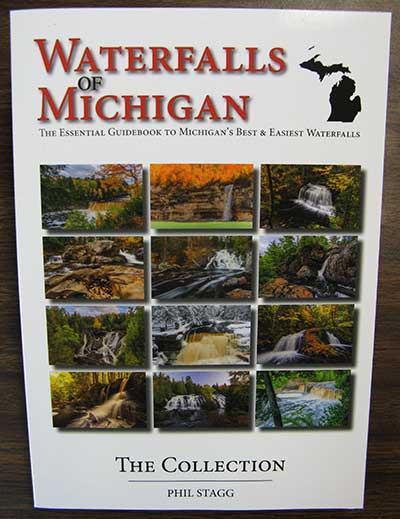 Waterfalls of Michigan - The Collection
by

Phil Stagg



Waterfalls of Michigan - The Collection contains 202 waterfalls from across the state of Michigan. As most of Michigan's waterfalls are in the Upper Peninsula, this book has 201 waterfalls from the U.P. and just 1 from the Lower Peninsula. This book has about 1/3 of the waterfalls from the four book series "Waterfalls of Michigan - The definitive guide to the waterfalls of Michigan". There are 13 counties represented in the book, with large county maps at the beginning of each county and area maps following for each waterfall. Detailed driving and hiking information is provided for each waterfall. There are GPS coordinates, amazing color photos and first hand information to give you everything you need to decide which waterfalls to visit, and which to simply enjoy by viewing the author's photography!
304 pages
Item #webv17489
$29.95
Add to your cart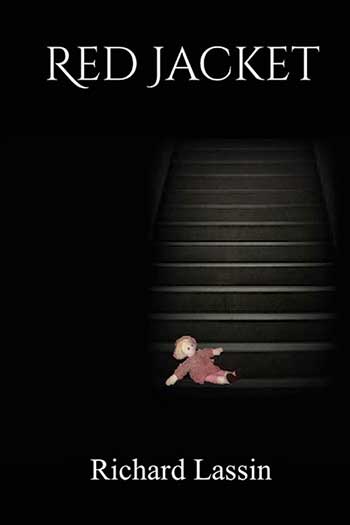 RED JACKET
by Richard Lassin

After the loss of her daughter and a broken relationship, Evangeline Attwood escapes from her life as a middle-school teacher and takes refuge at her brother's cabin in northern Michigan. But instead of finding a quiet haven for reflection, she is inexplicably drawn to a museum in Calumet. Taped to a set of plain wood doors is a sheet of white paper with the names of the people who died in an event known as the Italian Hall Tragedy. As Evangeline peruses the list, a pair of names strike a chord deep within, wondering if she was there in another lifetime.
282 pages
Item #webv21971
$20.00
Add to your cart
RAMPAGE
SERIAL KILLERS

Wayne Louis Kadar
Within the covers of this book are the accounts of the most notorious serial killers to ever have walked the streets of America. Infamous murderers are chronicled like, Ted Bundy, Son of Sam, Green River Killer, Kristen Gilbert and Charles Cullen. A very interesting followup book to the Great Lakes Serial Killers
197 pages

Item #webv15675
$16.95
Add to your cart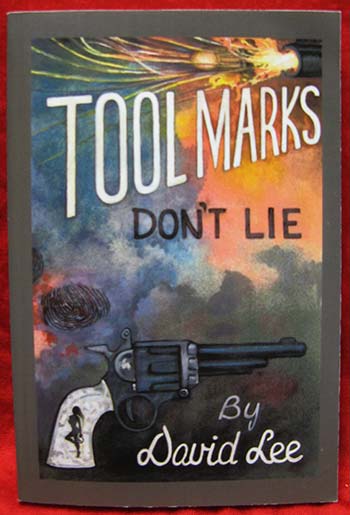 Tool Marks Don't Lie
David Lee
Courts must ferret out the facts in capital murder cases even if witnesses and experts lie. Tool marks in the chambers and barrel of a gun always tell the truth.
360 pages

Item #webv12043
$19.99
Add to your cart
MAYHEM
in the Mitten

Bill Blewett
Trouble seems to follow wherever Bill Bennett and his comrades go. Fracking becomes a major component of the death of an engineer determined to succeed. In addition patients at retirement homes die at an alarming rate. Bennett and his fellow detectives take it upon themselves to try to solve these horrendous crimes.
270 pages



Item #webv26084
$14.95
Add to your cart

MAYHEM
in the Superior Peninsula

Bill Blewett
This is the third in the series of the "Mayhem" mysteries. Bill Bennett and his friends once again confront evil in the Superior Peninsula. The mysteries are written in simple to understand language buy yet will leave you wondering who is responsible for so much horrific events in Mesabi County. Many times Bill and his friends risk their lives to try to save people and thwart horrible deeds that are committed in the name of greed. It is a real page turner and you will become engrossed in the stories until you finish the last mystery.
278 pages

Item #webv21359
$14.95
Add to your cart
MAYHEM
on the Dead River
5 Mysteries

Bill Blewett
Fictional account of a retired sheriff and his friends who continually get caught up in murders and other horrible crimes on the Dead River. It occurs in fictional Mesabi County in the beautiful Upper Peninsula of Michigan.
270 pages

Item #webv15146
$14.95
Add to your cart

MAYHEM
on the Michigamme
6 Mysteries

Bill Blewett
The is the second adventure in the series of retired sheriff, Bill Bennett. Along with his friends, they try to bring justice to a community that is packed with deceit, crime, violence, and misadventures as the pseudo-detectives help law enforcement solve horrible crimes on the pristine Lake Michigamme.
286 pages

Item #webv18634
$14.95
Add to your cart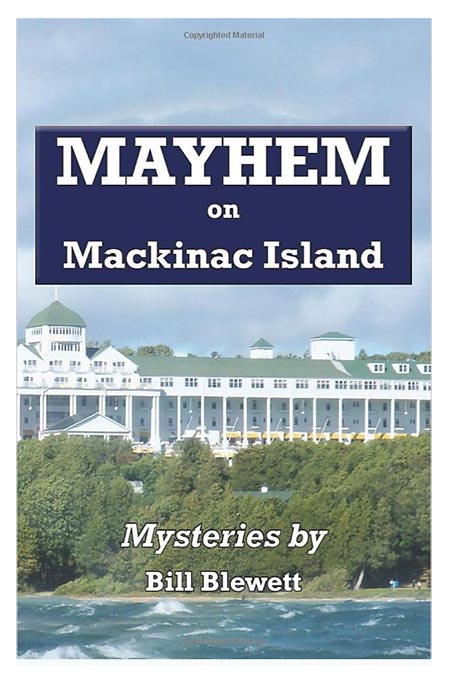 MAYHEM
on Mackinac Island
Bill Blewett
Bill Bennett and his wife take their grand-children to Mackinac Island for a relaxing week. That wasn't going to happen. The first story includes an oil company employee murdered and an oil exe's wife disappears. Bill and his senior-sleuths are asked to help. The endings are guaranteed to surprise you.
272 pages

Item #webv22126
$14.95
Add to your cart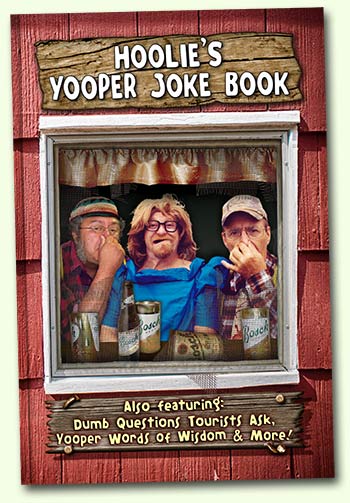 HOOLIE'S JOKE BOOK
Also featuring Dumb Questions Tourists Ask, Yooper Words of Wisdom and more!

Item #webvBK06
$9.99
out of stock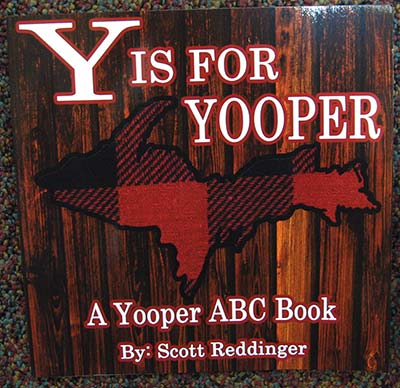 Y is for YOOPER Book
A Yooper ABC Book
By Scott Reddinger
This book is for all ages! Experience all things Yooper through a rhyming children's book that is fun for the whole family.
Item #web12763
$12.99


out of stock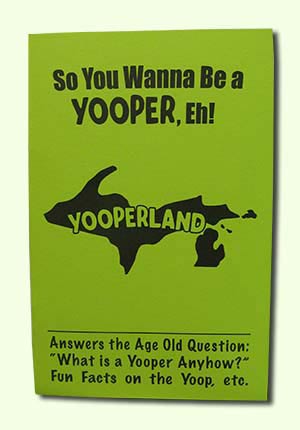 So You Wanna Be a Yooper, Eh!
Answers the age old question, "What is a Yooper anyhow?"
Fun facts on the Yoop, etc.
Item #web14916
$1.99
Add to your cart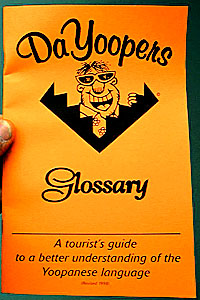 Da Yoopers Glossary
A tourists guide to understanding the Yoopanese language.
Item #web2415
$1.99
Add to your cart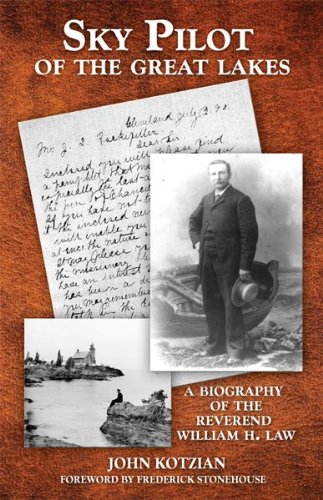 Sky Pilot of
the Great Lakes
John Kotzian


The Reverend Law was in peril on the Great Lakes and was rescued by a U.S. Life-Saving Service Station crew. As a result of that rescue, seeing their heroic efforts first hand, Reverend Law dedicated the rest of his life to the men and women stationed at Light and Life-Saving stations throughout the United States.

"Sky Pilot" was sailors' slang for a chaplain. To the men and women he served, Reverend Law was lovingly known as "The Sky Pilot of the Great Lakes." A tale of unconquerable optimism, the story of W. H. Law's life is as much the account of the brave men and women of the Lighthouse Service and Life-Saving Service as it is the saga of a long and rewarding life in the service of others.


224 pages
Item #webf7059
$17.95
Add to your cart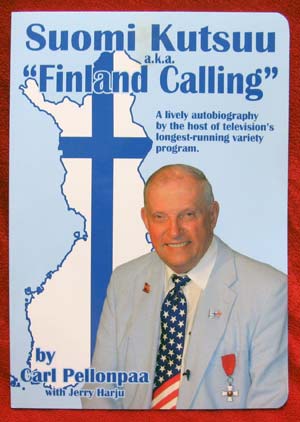 Finland Calling

By Jerry Harju and Carl Pellonpaa
A lively autobiography by the host of television's longest-running variety program.
This book is the story of Carl Pellonpaa's life. Oh, but it should be mentioned: he's not through with it yet.

134 pages

Item #webf30814
$19.95
out of stock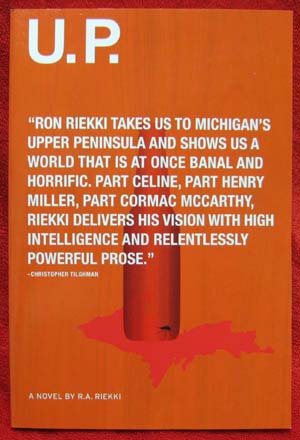 U.P.

By R.A. Riekki
From a bold new novelist comes a complex tale of friendship and brutality. Set in Michigan s Upper Peninsula, U.P. is the story of four teens immersed in an ugly world, one whose threat of violence is always simmering beneath the surface. R.A. Riekki s distinctive characters and their poignant quest for freedom is a swan song to lost youth, redefining the traditional coming-of- age-story. Four boys, four distinct narratives that converge into a harrowing and heartbreaking whole.

Item #webf87
$19.95
Add to your cart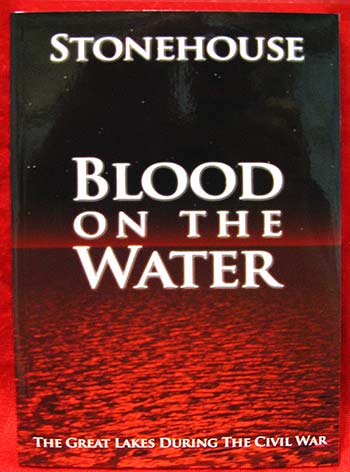 STONEHOUSE
BLOOD IN THE WATER
THE GREAT LAKES DURING THE CIVIL WAR

While the Union and Confederate armies bludgeoned each other on the battlefields what was happening on the Great Lakes? What Confederate plots were hatched to attack the unprotected Great Lakes? How close did the South come to changing history? This book looks at this fascinating and largely ignored part of the Civil War.
206
pages
Item #webv1027
$16.95
Add to your cart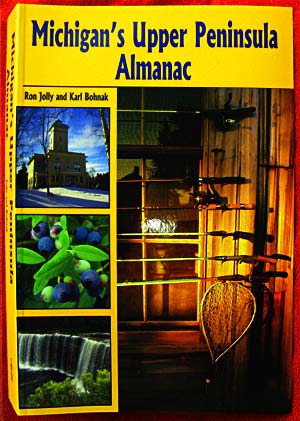 Michigan's Upper Peninsula Almanac
Michigan's Upper Peninsula Almanac is a comprehensive guide for every resident, visitor, and student of Michigan's Upper Peninsula.
This definitive almanac covers every acre of the wild and beautiful U.P., including information on businesses, tourism, agriculture, sports, weather, casinos, and other topics that will keep you referring to the book time and again. Looking for record snowfalls and temperatures? Oldest business? Busiest tourist spots? Most interesting myths and legends? Michigan's Upper Peninsula Almanac has it all.
Ron Jolly is a popular veteran radio broadcaster in northern Michigan who spent fifteen years in news and information programming. He has won awards for his news reporting on WCTM from UPI, Michigan News Network, and the National Commission on Working Women. He is the author of Northern Michigan Almanac (University of Michigan Press/Petoskey Publishing, 2005).
Karl Bohnak is the author of the popular U.P. weather book So Cold a Sky. He is meteorologist at WLUC in the Upper Peninsula and holds the American Meteorological Society's broadcast seal of approval.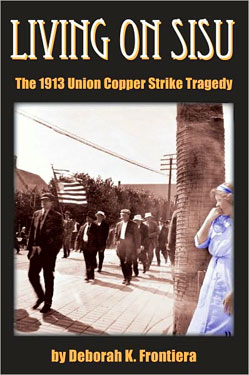 Living on Sisu
The 1913 Union Copper Strike Tragedy
To twelve-year-old Emma, life may be hard, but it is basically good. She has finished sixth grade and is nearly a young lady. But, in the summer of 1913, her life, and the lives of everyone in the region, will be changed forever by a violent strike against the mining companies in the Upper Peninsula of Michigan. A friend whose father is not on strike will be forbidden to talk to her. Another will die in the terrible Italian Hall Tragedy on Christmas Eve. Only the trait the Finnish people call "sisu" will help her and others in the region live through it.
This well-researched historical fiction takes place in Houghton County, Michigan, in the towns of Calumet, Houghton, Hancock, Laurium and the surrounding area. It is written from the point of view of a twelve-year-old girl whose father is on strike. The first-person narrative puts the reader on the scene. Historical photographs help the reader see the time and place.. 238 pages.
Deborah K. Frontiera
Superior Lights On The
Shipwreck Coast DVD

DVD by Don Hermanson. Because of emerging vessel traffic on Lake Superior the U.S. Lighthouse Service established the first lighthouse at Whitefish Point in 1849. Six years later in 1855, the first lock opened at Sault Ste. Marie, shipping increased and more lights were needed in this area. Lighthouses were built at Point Iroquois, Crisp Point, Au Sable Point, and Grand Island. Range Lights were constructed at Munising and Grand Marais Harbors. Also includes a history of the shipwrecks Myron and the S.S. Edmund Fitzgerald tragedy. 59 minutes.

Item #web10624

$19.99
Sale! $12.99
Add to your cart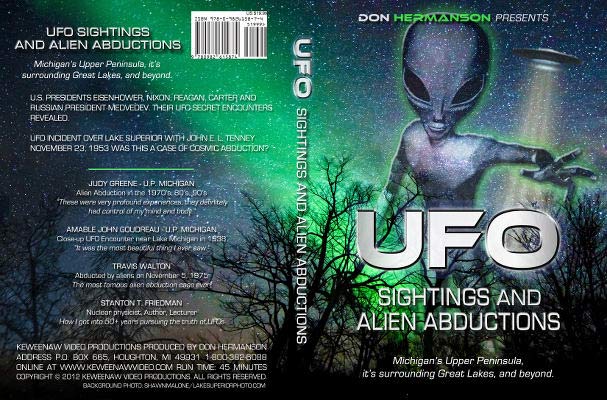 UFO SIGHTINGS AND ALIEN ABDUCTIONS

MICHIGAN'S UPPER PENINSULA, SURROUNDING GREAT LAKES

AND BEYOND

DVD

45 Minutes

Item #web10623

$19.99
Sale! $12.99
Add to your cart

THE MICHIGAN PARANORMAL FILES

VOLUME ONE

TAKE ANOTHER STEP OUT OF THE ORDINARY INTO THE WORLD OF THE...UNKOWN

DVD

.

Item #web10623

$19.99
Sale! $12.99
Add to your cart
Jeff Daniels
ESCANABA
in da
MOONLIGHT
DVD
A great-american hunting miss-adventure.
At 43, Reuben Soady (Jeff Daniels) is in danger of becoming the oldest member in the history of the family never to bag a buck.
Item #web204
$21.99
Add to your cart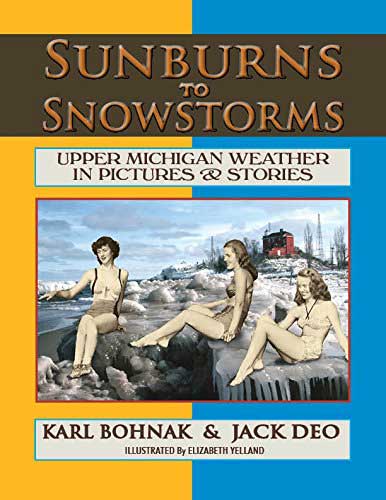 Sunburns to Snowstorms


by Karl Bohnak & Jack Deo



Sunburns to Snowstorms features Upper Michigan photographs from professionals and amateurs spanning a century and a half. Step back in time to view photos of the massive fires that destroyed the communities of Marquette and Ontonagon in the 19th century. Get a glimpse of what it was like to live through the storm against which all others are measured, the Blizzard of 1938. You'll see how residents dealt with the heavy winter snows and the spring floods as well as the Great Seiche that affected the Lake Superior region during mid June 1939. Sunburns to Snowstorms contains nearly 300 photos along with stories of locations and events surrounding the images It's an essential book for those who love the Upper Peninsula of Michigan.
176 pages
Item #webv18841
$28.30
Add to your cart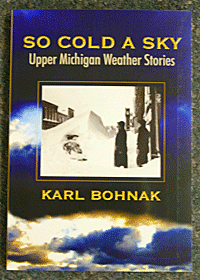 SO COLD A SKY
Upper Michigan Weather Stories
KARL BOHNAK
Read stories of the early pioneers and the obstacles they faced in settling the most northern part of Michigan under so cold a sky. Browse through personal tales of modern weather events from snowstorms ot heat waves. Written in concise narrative form, Upper Michigan Weather Stories can be opened and enjoyed at any point, making it a perfect trravel and gift book.

Item #webf14832
$22.95
Add to your cart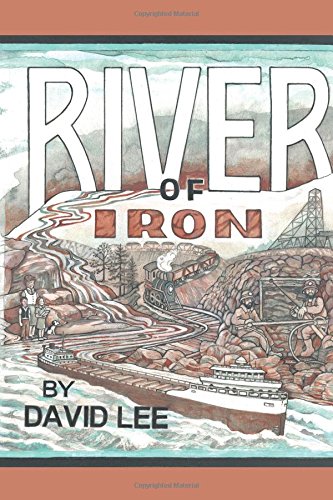 River of Iron
David Lee
HEMATITE AND TALES of streets paved with gold drew boatloads of Europeans to the Marquette Iron Range in Michigan's Upper Peninsula in the late 1800s-including my ancestors. The rugged terrain and savage winters of their new home on the "mountain of iron" threatened their survival, yet they had no chance of returning to The Old County-and they knew it. Some left, but the hardy ones stayed, threw up mining camps and drove mineshafts deep into the granite. They raised families-built churches, railroads, and schools-they created a river of iron that cascaded out of the wilderness. Then the Great Depression struck in 1929 and the river of iron dwindled to a trickle. Without means of support the iron miners and their families persevered against a destroyed economy and fierce winters. This is a tale of how my family survived those tough times. It tells of simple things like collecting water, chopping firewood, and slaughtering hogs, but it is also a template for raising and educating a family on challenging terrain in the midst of poverty.
338 pages
Item #webf9571
$19.95
Add to your cart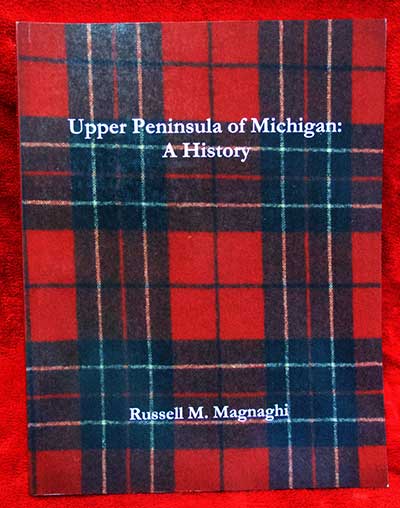 Upper Peninsula of Michigan: A History
by Russell M. Magnahi

For the first time in over a century, a complete history of the U.P.-from prehistoric origins to the present-is available. Drawing on oral histories, newspapers, census data, archives and libraries, Russell M. Magnaghi has written the seminal history of a very "special place" as seen through the eyes of the men and women who have lived here-the famous and not so famous.
212 pages
Item #webv23776
$25.00
out of stock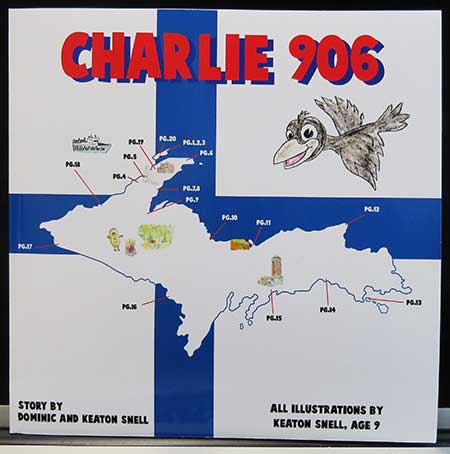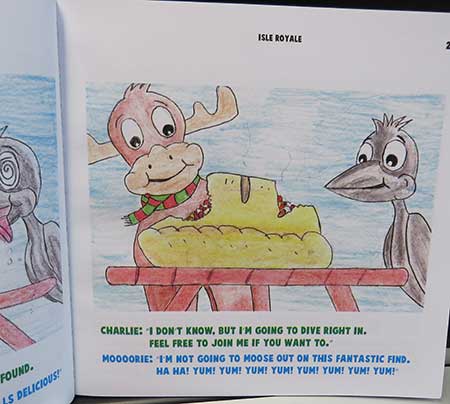 Charlie 906
by Dominic J Snell

(Author),
Keaton T Snell

(Author),
Keaton T Snell Age 9

(Illustrator)
Charlie 906 will take you on an adventure around the Upper Peninsula of MI, while learning about the irresistible meal called a pasty and meeting new and exciting friends along the way. This amazing story will tell you in a very creative way, what is in a pasty, the history, and very interesting facts and stories all while having amazing scenic art work and adorable characters that my at the time 9 year old son drew. As a bonus Charlie 906 has added color your own characters pages and his secret home made pasty recipe for you to enjoy.
24 pages
Age Range:
5 - 6 years
Item #webv20884
$9.99
out of stock