Books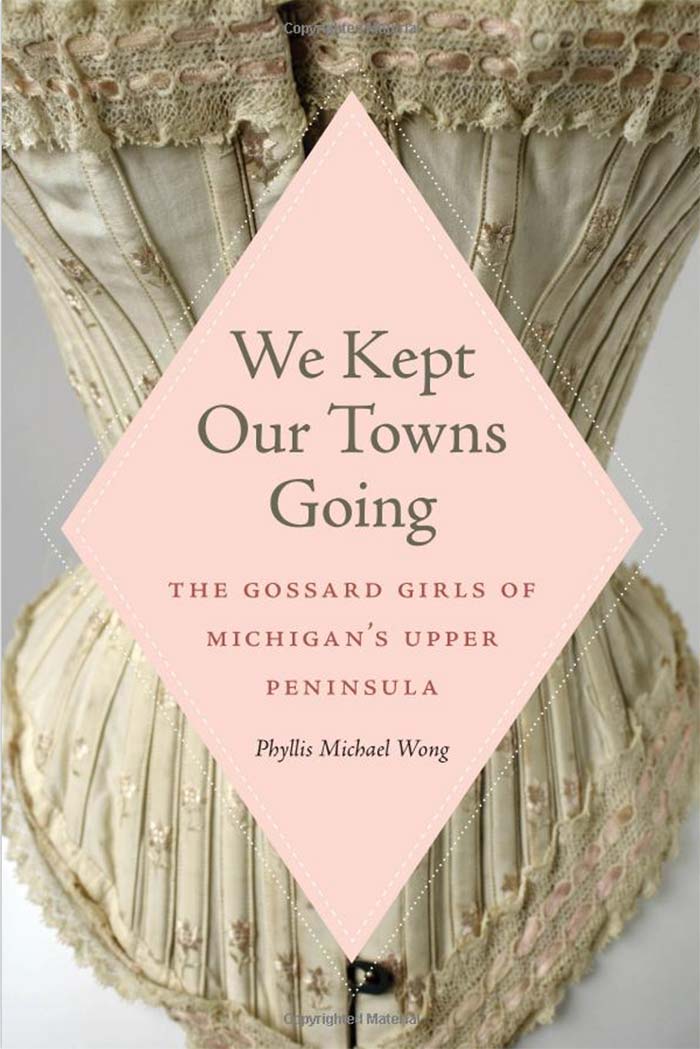 We Kept Our Towns Going
The Gossard Girls of Michigan's Upper Peninsula
By Phyllis Michael Wong
196 pages
WITH A FOREWORD BY LISA M. FINE, MICHIGAN STATE UNIVERSITY—
Michigan's Upper Peninsula is known for its natural beauty and severe winters, as well as the mines and forests where men labored to feed industrial factories elsewhere in the nineteenth and twentieth centuries. But there were factories in the Upper Peninsula, too, and women who worked in them. Phyllis Michael Wong tells the stories of the Gossard Girls, women who sewed corsets and bras at factories in Ishpeming and Gwinn from the early twentieth century to the 1970s. As the Upper Peninsula's mines became increasingly exhausted and its stands of timber further depleted, the Gossard Girls' income sustained both their families and the local economy. During this time the workers showed their political and economic strength, including a successful four-month strike in the 1940s that capped an eight-year struggle to unionize. Drawing on dozens of interviews with the surviving workers and their families, this book highlights the daily challenges and joys of these mostly first- and second-generation immigrant women. It also illuminates the way the Gossard Girls navigated shifting ideas of what single and married women could and should do as workers and citizens. From cutting cloth and distributing materials to getting paid and having fun, Wong gives us a rare ground-level view of piecework in a clothing factory from the women on the sewing room floor.
Item #webv33550
$19.95
Add to your cart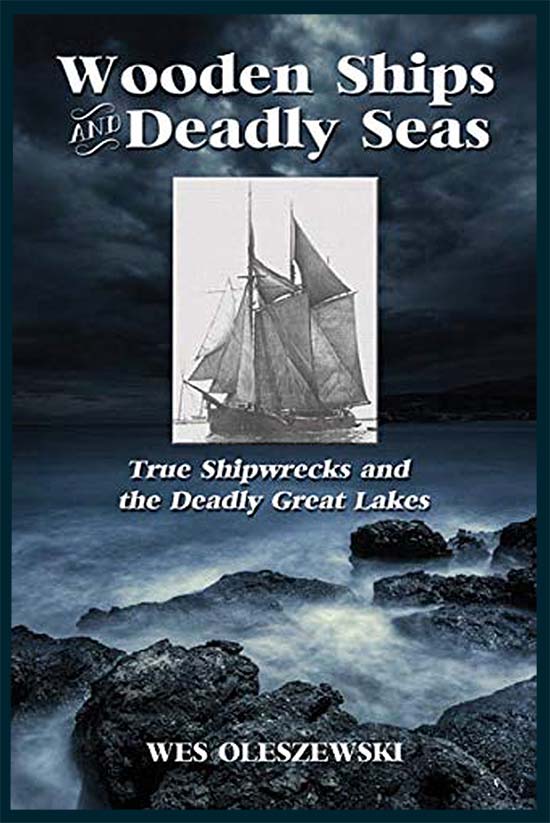 Wooden Ships and Deadly Seas
True Shipwrecks and
the Deadly Great Lakes

by Wes Oleszewski
186 pages
This book contains historical narratives of true adventures on the Great Lakes. There is no fiction here, no names were changed and no events were concocted- when you read about someone and what happened to them is real. You see, there is no reason to make up any drama- the events themselves as documented in the sources used to recreate the narratives are exciting and dramatic enough on their own to thrill the reader. There was no need to make up any of the stories, because they tell themselves.
Above all is the author's job to tell the stories of the obscure events and the forgotten adventures of the lakes and to take you , the reader, there. To place your feet on the deck timbers, to put you on the open lake clinging to a single piece of wreckage amid towering waves of ice water and screaming frigid winds. As you read you will find your feet walking the lakeshore amid uncut forests as you seek refuge, or perhaps you may find yourself hearing evidence in an 1848 trial for three mariners facing manslaughter charges. Let these pages be the amazing machine that teleports you through time and space and places you amid the adventures documented here.
Item #webv16026
$16.95
Add to your cart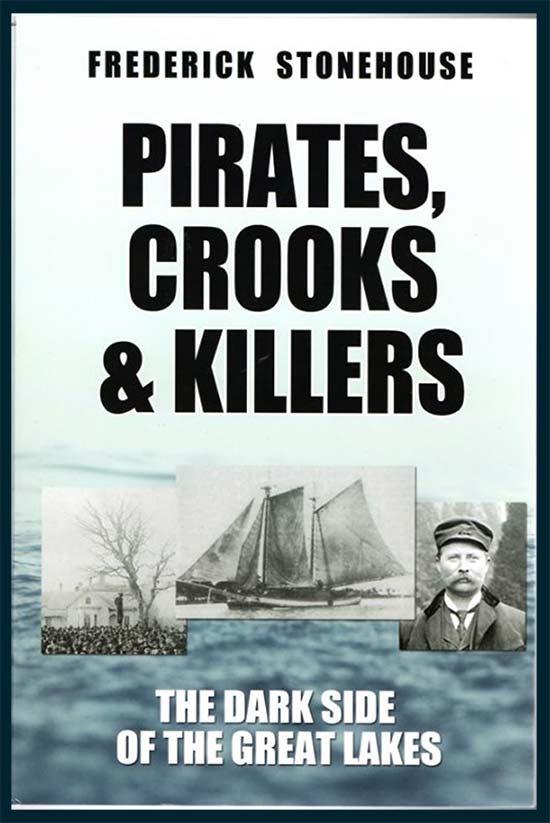 Pirates, Crooks Killers

The Dark Side of the Great Lakes
By Frederick Stonehouse
188 pages
While the Great Lakes never had swashbuckling pirates like those that swept the Caribbean Seas, there were low-lifes willing to rob and pillage when the opportunity presented itself. Others where not above "moon cussing" or showing false lights to lure ships to wreck on inshore reefs where they pillaged the cargos and murdered the crews. When the economy "went South" some ship owners were not above purposely wrecking or sinking their own ships to collect the insurance money. Whether the crew survived was not a critical consideration. Even while ashore, sailors were not safe from the clutches of evil doers.
Item #webv7177
$17.95
Add to your cart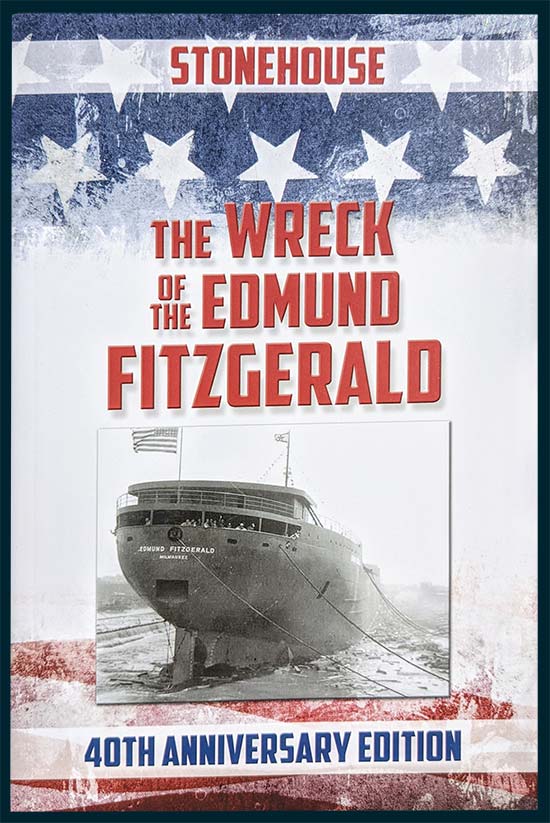 The Wreck of the Edmund Fitzgerald

Frederick Stonehouse
186 pages
Unbelievably for those of us who remember the night the Fitz went down. 2015 marks the 40th anniversary of the wreck. This special edition brings the story up to date including theories and pictures. It is a must for serious Great Lakes buffs. Some folks have called the Fitzgerald the
"Titanic of the Great Lakes."
Item #webv1481
$17.95
out of stock
Humor in Hunting, Fishing, Camping, & Living in the U.P. of Michigan (Vol. 7)

by Robert R. Hruska
131 pages
U.P.'s 'King of Humor' writes his newest book. Hilarious hunting, fishing and life tales light up his new book
Item #webv10932
$12.00
Add to your cart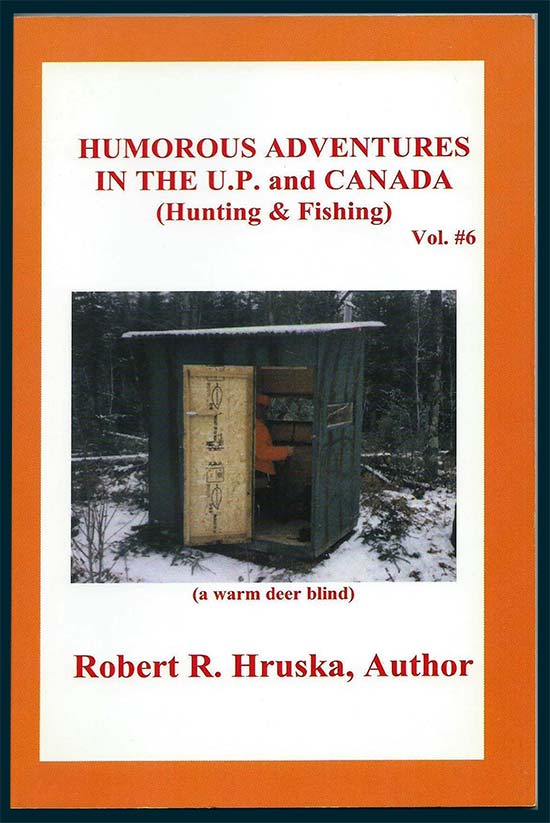 Humorous Adventures in the U.P. and Canada (Vol. 6)

by Robert R. Hruska
118 pages
From Michigan's U.P. to Canada, here are some humorous stories by the "the U.P. Rabbit," Robert R. Hruska
Item #webv7428
$13.99
Add to your cart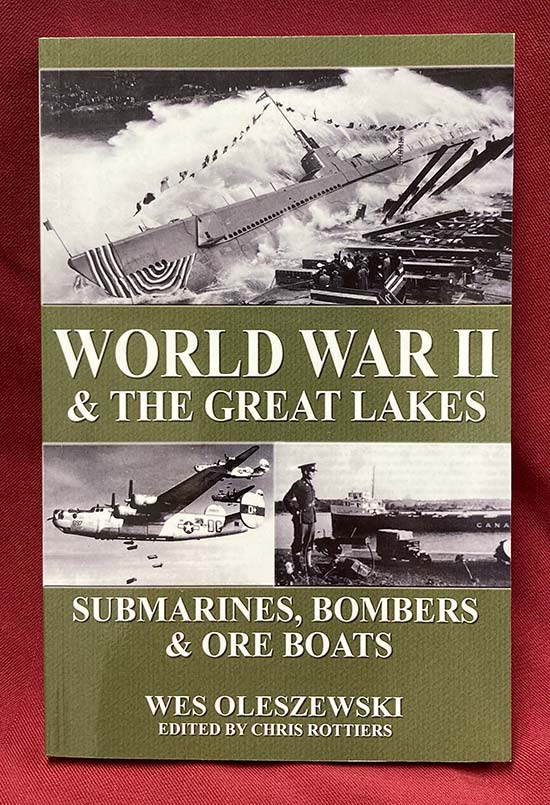 WW II
& THE GREAT LAKES
by Wes Oleszewski
Those who had yet to be born when World War II raged cannot imagine the fear, anger, suffering and sacrifice experienced by those who witnessed and fought in that conflict. Not only was freedom threatened, but the very fabric of human civilization was in danger. In order to preserve their very existence, free people had to mobilize and fight the evil that threatened to envelope the world. When FDR coined the term "Arsenal of Democracy" he knew that the heart of that arsenal was the industrial strength of the Great Lakes region. This book is not the complete story of tat effort. Rather this is a series of stories that will give the reader a historically accurate glimpse into the efforts of everyday working people who did their part to save the world during the dark days between 1939-1945.
288 pages
Item #webv19738
$17.95
Add to your cart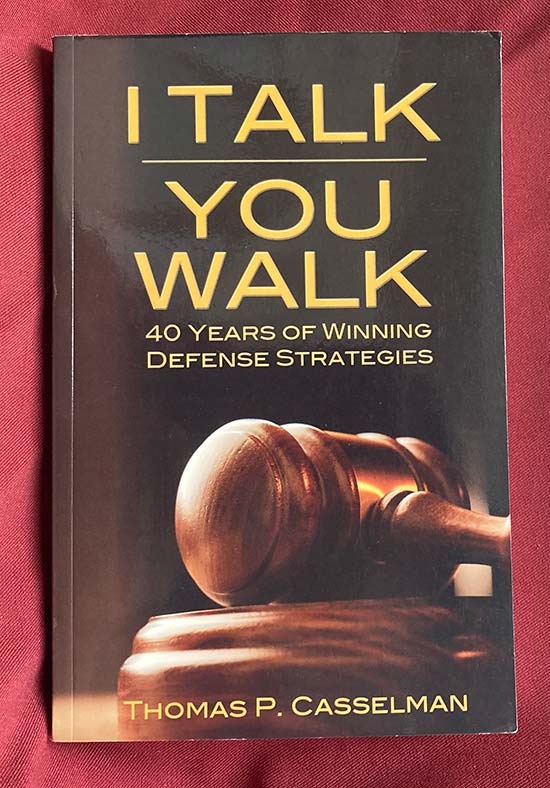 I TALK
YOU WALK
by THOMAS P. CASSELMAN
Selecting the funniest, weirdest, and most illuminating cases from over forty years of experience in criminal law in Michigan's distant, autonomous Upper Peninsula, the author has compiled a book that no on else could have written. Each story was suggested by at least one actual case, sharpened and enlivened with dialogue between the author and his essential ally, Rhonda Goodwin, private investigator. Piling in with their own ideas and opinions are dozens of sometimes hilarious, sometimes tragic lawbreakers and law enforcers. This book is a true can't put it down read.
320 pages
Item #webv1021
$18.95
Add to your cart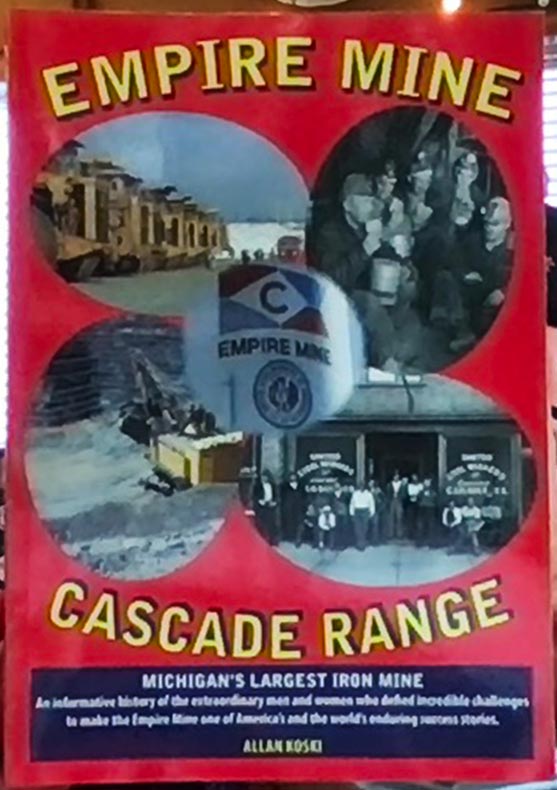 EMPIRE MINE
CASCADE RANGE
by Allan Koski
An informative history of the men and women who defied incredable challenges and made the Empire Mine one of America's and the world's enduring stories.
192 pages
Item #webv27224
$24.99
Add to your cart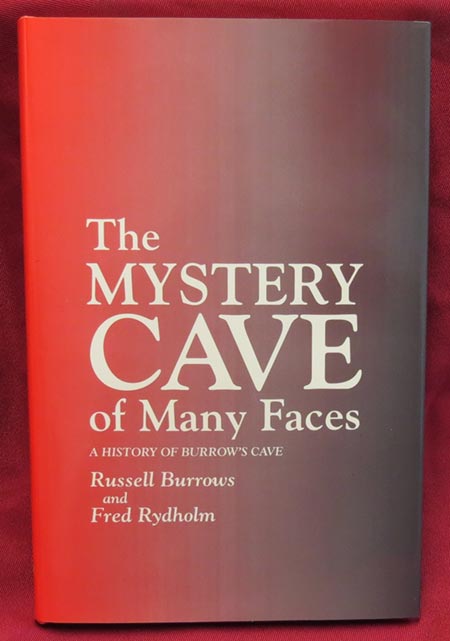 The MYSTERY CAVE of Many Faces
by Russell Burrows & Fred Rydholm
A History of Burrow's Cave. Rare documentation from Russel Burrows, the explorer and landowner who discovered the Evidence and facts proving the presence of worldly visitors to Ancient America (Amexem,Muu) including Asiatics, Nordics and West Afrikans.
243 pages
Item #webv27101
$9.99
Add to your cart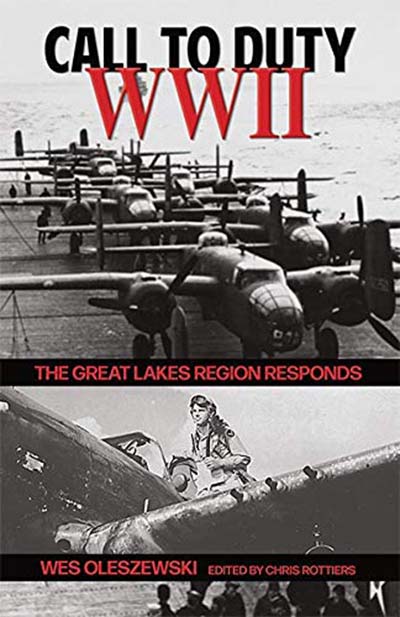 Call to Duty: WWII The Great Lakes Region Responds
by Wes Oleszewski

Noted for his meticulous research, Oleszewski has a knack for weeding out the greatest of details from the most obscure events and then weaving those facts into the historical narratives which are his stories. His tales of actual events are real enough to thrill any reader while every story is technically correct and highly educational.
203 pages
Item #webv25715
$17.95
Add to your cart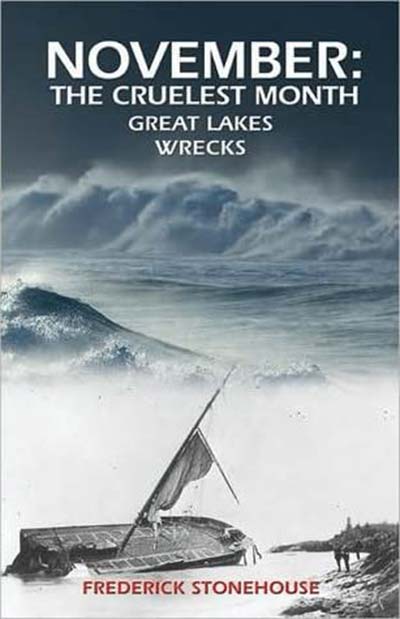 November: The Cruelest Month: Great Lakes Wrecks
by Frederick Stonehouse

Frederick Stonehouse has authored over thirty books on maritime history, many of them focusing on the Great Lakes and contributed to several others.
186 pages
Item #webv9503
$16.95
Add to your cart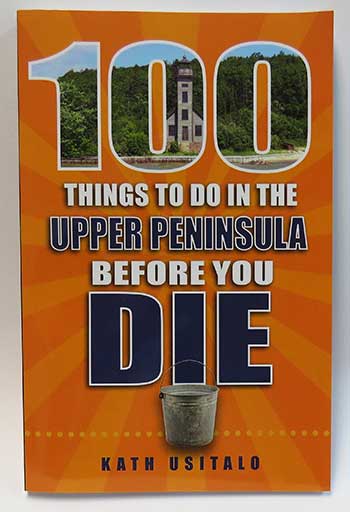 100 THINGS TO DO IN THE
U.P.
BEFORE YOU DIE
by Kath Usitalo

Features restaurants, trails, photo ops, theaters, cultural hubs and more that have made a name for themselves in Michigan's Upper Peninsula. And guess what!
Da Yooper's Tourist Trap is included as one of 100 things to do! Thank you Kath!
146 pages
Item #webv16660
$16.00
out of stock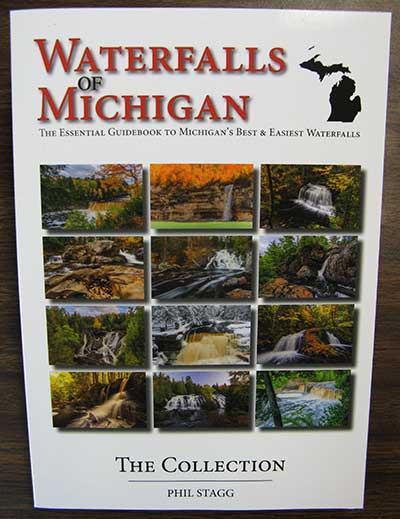 Waterfalls of Michigan - The Collection
by

Phil Stagg



Waterfalls of Michigan - The Collection contains 202 waterfalls from across the state of Michigan. As most of Michigan's waterfalls are in the Upper Peninsula, this book has 201 waterfalls from the U.P. and just 1 from the Lower Peninsula. This book has about 1/3 of the waterfalls from the four book series "Waterfalls of Michigan - The definitive guide to the waterfalls of Michigan". There are 13 counties represented in the book, with large county maps at the beginning of each county and area maps following for each waterfall. Detailed driving and hiking information is provided for each waterfall. There are GPS coordinates, amazing color photos and first hand information to give you everything you need to decide which waterfalls to visit, and which to simply enjoy by viewing the author's photography!
304 pages
Item #webv17489
$29.95
out of stock
RAMPAGE
SERIAL KILLERS

Wayne Louis Kadar
Within the covers of this book are the accounts of the most notorious serial killers to ever have walked the streets of America. Infamous murderers are chronicled like, Ted Bundy, Son of Sam, Green River Killer, Kristen Gilbert and Charles Cullen. A very interesting followup book to the Great Lakes Serial Killers
197 pages

Item #webv15675
$16.95
Add to your cart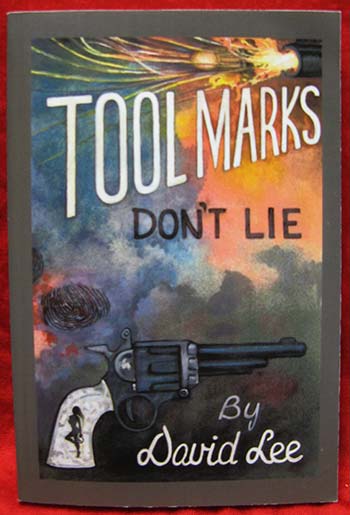 Tool Marks Don't Lie
David Lee
Courts must ferret out the facts in capital murder cases even if witnesses and experts lie. Tool marks in the chambers and barrel of a gun always tell the truth.
360 pages

Item #webv12043
$19.99
Add to your cart
MAYHEM
in the Mitten

Bill Blewett
Trouble seems to follow wherever Bill Bennett and his comrades go. Fracking becomes a major component of the death of an engineer determined to succeed. In addition patients at retirement homes die at an alarming rate. Bennett and his fellow detectives take it upon themselves to try to solve these horrendous crimes.
270 pages



Item #webv26084
$14.95
Add to your cart

MAYHEM
in the Superior Peninsula

Bill Blewett
This is the third in the series of the "Mayhem" mysteries. Bill Bennett and his friends once again confront evil in the Superior Peninsula. The mysteries are written in simple to understand language buy yet will leave you wondering who is responsible for so much horrific events in Mesabi County. Many times Bill and his friends risk their lives to try to save people and thwart horrible deeds that are committed in the name of greed. It is a real page turner and you will become engrossed in the stories until you finish the last mystery.
278 pages

Item #webv21359
$14.95
Add to your cart
MAYHEM
on the Dead River
5 Mysteries

Bill Blewett
Fictional account of a retired sheriff and his friends who continually get caught up in murders and other horrible crimes on the Dead River. It occurs in fictional Mesabi County in the beautiful Upper Peninsula of Michigan.
270 pages

Item #webv15146
$14.95
Add to your cart

MAYHEM
on the Michigamme
6 Mysteries

Bill Blewett
The is the second adventure in the series of retired sheriff, Bill Bennett. Along with his friends, they try to bring justice to a community that is packed with deceit, crime, violence, and misadventures as the pseudo-detectives help law enforcement solve horrible crimes on the pristine Lake Michigamme.
286 pages

Item #webv18634
$14.95
Add to your cart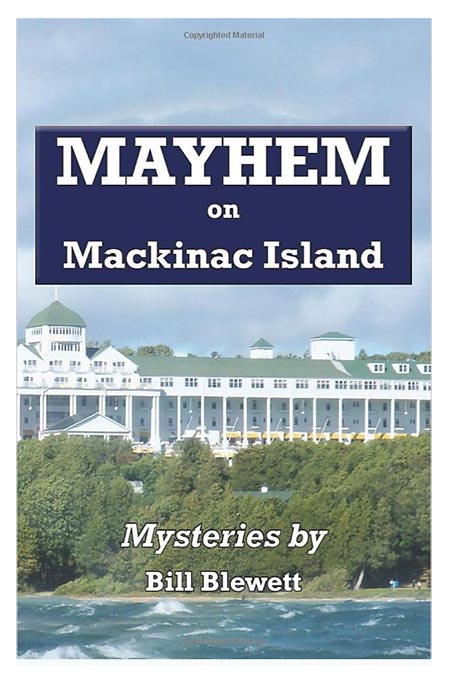 MAYHEM
on Mackinac Island
Bill Blewett
Bill Bennett and his wife take their grand-children to Mackinac Island for a relaxing week. That wasn't going to happen. The first story includes an oil company employee murdered and an oil exe's wife disappears. Bill and his senior-sleuths are asked to help. The endings are guaranteed to surprise you.
272 pages

Item #webv22126
$14.95
Add to your cart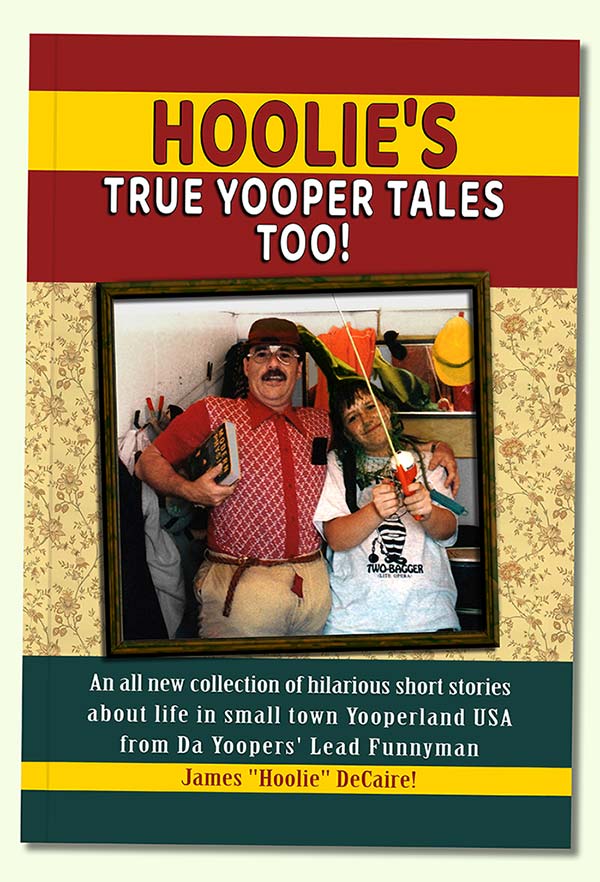 HOOLIE'S TRUE YOOPER TALES TOO!
BOOK
An all new collection of hilarious short stories about life in small town Yooperland USA from Da Yoopers' Lead Funnyman
James Hoolie DeCaire!

Item #webvBK08
$15.99
Add to your cart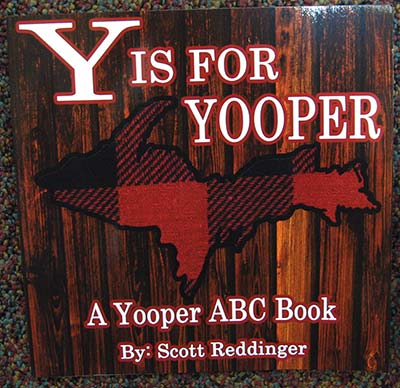 Y is for YOOPER Book
A Yooper ABC Book
By Scott Reddinger
This book is for all ages! Experience all things Yooper through a rhyming children's book that is fun for the whole family.
Item #web12763
$12.99


out of stock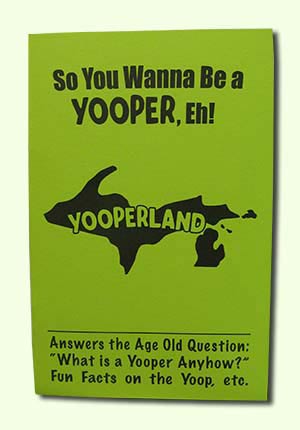 So You Wanna Be a Yooper, Eh!
Answers the age old question, "What is a Yooper anyhow?"
Fun facts on the Yoop, etc.
Item #web14916
$1.99
Add to your cart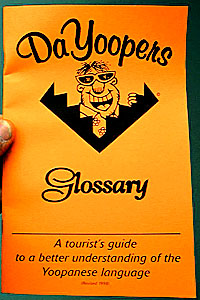 Da Yoopers Glossary
A tourists guide to understanding the Yoopanese language.
Item #web2415
$1.99
Add to your cart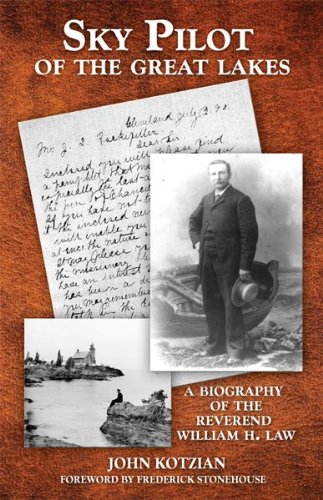 Sky Pilot of
the Great Lakes
John Kotzian


The Reverend Law was in peril on the Great Lakes and was rescued by a U.S. Life-Saving Service Station crew. As a result of that rescue, seeing their heroic efforts first hand, Reverend Law dedicated the rest of his life to the men and women stationed at Light and Life-Saving stations throughout the United States.

"Sky Pilot" was sailors' slang for a chaplain. To the men and women he served, Reverend Law was lovingly known as "The Sky Pilot of the Great Lakes." A tale of unconquerable optimism, the story of W. H. Law's life is as much the account of the brave men and women of the Lighthouse Service and Life-Saving Service as it is the saga of a long and rewarding life in the service of others.


224 pages
Item #webf7059
$17.95
Add to your cart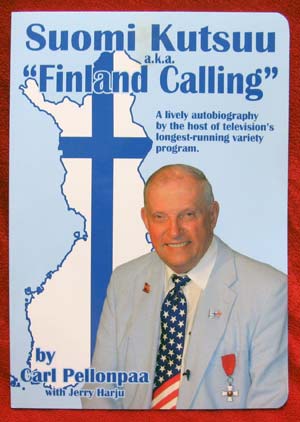 Finland Calling

By Jerry Harju and Carl Pellonpaa
A lively autobiography by the host of television's longest-running variety program.
This book is the story of Carl Pellonpaa's life. Oh, but it should be mentioned: he's not through with it yet.

134 pages

Item #webf30814
$19.95
Add to your cart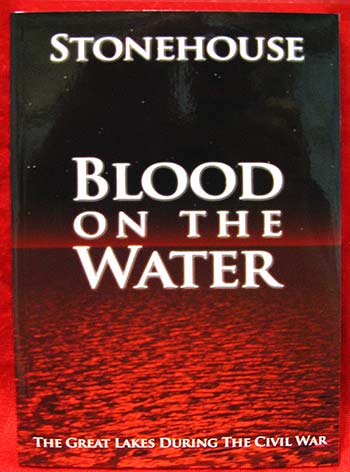 STONEHOUSE
BLOOD IN THE WATER
THE GREAT LAKES DURING THE CIVIL WAR

While the Union and Confederate armies bludgeoned each other on the battlefields what was happening on the Great Lakes? What Confederate plots were hatched to attack the unprotected Great Lakes? How close did the South come to changing history? This book looks at this fascinating and largely ignored part of the Civil War.
206
pages
Item #webv1027
$16.95
Add to your cart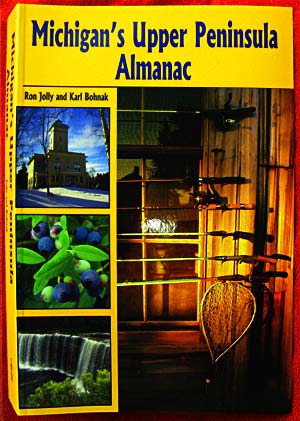 Michigan's Upper Peninsula Almanac
Michigan's Upper Peninsula Almanac is a comprehensive guide for every resident, visitor, and student of Michigan's Upper Peninsula.
This definitive almanac covers every acre of the wild and beautiful U.P., including information on businesses, tourism, agriculture, sports, weather, casinos, and other topics that will keep you referring to the book time and again. Looking for record snowfalls and temperatures? Oldest business? Busiest tourist spots? Most interesting myths and legends? Michigan's Upper Peninsula Almanac has it all.
Ron Jolly is a popular veteran radio broadcaster in northern Michigan who spent fifteen years in news and information programming. He has won awards for his news reporting on WCTM from UPI, Michigan News Network, and the National Commission on Working Women. He is the author of Northern Michigan Almanac (University of Michigan Press/Petoskey Publishing, 2005).
Karl Bohnak is the author of the popular U.P. weather book So Cold a Sky. He is meteorologist at WLUC in the Upper Peninsula and holds the American Meteorological Society's broadcast seal of approval.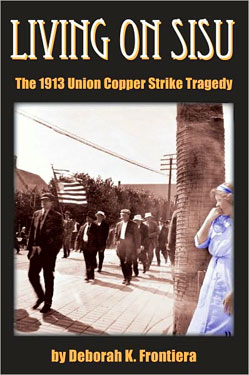 Living on Sisu
The 1913 Union Copper Strike Tragedy
To twelve-year-old Emma, life may be hard, but it is basically good. She has finished sixth grade and is nearly a young lady. But, in the summer of 1913, her life, and the lives of everyone in the region, will be changed forever by a violent strike against the mining companies in the Upper Peninsula of Michigan. A friend whose father is not on strike will be forbidden to talk to her. Another will die in the terrible Italian Hall Tragedy on Christmas Eve. Only the trait the Finnish people call "sisu" will help her and others in the region live through it.
This well-researched historical fiction takes place in Houghton County, Michigan, in the towns of Calumet, Houghton, Hancock, Laurium and the surrounding area. It is written from the point of view of a twelve-year-old girl whose father is on strike. The first-person narrative puts the reader on the scene. Historical photographs help the reader see the time and place.. 238 pages.
Deborah K. Frontiera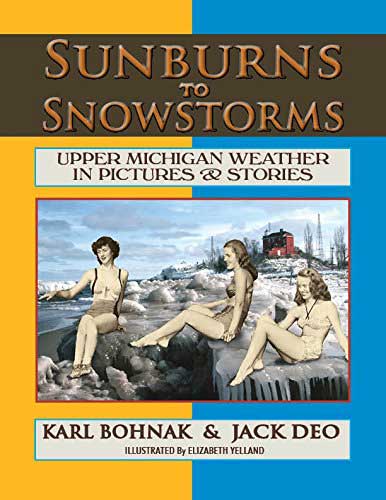 Sunburns to Snowstorms


by Karl Bohnak & Jack Deo



Sunburns to Snowstorms features Upper Michigan photographs from professionals and amateurs spanning a century and a half. Step back in time to view photos of the massive fires that destroyed the communities of Marquette and Ontonagon in the 19th century. Get a glimpse of what it was like to live through the storm against which all others are measured, the Blizzard of 1938. You'll see how residents dealt with the heavy winter snows and the spring floods as well as the Great Seiche that affected the Lake Superior region during mid June 1939. Sunburns to Snowstorms contains nearly 300 photos along with stories of locations and events surrounding the images It's an essential book for those who love the Upper Peninsula of Michigan.
176 pages
Item #webv18841
$28.30
Add to your cart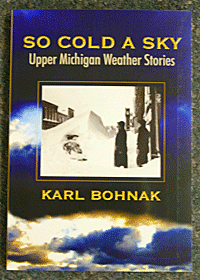 SO COLD A SKY
Upper Michigan Weather Stories
KARL BOHNAK
Read stories of the early pioneers and the obstacles they faced in settling the most northern part of Michigan under so cold a sky. Browse through personal tales of modern weather events from snowstorms ot heat waves. Written in concise narrative form, Upper Michigan Weather Stories can be opened and enjoyed at any point, making it a perfect trravel and gift book.

Item #webf14832
$22.95
Add to your cart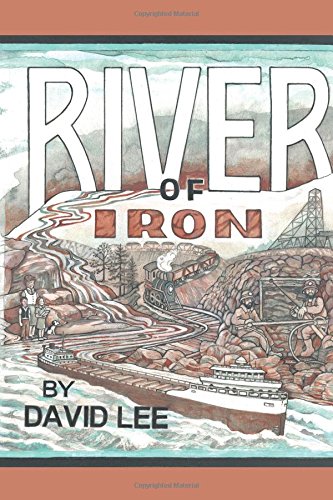 River of Iron
David Lee
HEMATITE AND TALES of streets paved with gold drew boatloads of Europeans to the Marquette Iron Range in Michigan's Upper Peninsula in the late 1800s-including my ancestors. The rugged terrain and savage winters of their new home on the "mountain of iron" threatened their survival, yet they had no chance of returning to The Old County-and they knew it. Some left, but the hardy ones stayed, threw up mining camps and drove mineshafts deep into the granite. They raised families-built churches, railroads, and schools-they created a river of iron that cascaded out of the wilderness. Then the Great Depression struck in 1929 and the river of iron dwindled to a trickle. Without means of support the iron miners and their families persevered against a destroyed economy and fierce winters. This is a tale of how my family survived those tough times. It tells of simple things like collecting water, chopping firewood, and slaughtering hogs, but it is also a template for raising and educating a family on challenging terrain in the midst of poverty.
338 pages
Item #webf9571
$19.95
Add to your cart

Jerry Harju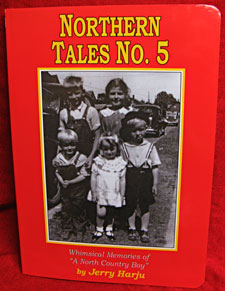 NORTHERN TALES NO. 5
Whimsical Memories of
"A Northern Country Boy"
By Jerry Harju
The fifth book in his "Northern" series revisits the primitive U.P. of his youth, giving the reader a uniquely humorous flavor of the 1940's to mid '50's era when life was full of risks.
Jerry Harju, Author
Item #webf23686
$12.95
Add to your cart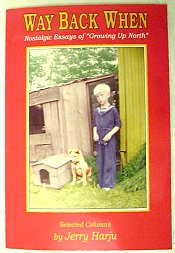 Way Back When: Nostalgic Essays of
"Growing Up North"
By Jerry Harju
Want to go back in time? Humorist Jerry Harju tells how it was when kids could bring knives to school but not marbles. And what was on the menu when his father was the first stay-at-home dad. Jerry will jog fond memories of 1940's radio commercials and christmas goodies, the Great Depression Syndrome of saving string and tinfoil, when the phrase "trick or treat" had teeth in it, and, yes, even some jail time. "Way Back When" is a collection of selected essays published in the Mining Journal, Upper Michigan's largest newspaper. Jerry Harju, Author
Item #webf7798
$12.95
Add to your cart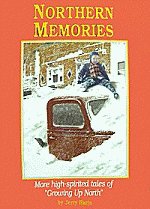 Northern Memories
More High-Spirited Tales Of "Growing Up North"
By Jerry Harju
This is the fourth book of short stories about my clean-cut, formative years in the U.P.; blood-stirring sagas that include trying to teach my Mother how to drive a Model-A Ford, punishing a dentist bent on extracting one of my baby teeth, a star-crossed 4th grade romance and many other mostly true tales.
Jerry Harju, Author
Item #webbook10
$12.95
Add to cart


Northern D'Lights
The 2nd book from Jerry. A collection of humorous short stories about the rigors of growing up in the U.P.
Item #web2499
$12.95
Add to cart
Northern Passages
The 3rd book by Jerry. More humorous short stories about growing up in the U.P.
Item #web2219
$12.95
Add to cart
Northern Reflections
Jerry's 1st book about growing up in the U.P.
Item #web2216
$12.95
Add to cart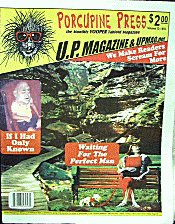 Porcupine Press
the Monthly YOOPER Tabloid Magazine
Hoolie's favorite mag featuring "The Never Ending Tales of Toivo & Eino," " Hilarious Humor from Jerry Harju," " Just Shut Up And Eat It" - the Porky's Yooper Food Column,
"The Great Outdoors" - column by Bill Moore
and a whole lot more!
Item #web3537
$5.00
Add to your cart
A Deer Gets Revenge
Humorous but true stories from a Game Warden
By Sgt. John A. Walker
Item #web058
$10.00
currently out of stock


But Honey It Wasn't My Fault
More stories from a Game Warden
By Sgt. John A. Walker
Item #web060
$10.00
currently out of stock


A Bucket Of Bones
More stories from a Game Warden
By Sgt. John A. Walker
Item #web062
$10.00
Add to cart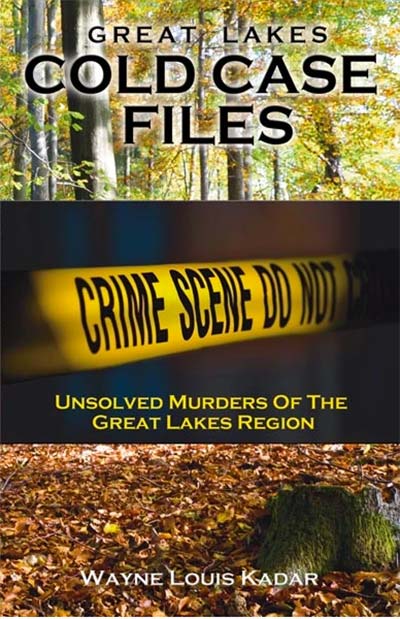 Great Lakes
COLD CASE FILES
UNSOLVED MURDERS OF THE
GREAT LAKES REGION

By Wayne Louis Kadar
201 pages
Examination and thorough researh into many "cold" cases throughout the Great Lakes region. Crimes of all kinds; murders, rapes, robberies and other such heinous acts. Who knows, maybe you the reader may have a clue that helps solve a case.
Item #webv5485
$17.95
out of stock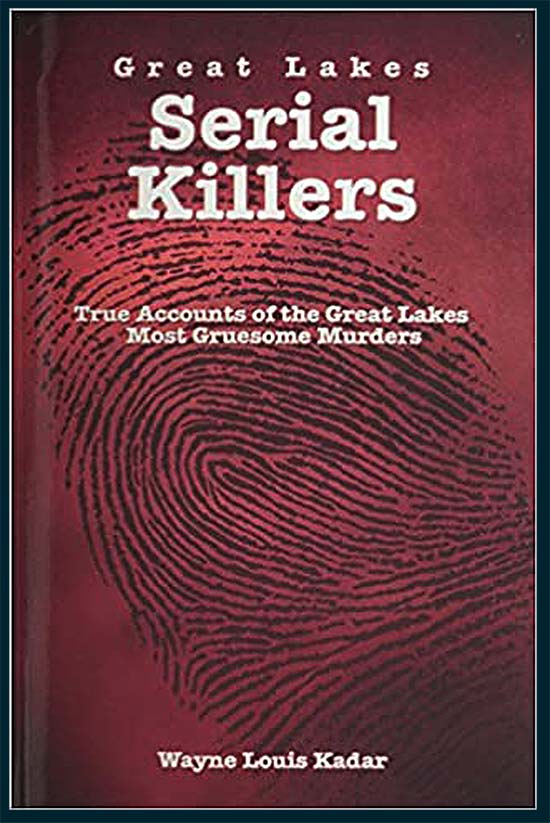 Great Lakes Serial Killers

By Wayne Louis Kadar
208 pages
Some of the Great Lakes region most heinous crimes have been committed by so called "serial killers". This well researched book by Wayne Kadar covers true stories of "serial killers" of the region from the early 1800s to present and infamous names that every reader will recognize. A truly interesting read.
Item #webv1482
$17.95
out of stock