Da Yoopers Tourist Trap,
Rock Knockers Rock Shop
& Museum

Ishpeming Store Hours (Spring)
Mon - Th 9:00 am to 7:00 pm
Fri 9:00 am to 7:00 pm
Saturday 9:00 am to 6:00 pm
Sunday 11:00 am to 5:00 pm
Order online from
Da Tourist Trap - Rock Knockers Web store
24 hours a day!



Da Tourist Trap is one of the seven wonders of Yooperland. It is located on US 41 West of Ishpeming in the heart of Yooperland. The Tourist Trap is the ultimate Yooperland traveler's mecca. It has plenty of parking for autos and RV's, a field for your animals to empty their tanks and sniff around, and something rarely found at rest stops across the U.P. - two flushing bathrooms (most rest stops in the Upper Peninsula feature the non-flushing variety found at most deer camps in the U.P.).
A bus load of tourists on "Big Ernie"
(Yes, it does shoot)

Tourist's at the Trap, Summer of "2000"
| | |
| --- | --- |
| Here is an old Chevy that Phil Wertz and his buddies dropped off while deer hunting in Yooperland... It will be on display in 2001 | Hoolie and some tailgaters at the Trap |
| | |
| --- | --- |
| The Tourist Trap during color season (fall) | A young tourist in "the 2 holer" |
Inside the Tourist Trap
Da Tourist Trap has very unusual gift lines of Yooper made products, from one-of-a-kind items to beautiful collectibles you won't find anywhere else. There are many items made of wood, glass, metals and minerals. We also have sports memorabilia, children's toys, puzzles, jewelry, and a gag-gift line, along with the largest collection of tee-shirts and sweatshirts in the area.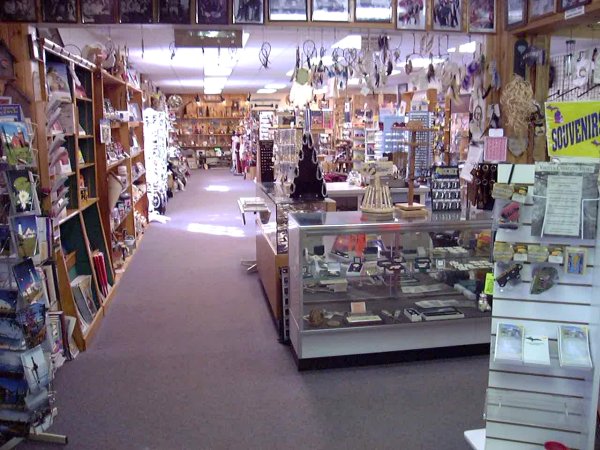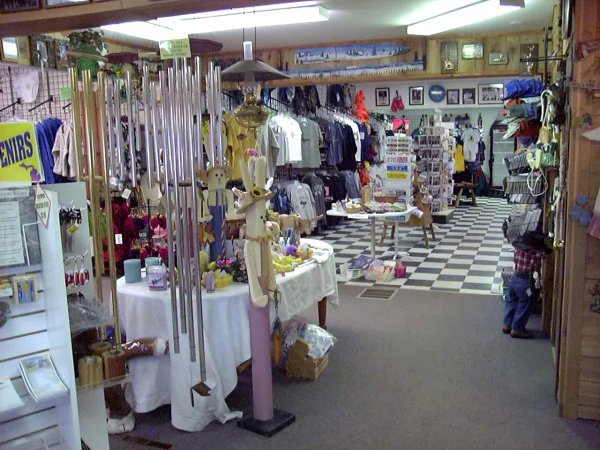 | | |
| --- | --- |
| | |
| | |
| --- | --- |
| | |
ROCK KNOCKERS ROCK SHOP
Rock Knockers has a vast array of local rare minerals from the Marquette Iron Range and the copper range of the Keewanee, Including loads of associated minerals. Lake Superior agates, green stone, rare silver-copper half breeds, rare datolite and minerals found elsewhere around the world. Our customers love our shop and our low prices. To learn more
click here.
DA YOOPERS INNOVATION MUSEUM
Here at the Trap, we have the largest collection of Yooper Innovations in the world. The U.P. seems to have more innovators and inventors then anywhere else on earth., people who have the brain power and vision to create and build something that is functional and fun to operate.
Up here, much of the time people are forced because of financial strains to seek other avenues to solve their problems. If you have a business and need a payloader to move the tons of snow we get but can't afford it, you build one yourself. If you live out on a farm and need an RTV to get around the back 40 but you can't afford it, you build one yourself.
I envy these Yooper Innovators who are so smart and able to build something that works. I ask them where they get their talent to invent and they say it's from the long yooper winters during which there's a lot of time to think, read and dream.
Outside on the grounds are where you'll find these crazy Yooper displays. We have a menagerie of Yooper innovations including "Gus" the largest running-working chain saw in the world (Guinness Book of World Records) and "Big Ernie" the largest working rifle in the world.
Also on the grounds is a full-fledged deer camp - "Camp-Go-For-Beer" and "the Man Camp" - opposite of deer camp (with man hunting deer). Some other innovations include: the "Percy Pete", the world's first pay loader, a snow cycle, Yooperland chain saw sculptures by world renowned George Barasko, and a full-fledged underground mining display (including mining equipment used in our area).
SOME OF OUR INNOVATION DISPLAYS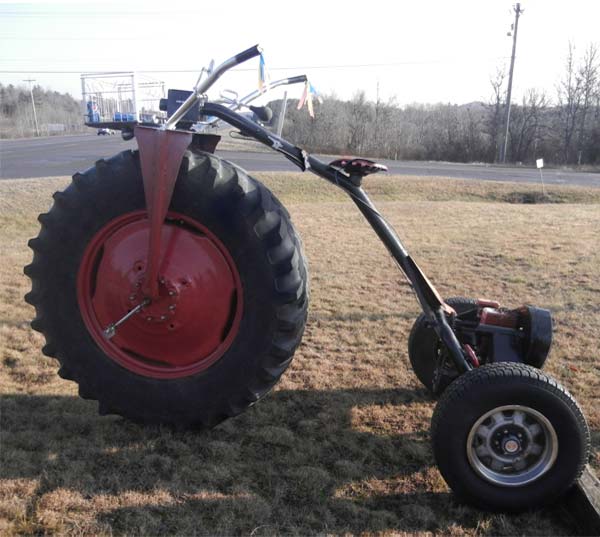 Here's our latest addition, the largest motorized Tricycle in Michigan, and possibly the largest in the world!
Our motorized Tricycle was designed by Dennis Takalo of Skandia, MI. Additional features were added by Ron Giannunzio of Big Bay, MI.
SPECS: 3 HP Briggs n Stratton log splitter engine. 1970's Ford rear end with brakes. 1950 Massey Harris back tractor rim cut and re-fabricated for front wheel roll bar pipe frame. Bancroft Dairy basket & horn.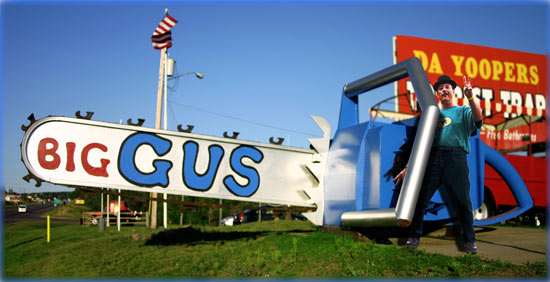 "Big Gus," The largest running working chainsaw in the world
Entered in the Guinness Book Of World Records" August 3rd, 1996 and featured on the "Ripley's Believe It Or Not" television show which has aired many times.
SIZE: 22 feet 11 inches long by 6 feet high. ENGINE: V-8 305 cubic inch, GMC water-cooled. TRANSMISSION: 3-speed automatic. Start: 12 volt electric. CHAIN: 6" wide pitch steel. WEIGHT: 3500 Lbs (approximate).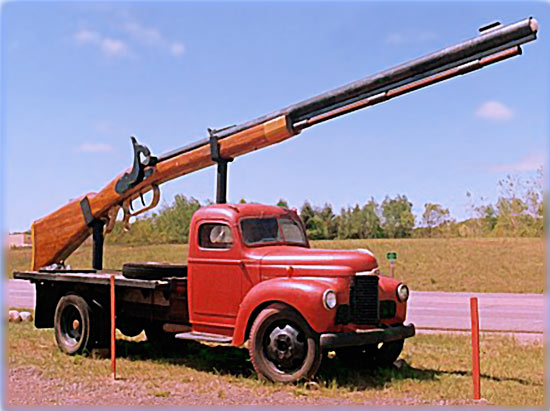 "Big Ernie," The World's Largest Working Rifle
Big Ernie has been featured in the July 2005 issue of Field & Stream Magazine.
PROJECTILE: fired using 12-volt electrical igniter system "Oxygen - Propane" propellant. LENGTH: 35 feet. WEIGHT: 4000 Lbs.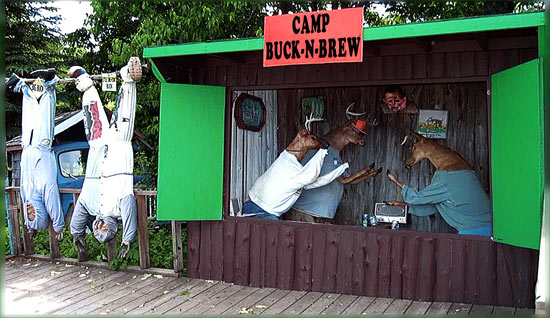 "Da Man-Camp," the camp where deer relax when "Man"
hunting.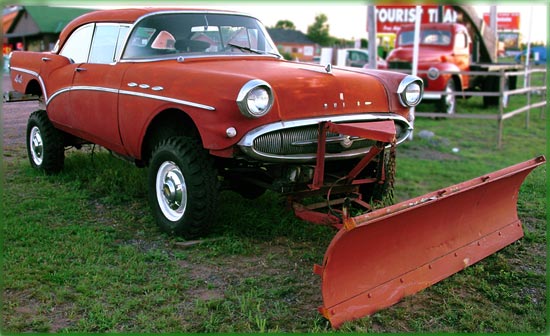 "Christine On Steroids," 1957 Buick with Plow
When she started her new life as a snowplow, she was white. Eventually, Tom Weaver painted her bright red for better visibility. It was then that people started calling the her "Christine on Steroids."
1957 Buick Special with a 350 engine. Body mounted on a Chevy 1974 3/4 ton truck frame, shortened 6 inches to fit.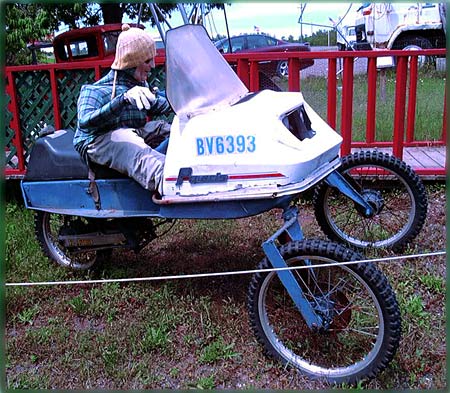 "Da Snow-Cycle."
The Yooper who previously owned this loved snowmobiling so much, he modified it so he could snowmobile Winter, Spring, Summer and Fall. You can view Hoolie giving her a spin in our movie
"Da Yoopers - It's About Time, Eh!"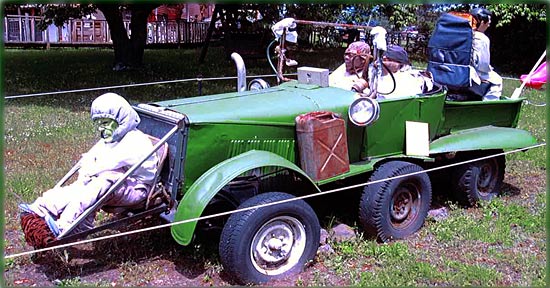 "Percy-Pede."
Used by serious Yooper hunters, the guy in front is the deer whistle; the guy in back is the troller. He trolls for deer with a pole and a bag of cabbage tied on the end of the line, which is dragged through the woods.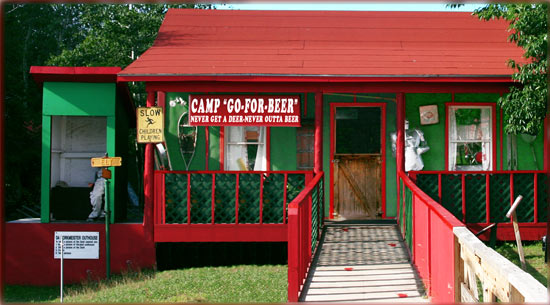 "Camp Go-4-Beer," a full-fledged Deer Camp.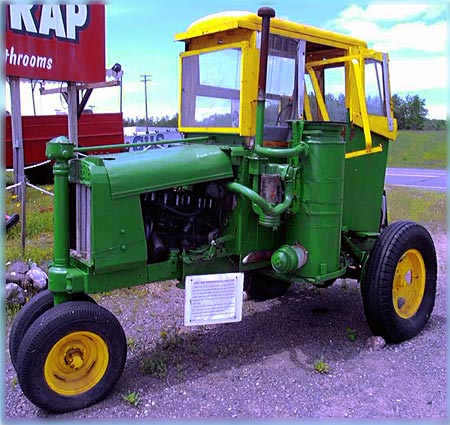 "Eddy," Da Wood-burning Tractor.
During World War II, Sweden and Finland had over 200,000 vehicles that ran on either wood or charcoal gasifiers. Today there are only 2 of these working tractors in the nation, this is one of them!
"Da 2-Holer Outhouse"
This Outhouse can be used by two people at a time; as can be seen in this image.