Cookbooks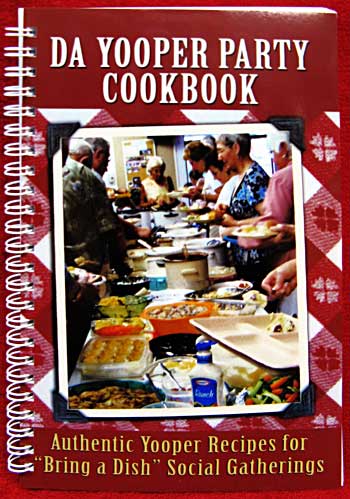 DA YOOPER PARTY COOKBOOK
Authentic Yooper Recipes for
"Bring a Dish" Social Gatherings
(Also features tips on choosing the best foods when shopping and
many wise pointers on cooking and
preparing foods)

These classic yooper dishes were compiled from Hoolie's Mother's recipe collection from the 30's thru the 60's and are guaranteed not to leave you wondering what to make for your next bring-a-dish, potluck, wedding and family gatherings.
Many of these recipies are made from scratch by Hoolies Italian Mother who could cook and bake with the best of them. These great comfort food recipes are easy to make and
fun to eat.
Item #webv28911
$9.99
Add to your cart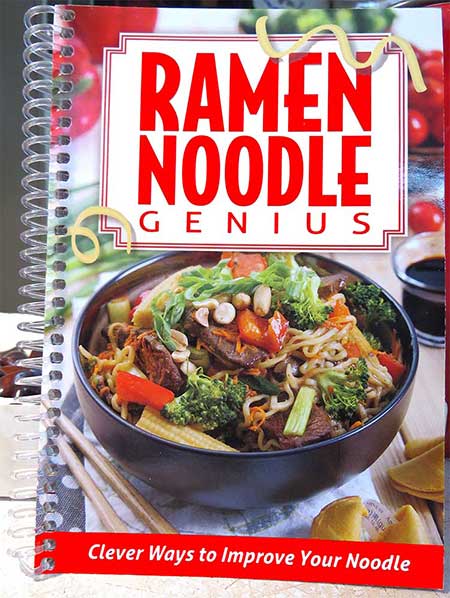 Fast-cooking, inexpensive, and super easy to prepare, these crazy little strands of curly noodles are simple on their own, but they scream versatility. This square block of seemingly plain noodles can be brilliantly transformed in deliciously unexpected ways when tucked into snack mixes, main dishes, side dishes, salads, or desserts. Try the creamy Chipotle-Lime Alfredo, munch on a little sweet Cinnamon Crunch snack mix, wow guests with a Strawberry Spinach Salad or Stuffed Bell Peppers, and swoon over the simplicity of the Yummy Snickers Bars.
Ramen noodles -- the start of something delicious.
64 pages
Item #webv14183
$12.99
Add to your cart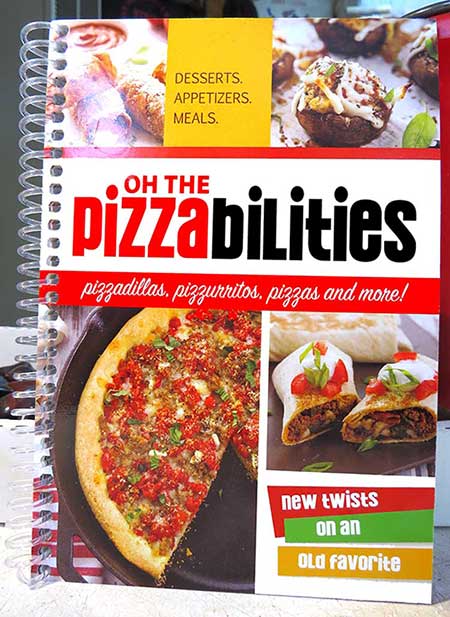 Lots of scrumptious crusts. Tons of cheese combos. Toppings galore. This book is loaded with everything pizza, from traditional favorites to crazy-delicious mash-ups. You'll find appetizers, main dishes, and desserts with distinctive flavors and extraordinary yumminess. Toss hum-drum pizza nights aside when you make Pizza Stuffed 'Shrooms, Chicago Deep-Dish Pizza, Pizza Monkey Bread, Pizzachos and Pizzgheti. ... so many new twists on an old favorite!
64 pages
Item #webv20635
$12.99
Add to your cart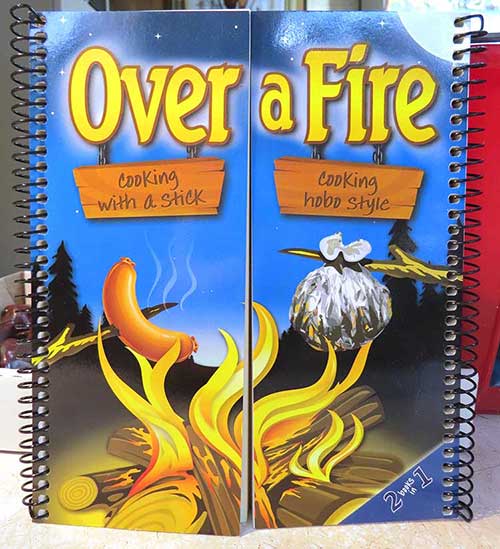 Over a Fire:
Cooking with a Stick &
Cooking Hobo Style - Campfire Cooking
For good old-fashioned family fun, look no further! Whether you re heading out on a camping trip or simply enjoying a backyard bonfire, this book will satisfy your appetite and provide hours of entertainment for the whole clan. Explore the sky, play a game or make a fun craft the whle family can enjoy. Then use a simple stick or pie iron or step it up a notch with foil pack options to create everything from breakfasts to late-night snacks. What can you do with a stick and some foil? Try goodies on a stick like No-Crust Apple Pie and Pineapple Cobbler, or wrap it all up with delicious meals of Fajitas in Foil and Sweet & Sour Chicken.
You re hot on the trail to a new level of outdoor fun... just open and explore!
108 pages
Item #webv2400
$12.99
Add to your cart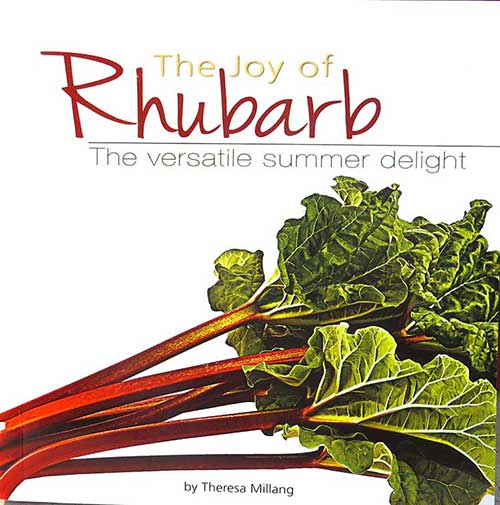 The Joy of Rhubarb:
The Versatile Summer Delight
(Fruits & Favorites Cookbooks)
Rhubarb's sweetly old-fashioned stalk, with a pucker-sour side, tastes like summer. It can be used alone in recipes, and it blends brightly with most fruits. This spirited vegetable (it's not a fruit) is for more than just pies—there are many ways to include it in a variety of recipes. Acclaimed cookbook author Theresa Millang presents more than 200 of her favorite recipes from across the country that put new zing into the familiar pie plant. Recipes range from breads and main dishes to preserves and, of course, pie. So start your morning with Rhubarb Honey Muffins. Enjoy Rhubarb Salsa and Strawberry-Rhubarb Lemonade in the afternoon. Then finish the day with Rhubarb Pork Chop Casserole. Theresa also includes tips for growing, choosing, preparing, and storing rhubarb. You'll find lots of new ways to enjoy this versatile summer treat.
248 pages
Item #webv4417
$14.95
Add to your cart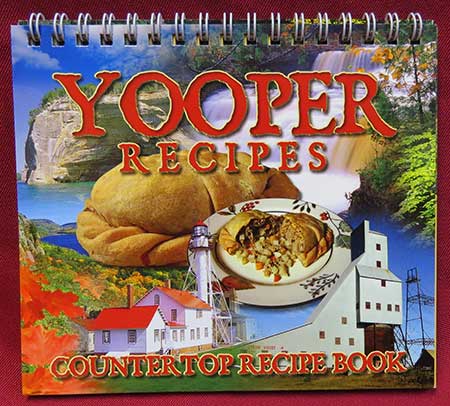 YOOPER RECIPES
COUNTERTOP RECIPE BOOK
By Kitty H. Kososki

For those missing the U.P. or those Yoopers wanting to try someone else's delicious Yooper recipes.
Item #webv1885
$5.99
Add to your cart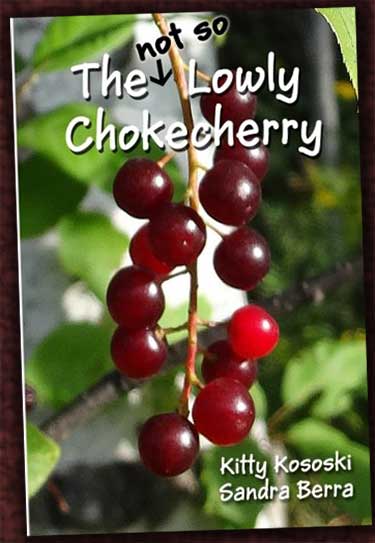 The (not so) Lowly Chokecherry
By Kitty H. Kososki

This book is about the chokecherry (Prunus virginiana), a flowering shrub or tree native to North America. The fruits are about 1 cm (0.39 in) diameter, range in color from bright red to black, with a very astringent taste, being both somewhat sour and somewhat bitter. These berries can be picked when ripe and used in various recipes. The book describes how to recognize the chokecherry, early and Native American uses for the fruit and bark, nutritional value, and various recipes using chokecherries.
88 pages
Item #webv18310
$12.99
Add to your cart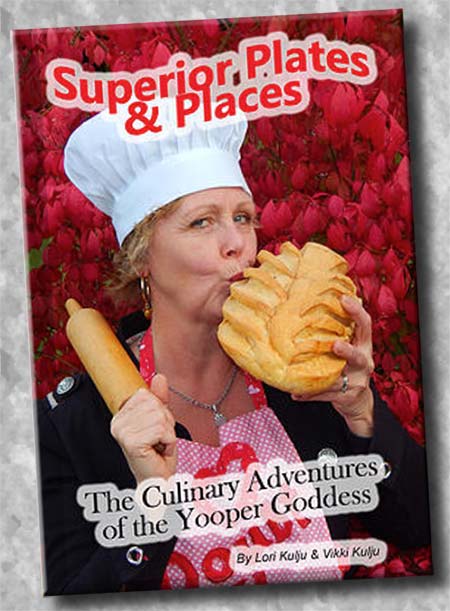 Superior Plates & Places
By Lori & Vikki Kulju
Lori Kulju aka The Yooper Goddess is also know for her television segment on TV6 Fox WLUC-TV6 and from her youtube channel.
Let the Yooper Goddess take you on a culinary adventure of the Upper Peninsula. Each chapter will introduce you to her favorite eateries or adventures in the U.P. coupled with her unique recipes. Chapters include titles such as Outhouses and Toast, Those Monks Sure Can Cook and More Za! 128 pages 6" x 9"
Item #webv14915
$13.95
Add to your cart
Grills Gone Wild, Sides & Sweets Cookbook

Potatoes, pineapple, pizza...

Ready to discover a fresh, new world of grilling? Then take a walk on the wild side and explore beyond burgers, steaks and chicken. Stuffed mushroom appetizers, a side of buttery corn on the cob, and a still-warm apple crisp... all grilled alongside your entrée for a delicious and easy meal.

Take your new taste adventures even further with yummy Chocolate Banana Peanut Butter Cups or treat everyone to a bowl of Cheesy Popcorn - popped right on the grill!

Let the flames begin!

Spiralbound

128 pages

Item #webv26558

$9.99
Add to your cart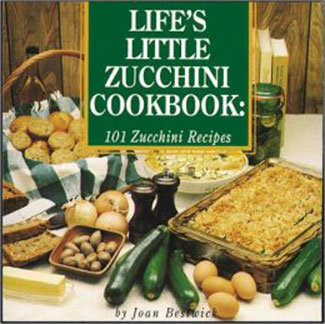 Life's Little Zucchini Cookbook
101 Zucchini Recipes
Cookbook
Borrowing its title from another popular series of book, Life's Little Zucchini Cookbook: 101 Zucchini Recipes, by Joan Bestwick, is precisely that - a handy little tome of recipes to last you long after zucchini season is over. Bestwick includes recipes of well-known zucchini favorites, such as Stuffed Zucchini, Zucchini Bread and Fried Zucchini, along with a host of other preparations for baking, sauteing and stewing. More interesting is the adaptation of traditional dishes in which the versatile cucumber makes its appearance - such as Tuna & Zucchini Melts, Zucchini Lasagna, Zucchini Fudge Cake, and even a recipe for Zucchini & Banana Pudding. A few practical tips are included in the introduction, and, thankfully, recipes are easy-to-follow and not labor intensive. If you're experiencing a bumper crop of zucchini, or just enjoying eating the prolific squash, you'll enjoy having Life's Little Zucchini Cookbook on hand
132 pages
Item #webv5486
$11.95
currently out of stock


Grills Gone Wild, Meats and Mains Cookbook

Weary of the same old crusty burgers, tough steaks and dried-out chicken breasts? Then say goodbye to boring! Use the perfected instructions inside this book to serve a perfectly grilled, yet simple entrée... or turn up the heat and go wild! Tangy marinades, savory rubs, zesty basting sauces, and flavorful salsas will give your grilling just the kick that's been missing.

So take a walk on the wild side to discover a fresh, new world of grilling - you'll never look back!

Spiralbound

128 pages

Item #webv26557

$9.99

out of stock
A Gourmet's Guide To
Venison Sausage
and Cooking Venison
By James A. Lahde

135 smart and elegant recipes
MOOSE - DEER - ELK - CARIBOU - ANTELOPE
45 tested sausage recipes, simplified sausage techniques for hard salami, pepperoni, summer sausage and many more
199 pages
Item #webcb1619
$14.95
out of stock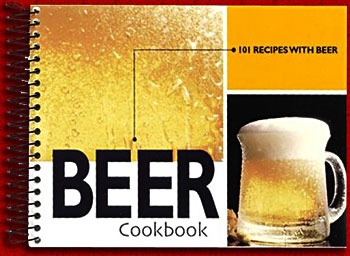 Beer Cookbook:
101 Recipes with Beer
101 Recipes such as:
Deep fried Jalapeno Slices, Drunken Dogs, Sweet Bread, Beer Bread,
Beef Beer Balls etc
Item #webv4202
$5.95
out of stock