Cookbooks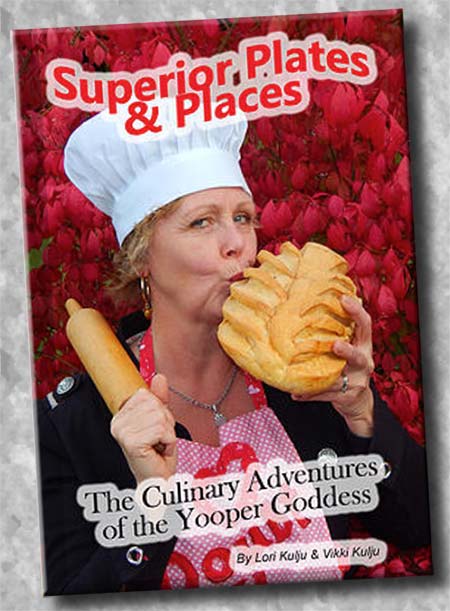 Superior Plates & Places
By Lori & Vikki Kulju
Lori Kulju aka The Yooper Goddess is also know for her television segment on TV6 Fox WLUC-TV6 and from her youtube channel.
Let the Yooper Goddess take you on a culinary adventure of the Upper Peninsula. Each chapter will introduce you to her favorite eateries or adventures in the U.P. coupled with her unique recipes. Chapters include titles such as Outhouses and Toast, Those Monks Sure Can Cook and More Za! 128 pages 6" x 9"
Item #webv14915
$13.95
Add to your cart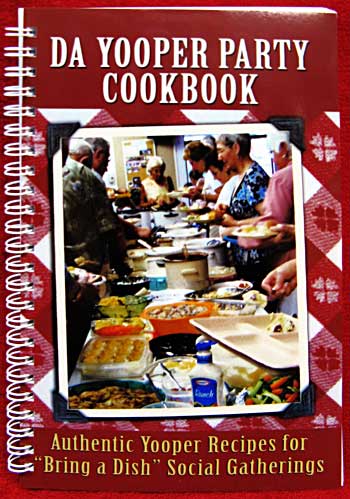 DA YOOPER PARTY COOKBOOK
Authentic Yooper Recipes for
"Bring a Dish" Social Gatherings
(Also features tips on choosing the best foods when shopping and many wise pointers on cooking and
preparing foods)

These classic yooper dishes were compiled from Hoolie's Mother's recipe collection from the 30's thru the 60's and are guaranteed not to leave you wondering what to make for your next bring-a-dish, potluck, wedding and family gatherings. Many of these recipies are made from scratch by Hoolies Italian Mother who could cook and bake with the best of them. These great comfort food recipes are easy to make and fun to eat.
Item #webv28911
$9.99
Add to your cart
Dump & Bake Desserts
One Pan. Dump. Stir. Bake)
Cookbook

Grab A Baking Pan, Add Your Ingredients, Stir And Bake! It Is That Easy! Create Tarts, Pies, Cookies, Bards, Cakes And More. This Book Contains Thirty Dessert Recipes.

Spiralbound

64 pages

Item #webv7772

$12.99 Add to your cart
Put a Little Spark
in Your Ash
Cookbook

When the kids are away, the grown-ups will play . . .

Keep your fire and your friends stoked all weekend long with the recipes and ideas you'll find inside this book. This book is designed to satisfy more mature appetites and audiences. Here you'll find simple ways to add charm and whimsy to your outdoor space, suggestions for memorable games, and hot-from-the-fire recipes all of which will be enjoyed and talked about long after the campfire dies down. Delicious, appealing and clever, it all adds up to a great time so go ahead and get your ash cooking!

Spiralbound

64 pages

Item #webv9200

$12.99


out of stock
No Oven Lovin'
(No Bake Recipes For Cakes, Cookies & Bars)
Cookbook

With These Yummy No-Bake Recipes At Your Disposal, You Will Not Need The Heat! Make This Book Your Go- To Favorite- The Perfect Option On A Scorching Summer Day When You Want To Keep The Kitchen Cool Or Anytime You Just Need A Quick Dessert. This Book Contains Fifty No-Bake Recipes.

Spiralbound

64 pages

Item #webv7776

$12.99 Add to your cart
Fix It In Foil
Tasty Recipes! Easy Clean-ups! for Ovens, Grills, and Campfires!
Cookbook

Easy prep, great taste, good nutrition, quick clean-up - what more could you ask for from a meal? Fix It In Foil combines the best of all worlds! Featuring 51 fantastic recipes to make in foil - plus instructions for cooking in an oven, on an outdoor grill, or on a campfire - the meals in this book are sure to shine! Fix it in foil and you can forget about spending so much time scrubbing pots and pans. And, with plenty of substitution suggestions, enjoy a whole new list of recipe possibilities!

Spiralbound

Item #webv2399

$10.99

out of stock
Beer & Food
Great Recipes to
Complement Great Beers
Cookbook

Discover a brand new world of beer by combining classic beer styles with the perfect complementary foods. Use the pairings to increase your knowledge of great beer, delight dinner guests, or help you order the best combination the next time you're dining out. Find delicious food pairings for each style, and taste the difference as new flavors emerge, ingredients coexist, and the palate grows!

Spiralbound

120 pages

Item #webv4196

$12.99

currently out of stock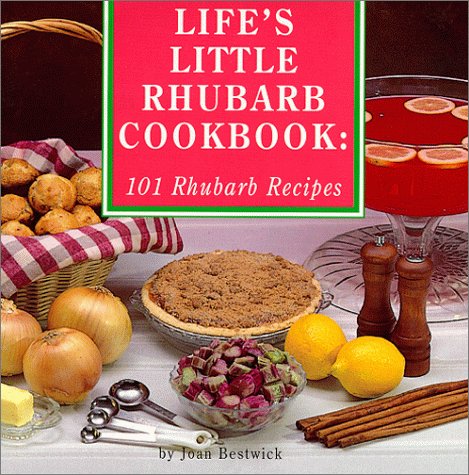 Life's Little Rhubarb
Cookbook
Joan Bestwick shows how to serve rhubarb from breakfast to dinner--before dessert. She offers cinnamony muffins with a dollop of peach and rhubarb filling in the center, easy Rhubarb Chutney to serve with cottage cheese, refreshing Rhubarb and Lemon Punch sweetened with pineapple juice, and "pizza" of rhubarb puree on a flattened pie crust dotted with strawberry "pepperoni," dried black cherry "olives," and a shower of grated white chocolate "cheese."
131 pages
Item #webv5487
$11.95
currently out of stock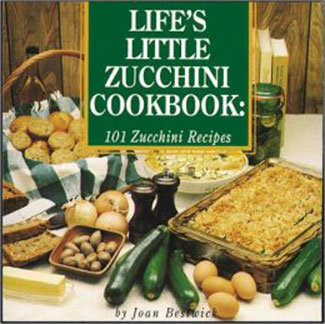 Life's Little Zucchini Cookbook
101 Zucchini Recipes
Cookbook
Borrowing its title from another popular series of book, Life's Little Zucchini Cookbook: 101 Zucchini Recipes, by Joan Bestwick, is precisely that - a handy little tome of recipes to last you long after zucchini season is over. Bestwick includes recipes of well-known zucchini favorites, such as Stuffed Zucchini, Zucchini Bread and Fried Zucchini, along with a host of other preparations for baking, sauteing and stewing. More interesting is the adaptation of traditional dishes in which the versatile cucumber makes its appearance - such as Tuna & Zucchini Melts, Zucchini Lasagna, Zucchini Fudge Cake, and even a recipe for Zucchini & Banana Pudding. A few practical tips are included in the introduction, and, thankfully, recipes are easy-to-follow and not labor intensive. If you're experiencing a bumper crop of zucchini, or just enjoying eating the prolific squash, you'll enjoy having Life's Little Zucchini Cookbook on hand
132 pages
Item #webv5486
$11.95
currently out of stock

Grills Gone Wild, Meats and Mains Cookbook

Weary of the same old crusty burgers, tough steaks and dried-out chicken breasts? Then say goodbye to boring! Use the perfected instructions inside this book to serve a perfectly grilled, yet simple entrée... or turn up the heat and go wild! Tangy marinades, savory rubs, zesty basting sauces, and flavorful salsas will give your grilling just the kick that's been missing.

So take a walk on the wild side to discover a fresh, new world of grilling - you'll never look back!

Spiralbound

128 pages

Item #webv26557

$9.99

out of stock
A Gourmet's Guide To
Venison Sausage
and Cooking Venison
By James A. Lahde

135 smart and elegant recipes
MOOSE - DEER - ELK - CARIBOU - ANTELOPE
45 tested sausage recipes, simplified sausage techniques for hard salami, pepperoni, summer sausage and many more
199 pages
Item #webcb1619
$14.95
out of stock
Grills Gone Wild, Sides & Sweets Cookbook
Potatoes, pineapple, pizza...
Ready to discover a fresh, new world of grilling? Then take a walk on the wild side and explore beyond burgers, steaks and chicken. Stuffed mushroom appetizers, a side of buttery corn on the cob, and a still-warm apple crisp... all grilled alongside your entrée for a delicious and easy meal.
Take your new taste adventures even further with yummy Chocolate Banana Peanut Butter Cups or treat everyone to a bowl of Cheesy Popcorn - popped right on the grill!
Let the flames begin!
Spiralbound
128 pages
Item #webv26558
$9.99
out of stock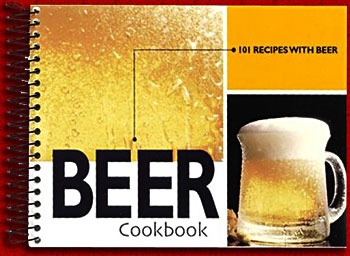 Beer Cookbook:
101 Recipes with Beer
101 Recipes such as:
Deep fried Jalapeno Slices, Drunken Dogs, Sweet Bread, Beer Bread,
Beef Beer Balls etc
Item #webv4202
$5.95
Add to your cart