Jewelry
Page 1 of 2
Pins, Anklets, Bracelets, Charms,
Money Clips, etc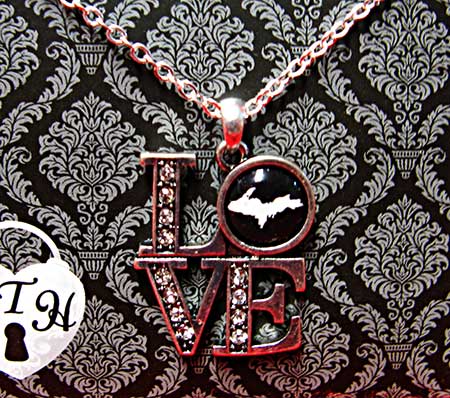 Love Necklace U.P. Icon

Made in the U.P.
UP Engraved Necklace
13mm or just over 1/2" Stainless Steel Disc with UP engraved

Item #web16710
$14.99
Sale! $9.99
Add to your cart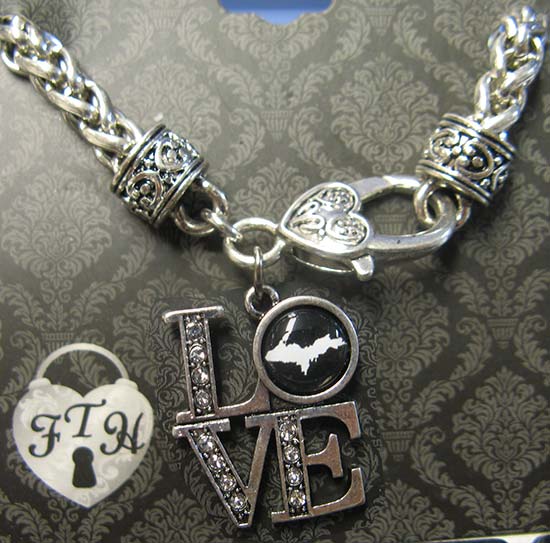 Love Bracelet U.P. Icon

Made in the U.P.
UP Engraved Earrings
13mm or just over 1/2" Stainless Steel Disc with UP engraved
21 Gauge Stainless Steel earwire, hypoallergenic,
Earwire Length Fish hook
Item #web16709
$14.99
Sale! $9.99
Add to your cart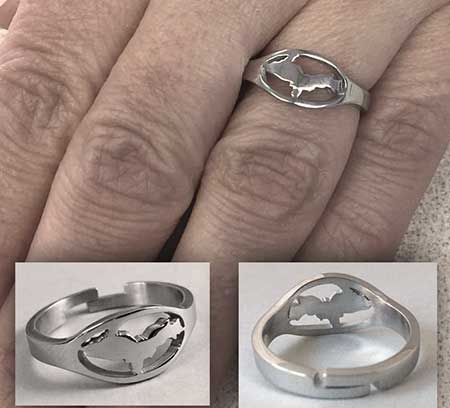 Jackie B
Adjustable Stainess Steel U.P. Ring
Made in the U.P.



Jackie B
Stainess Steel U.P. Icon Necklace
Made in the U.P.

Item #web19202
$19.95
Add to your cart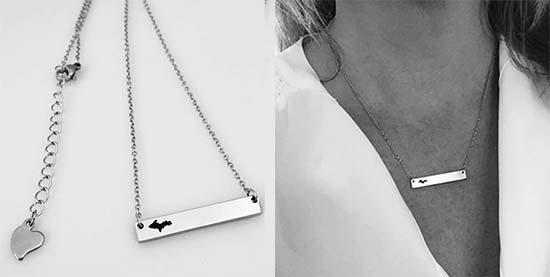 S.S. Horizontal Heart Drop Necklace

Made in the U.P.
Upper Peninsula engraved horizontal Stainless Steel Bar Pendant. w/ 16 or 18" sparkle stainless steel non tarnish chain with an additional 2" extender w/heart drop. Look of sterling silver without the high price. This is a heavy, high quality, Shiny, Non-Tarnish bar pendant, and chain all made of stainless steel. UP image is permanently laser etched into the metal.
Item #web18698
$24.00
Add to your cart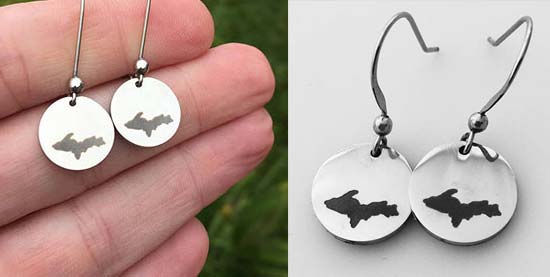 S.S. U.P. Earrings

Made in the U.P.
UP Engraved Earrings
13mm or just over 1/2" Stainless Steel Disc with UP engraved
21 Gauge Stainless Steel earwire, hypoallergenic,
Earwire Length Fish hook
Item #web18699
$21.00
Add to your cart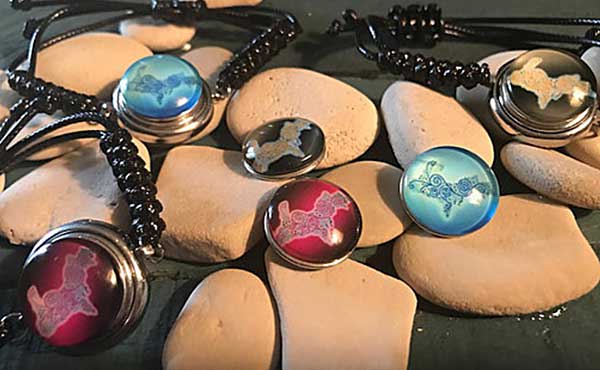 Yooper Goddess
Mood Bracelet

The bohemia style black corded bracelet comes with 3 interchangeable U.P. buttons (black, blue and rose). The buttons can be snapped in and out of the bracelet as your mood (or wardrobe) changes! Adjustable to a variety of wrist sizes.Made in the U.P.

What kind of Goddess are you?

Blue Goddess; Upbeat, Pleased, Somewhat Relaxed, Optimistic -
When someone is down, you always know how to lift them up. The spring in your step, the song in your laugh are contagious and enhance the world and all of those in it. Your faith is strong so everything seems easy.

Dark Goddess: Fear Nothing, Intense, Serious, Hard-working -
Your commitment to life is only supassed by your commitment to your friends and family. You work hard to create a successful career and/or provide an amazing home for your family. You impress everyone with all that you can accomplish.

Rose Goddess: Very Happy, Warm, Affectionate, Loving, Infatuated, Curious - You love your family, your friends and life. You walk through life wearing a smile and leaving smiles in your wake.
Item #web18879
$15.00
Add to your cart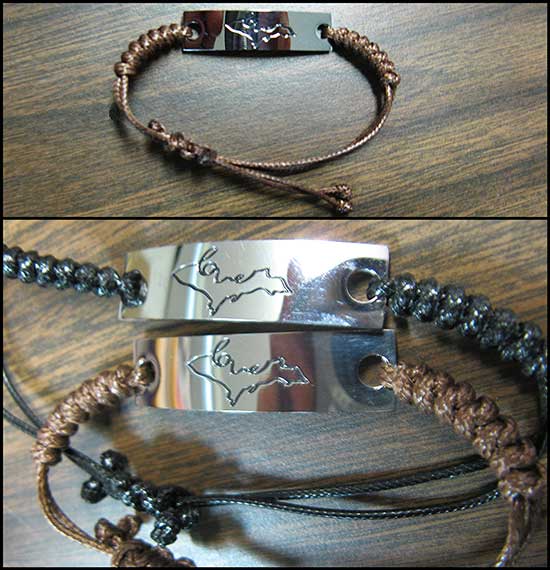 "Love" U.P. Corded Bracelet

Made in the U.P.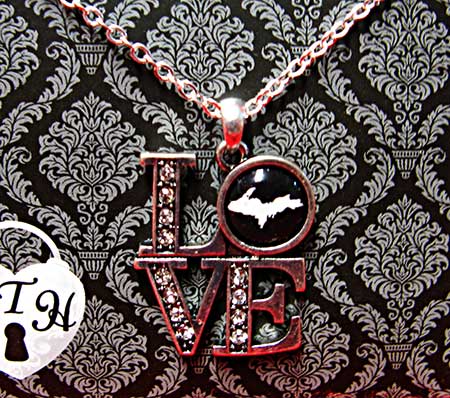 Love Necklace U.P. Icon

Made in the U.P.
UP Engraved Necklace
13mm or just over 1/2" Stainless Steel Disc with UP engraved

Item #web16710
$14.99
Sale! $9.99
Add to your cart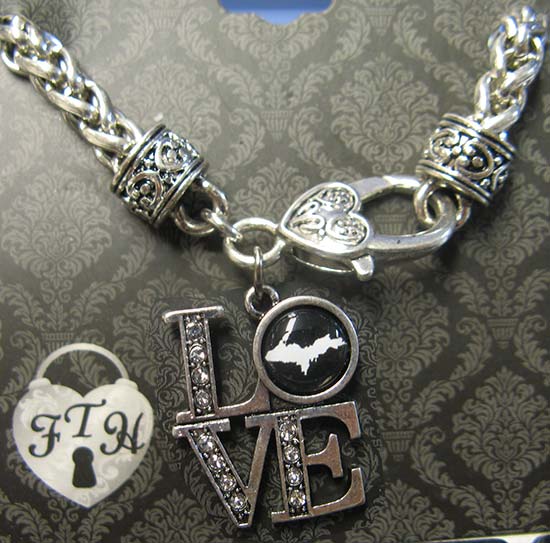 Love Bracelet U.P. Icon

Made in the U.P.
UP Engraved Earrings
13mm or just over 1/2" Stainless Steel Disc with UP engraved
21 Gauge Stainless Steel earwire, hypoallergenic,
Earwire Length Fish hook
Item #web16709
$14.99
Sale! $9.99
Add to your cart
Multiple
Beach Glass Necklace
Turquoise Blue

Item #web14947a

$19.99 Add to your cart
Single
Beach Glass Necklace
Turquoise Blue

Item #web14944d

$12.99 Add to your cart
Sisu Collection
U.P. Finn Flag
Hook Earrings
Handcrafted in the U.P.
Item #web13903
$19.99
Sale! $14.99
Add to your cart

Sisu Collection
U.P. Finn Flag
Straight Post Earrings
Handcrafted in the U.P.
Item #web13902
$19.99
Sale! $14.99
Add to your cart