Da Yoopers Catalog
In-stock items shipped within 24 hours
Books, DVD's & Calendars
Page 1 of 2
(click the yellow box above to visit page two)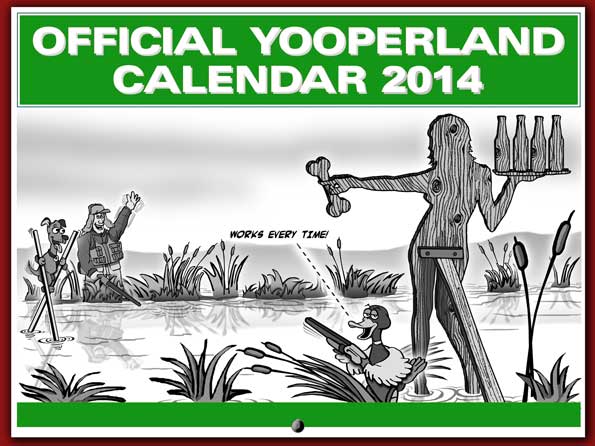 Official Yooperland Calendar 2014
Here it is! Our new calendar for 2014 contains hundreds of day-to-day notes that show the humor, fun and never ending struggles with snow, Mosquitos, etc.
Also featured are original illustrations by Jesse DeCaire and Jim Bellmore.

Item #webfcal03020a
$8.99
Add to your cart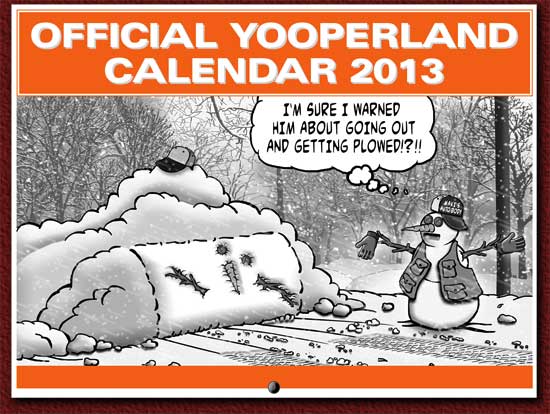 Official Yooperland Calendar 2013
Our calendar for 2013 contains hundreds of day-to-day notes that show the humor, fun and never ending struggles with snow, Mosquitos, etc.
Also featured are original illustrations by Jesse DeCaire and Jim Bellmore.

Item #webfcal03020b
SALE! $4.00
Add to your cart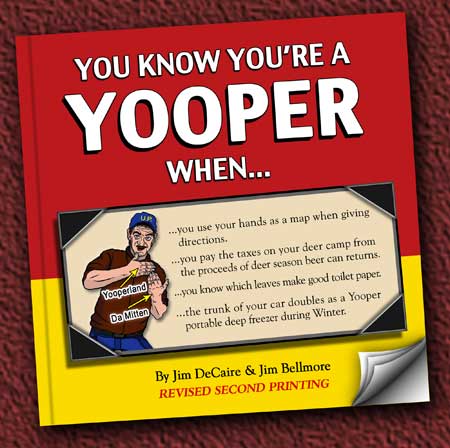 REVISED SECOND PRINTING!
Da Yoopers - You Know You're A Yooper When... Book
Many new illustrations, etc. Da Yoopers collection of crazy comical situations that were gathered from observing family and friends in their daily struggle to survive up here in Yooperland.
Illustrations by Jim Bellmore
Item #web064
$6.99
Add to your cart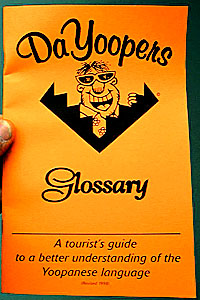 Da Yoopers Glossary
A tourists guide to understanding the Yoopanese language.
Item #web2415
$1.99
Add to your cart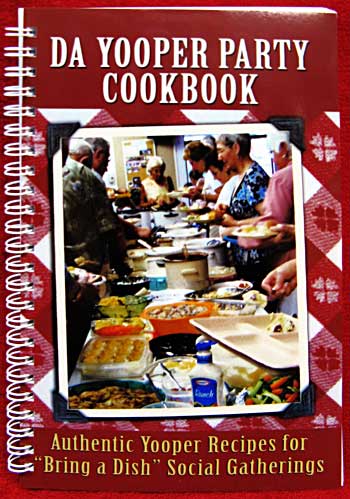 DA YOOPER PARTY COOKBOOK
Authentic Yooper Recipes for
"Bring a Dish" Social Gatherings
(Also features tips on choosing the best foods when shopping and
many wise pointers on cooking and
preparing foods)

These classic yooper dishes were compiled from Hoolie's Mother's recipe collection from the 30's thru the 60's and are guaranteed not to leave you wondering what to make for your next bring-a-dish, potluck, wedding and family gatherings.
Many of these recipies are made from scratch by Hoolies Italian Mother who could cook and bake with the best of them. These great comfort food recipes are easy to make and
fun to eat.
Item #webv28911
$8.99
Add to your cart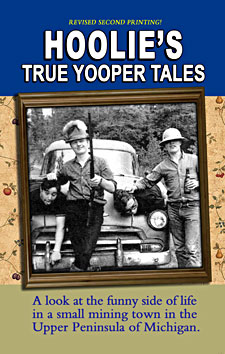 Hoolie's True Yooper Tales

A look at the funny side of life in a small mining town in the Upper Peninsula of Michigan.
REVISED SECOND PRINTING
By James DeCaire
Taken directly from the life of Da Yoopers lead funnyman, Hoolie, with topics ranging from fishing, hunting and dating, to marrage, and ecentric neighbors, these stories are at the same time poignant and hilarious, told with Hoolie's natural storytelling ability. This collection of stories about life in hte small northern mining town of Ishpeming, Michigan is guaranteed to have you in stitches all the way through!
Item #webf10347
$8.99
Add to your cart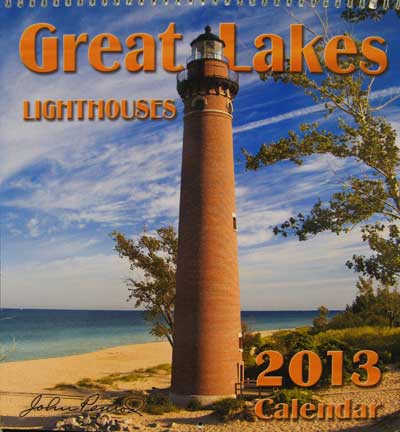 Great Lakes Lighthouses 2013 Calendar
14 Month Calendar, large spaces for appointments.
Photographer: John Penrod
11.5" wide x 12" tall
Item #webfcal30993
$12.99
Add to your cart
The Best of the
Lure of the
Land of Hiawatha
a 30's Compilation

Captures the adventure, characters and romance of Michigan's Upper Peninsual during the 1930's. Large in format, book is similar to a newspaper in feel & look.
104 pages.

Item #webf02569
$10.00
Add to your cart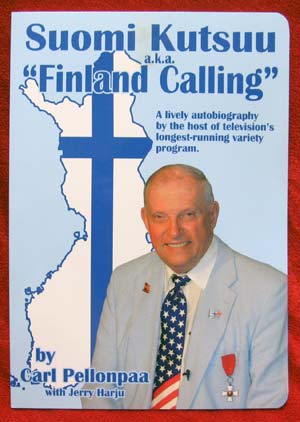 Finland Calling

By Jerry Harju and Carl Pellonpaa
A lively autobiography by the host of television's longest-running variety program.
This book is the story of Carl Pellonpaa's life. Oh, but it should be mentioned: he's not through with it yet.

134 pages

Item #webf30814
$19.95
Add to your cart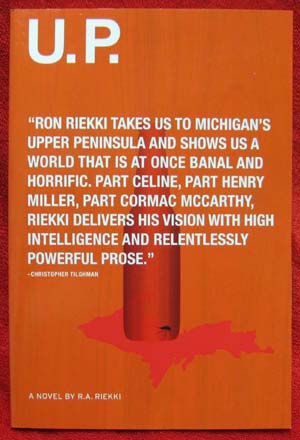 U.P.

By R.A. Riekki
From a bold new novelist comes a complex tale of friendship and brutality. Set in Michigan s Upper Peninsula, U.P. is the story of four teens immersed in an ugly world, one whose threat of violence is always simmering beneath the surface. R.A. Riekki s distinctive characters and their poignant quest for freedom is a swan song to lost youth, redefining the traditional coming-of- age-story. Four boys, four distinct narratives that converge into a harrowing and heartbreaking whole.

Item #webf87
$19.95
Add to your cart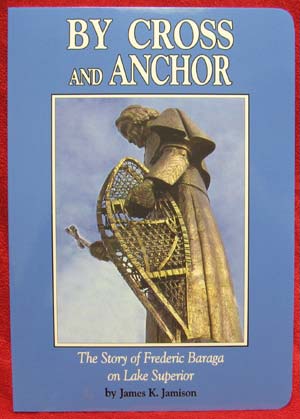 By Cross and Anchor
The Story of Frederic Baraga on Lake Superior

By James K. Jamison
Discover the exciting, and often miraculous, missionary adventures of the "Snowshoe Priest"-Venerable Frederic Baraga, the first bishop of Michigan's Upper Peninsula.
144 pages.

Item #webf695
$18.95
Add to your cart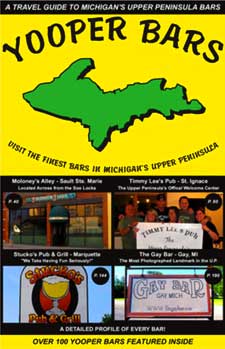 YOOPER BARS

VISIT THE FINEST BARS IN MICHIGAN'S UPPER PENINSULA
By Whiskey River Publishing Co. Inc.
A Travel Guide to Michigan's Upper Peninsula Bars. Visit the Finest Bars in Michigan's Upper Peninsula Bars.
Featured Inside:
A detailed profile of 109 Upper Peninsula bars including: bar hours, happy hours, specialty menu items, entertainment, games, drink specials, payment options, house drinks, and house shots. Amazing feats of athletic skill involving: horseshoes, darts, pool, and even a human Foosball game. Discover where and how the hula hoop, chicken dance, and the game of Rochambeau were invented. Find out who the top three finishers were in a week-long 1/2lb. hot dog eating contest. Laugh at the best joke told in each bar! ....and much more!
224 pages
Item #webf30947
$19.95
Add to your cart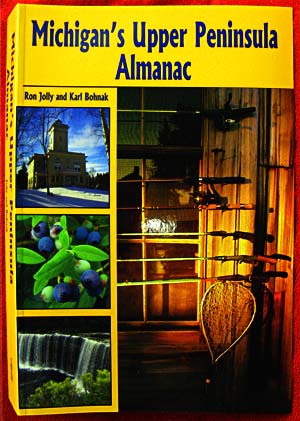 Michigan's Upper Peninsula Almanac
Michigan's Upper Peninsula Almanac is a comprehensive guide for every resident, visitor, and student of Michigan's Upper Peninsula.
This definitive almanac covers every acre of the wild and beautiful U.P., including information on businesses, tourism, agriculture, sports, weather, casinos, and other topics that will keep you referring to the book time and again. Looking for record snowfalls and temperatures? Oldest business? Busiest tourist spots? Most interesting myths and legends? Michigan's Upper Peninsula Almanac has it all.
Ron Jolly is a popular veteran radio broadcaster in northern Michigan who spent fifteen years in news and information programming. He has won awards for his news reporting on WCTM from UPI, Michigan News Network, and the National Commission on Working Women. He is the author of Northern Michigan Almanac (University of Michigan Press/Petoskey Publishing, 2005).
Karl Bohnak is the author of the popular U.P. weather book So Cold a Sky. He is meteorologist at WLUC in the Upper Peninsula and holds the American Meteorological Society's broadcast seal of approval.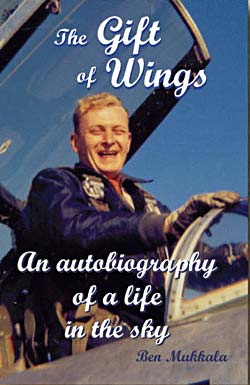 The Gift of Wings
A life in the sky
"To soar like an Eagle. To put out my hand and touch the face of God! Stories from a happy warrior who would fly anything they didn't keep him from.
This story follows the author's life from a Korean War Draft motivated enlistment through a twenty-year career in the United States Air Force and retirement as a Major and Command Pilot.
It's about enlisted life during which he rose to the rank of Staff Sergeant, how he came to be an Aviation Cadet, an Officer Candidate, a fledgling aviator during the Korean Conflict and an instrument flight instructor in the F-86D Interceptor School. 310 pg.
Ben Mukkala
Item #webf23512
$15.95
Add to your cart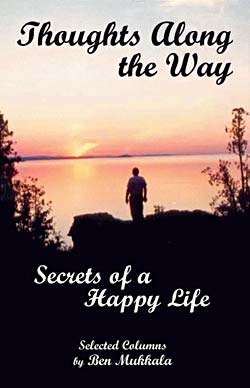 Thoughts Along The Way
"The purpose of life is to matter-to count, to stand for something, to have it make some difference that we have at all. - Leo C. Rosten"
This book is respectfully dedicated to You, the Reader, If these pages inform you, if you enjoy them, if they give a little insight, warm your heart, if they lighten your burdens even just for a day, then I have "made some difference, I have mattered." 222 pg.
Ben Mukkala
Item #webf20903
$15.95
Add to your cart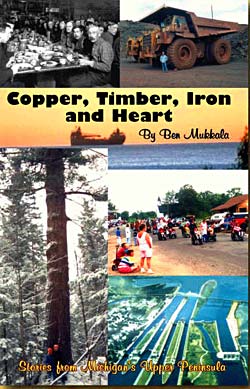 Copper, Timber,
Iron and Heart
Ben Mukkala
268 pages. Gritty stories of the men who forged Upper Michigan out of the wilderness.
Item #webf04419
$15.95
currently out of stock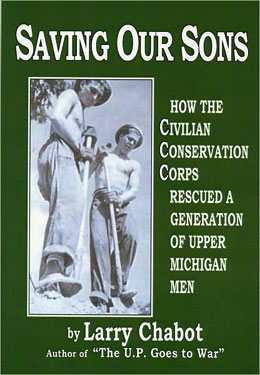 Saving Our Sons
How the Civilian Conservation Corps Rescued a Generation of Upper Michigan Men
The legendary Civilian Conservation Corps, a Depression-era agency, hired the poorest of the poor - welfare boys with no jobs, no training or skills, no future, school dropouts, and charged them with saving themselves, their families, and our land, streams, and forests, all on wages of $1.00 a day. And they pulled it off! "Saving Our Sons" tells how it was done in Michigan's Upper Peninsula. 200 pages.
Larry Chabot (The U.P. Goes to War)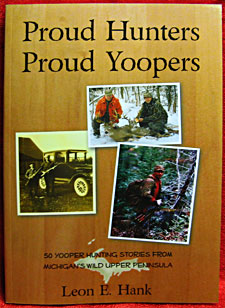 Proud Hunters Proud Yoopers

This book is 269 page paperback featuring 50 short stories about hunting adventures in Michigan's wild Upper Peninsula. The book is vividly written so that readers will feel like they are right there on the hunt with the author; Leon E. Hank
Item #webf24880
$12.95
currently out of stock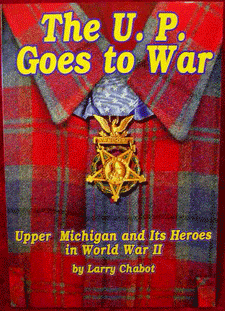 The U.P. Goes to War
Upper Michigan and Its Heroes in World War II
By Larry Chabot
A book celebrating the Upper Peninsula men and women who helped win the war. Includes photos. 196 pages
Item #webf17099
$19.95
Add to your cart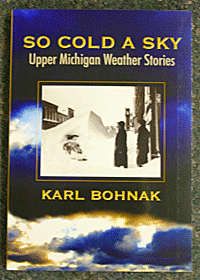 SO COLD A SKY
Upper Michigan Weather Stories
KARL BOHNAK
Read stories of the early pioneers and the obstacles they faced in settling the most northern part of Michigan under so cold a sky. Browse through personal tales of modern weather events from snowstorms ot heat waves. Written in concise narrative form, Upper Michigan Weather Stories can be opened and enjoyed at any point, making it a perfect trravel and gift book.

Item #webf14832
$22.95
currently out of stock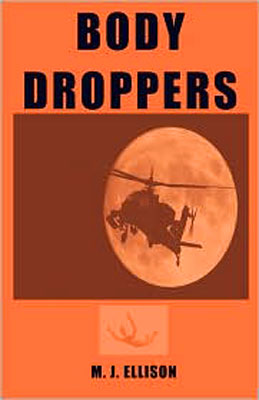 BODY DROPPERS
A SUSPENSE NOVEL
Twenty-five years after his role in the infamous "Days of Rage" riots in the Chicago loop, Jack Carmichael, a transient, drifter and former member of the Weather Underground launches a startling series of attacks against Michigan's political establishment in the name of society's downtrodden, physically challenged, and abused.
When a powerful state senator disappears, his wife hires Robert Brooks as her personal representative in the frantic search for her missing husband. The investigation soon leads Brooks into an elaborate labyrinth of grave robbing, body dropping, the unveiling of a defense contractor's top secret helicopter prototype, and the governor's shocking pronouncement of his radical plan to divert Great Lakes water to the west, the first step in his single-minded quest for the office of President of the United States. 325 pages.
M.J. Ellison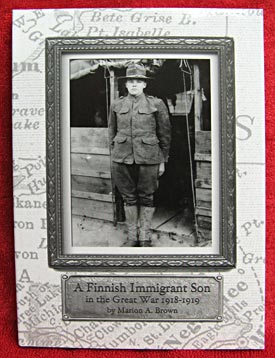 A Finnish Immigrant Son
in the Great War 1918-1919
A Finnish Immigrant Son in the Great War, 1918-1919, published by Northern Michigan University Press is a fine work of history. The author has thoroughly grounded the work in careful research, which she documents thoroughly and accurately. She cites both central historical texts, such as Brinkley, Current, Freidel and Williams, Cruttwell, and Hahn as well as the work of Finnish American historians and scholars, including in the renowned Hoglund, Karni, Puotinen, Kolehmainen, Jalkanen, and Kero, to name a few. The text itself performs the important scholarly function of connecting the lived experience of Finnish immigrants, and through extrapolation other immigrants, with the mainstream historical texts that inform our collective understanding of World War I. 184 pages.
Marion A. Brown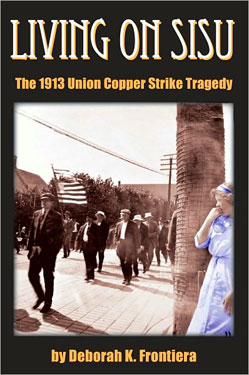 Living on Sisu
The 1913 Union Copper Strike Tragedy
To twelve-year-old Emma, life may be hard, but it is basically good. She has finished sixth grade and is nearly a young lady. But, in the summer of 1913, her life, and the lives of everyone in the region, will be changed forever by a violent strike against the mining companies in the Upper Peninsula of Michigan. A friend whose father is not on strike will be forbidden to talk to her. Another will die in the terrible Italian Hall Tragedy on Christmas Eve. Only the trait the Finnish people call "sisu" will help her and others in the region live through it.
This well-researched historical fiction takes place in Houghton County, Michigan, in the towns of Calumet, Houghton, Hancock, Laurium and the surrounding area. It is written from the point of view of a twelve-year-old girl whose father is on strike. The first-person narrative puts the reader on the scene. Historical photographs help the reader see the time and place.. 238 pages.
Deborah K. Frontiera
Grandparents Michigan Style
Places to Go and Wisdom to Share
Take an active role in your grandchildren's lives. Show them the best of Michigan. Teach the valuable lessons you've learned throughout the years. Grandparents Michigan Style is filled with insights and advice to help you along the way!. 160 pages.
Mike Link, Kate Crowley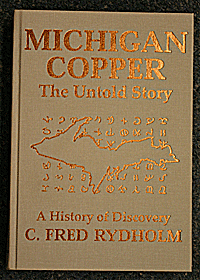 MICHIGAN COPPER
The Untold Story

By Fred Rydholm
Incredibly extensive and informative, covering the history of Copper in Michigan's Upper Peninsula. Includes many historic photos and maps.
Item #webf16126
$49.99
currently out of stock
Da Adventures
of
EINO and TOIVO
By Bill Larson
Eino and Toivo live in da wild U.P. of Michigan.
Da tings dat dey do are beyond yer beyondity!
Soon da term "Holy Wah" will be
thunk by yous guys! -Bill Larson
Item #webf864527
$7.95
Add to your cart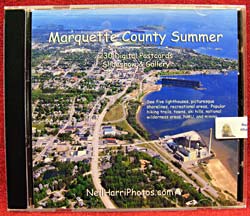 Marquette County Summer
Neil Harri
DVD
230 Digital Postcards, Slideshow Gallery

See five lighthouses, picturesque shorelines, recreational areas, popular hiking trails, towns, ski hills, national wilderness areas,
NMU and mining.
Item #webf30524
$21.00
currently out of stock
Anatomy of a Murder, DVD
Nominated for seven 1959 Academy Awards.
This movie was filmed in the Ishpeming-
Marquette area. A gripping tale of deceit, murder and a sensational trial.
Item #web1360
$21.99
currently out of stock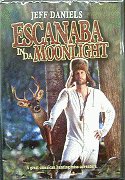 Jeff Daniels
ESCANABA
in da
MOONLIGHT
DVD
A great-american hunting miss-adventure.
At 43, Reuben Soady (Jeff Daniels) is in danger of becoming the oldest member in the history of the family never to bag a buck.
Item #web1004
$21.99
currently out of stock

Ojibwe Birch Bark Wigwam
DVD
Ojibwe Birch Bark Wigwam, produced and directed by NMU sociology professor Michael Loukinen, is meant to show the importance of the wigwam in Ojibwe culture, as well as the extensive amount of work it takes to make one from the ground up.
"This (film) shows the ancient survival knowledge of the Ojibwe," Loukinen said. "They lived for thousands of years in homes like this in the U.P. You can walk outside right now and come back and tell me how you'd like to live in a wigwam.
Michael Loukinen
1 hour.
Item #webf22627
$22.95
Add to your cart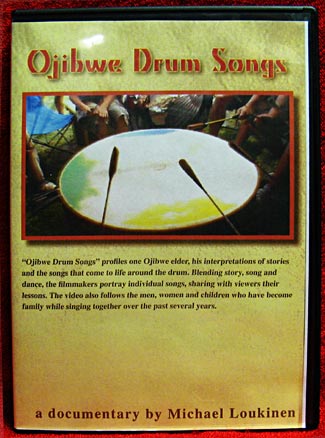 OJIBWE DRUM SONGS
DVD
Michael Loukinen, professor of sociology at Northern Michigan recently premiered his latest documentary film, "Ojibwe Drum Songs", which offers a revealing glimpse into the life of an Ojibwe elder, his stories and the songs that come to life around the drum. Dr. Loukinen produced the film with Grant Guston of Lake Effect Media.
Loukinen was invited by the Lac Vieux Desert Band of Lake Superior Ojibwe in 1996 to produce documentaries and a digital archive of their traditions. Ojibwe Drum Songs is the fourth film in the series. It blends story, song and dance.
"The drum is the oldest-known instrument and an essential aspect of Ojibwe life," Loukinen said. "It's believed a spirit resides in the drum and that it must be treated with reverence and respect."
Michael Loukinen
50 minutes.
Item #webf26404
$22.95
Add to your cart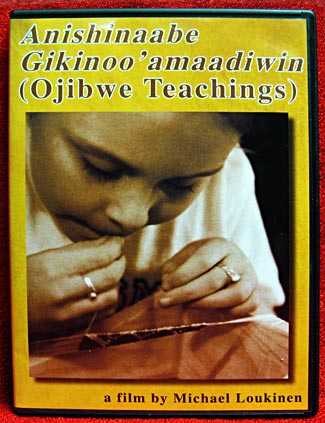 Anishinaabe Gikinoo' amaadiwin
(Ojibwe Teachings)
DVD
This is actualy three films, each edited for apprpriate classroom length. Those seeking deep understanding should watch it repeatedly.
Part 1: Childhood years were spent in distant Catholic boarding schools where expressions of tribal culture were punished.
Part 2: Documents the Lac Vieux Desert tribe's efforts to teach their expressive traditions of beadwork, drum singing, the Ojibwe language and other life lessons.
Part 3: Explores the identity one can derive by learning spiritual beliefs.
Michael Loukinen
110 minutes
Item #webf26403
$22.95
Add to your cart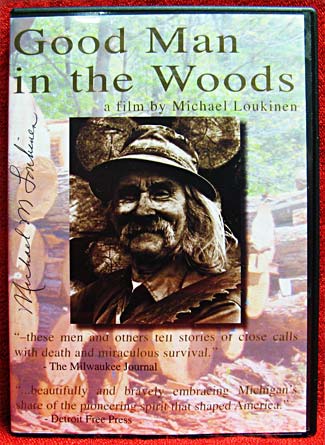 Good Man in the Woods
DVD
This documentary explores the lives of survivors of the traditional wilderness occupations—trappers, loggers, and commercial fishermen—who depict the unique character of the U.P.
Michael Loukinen
86 minutes
Item #webf22630
$22.95
currently out of stock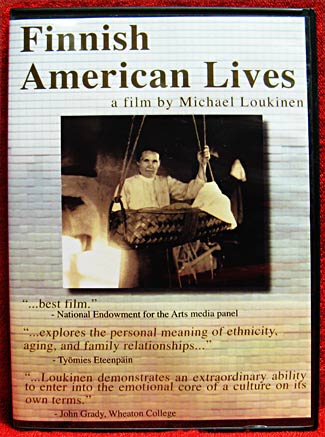 Finnish American Lives
DVD
Michael Loukinen has captured an important part of Upper Peninsula history in his film "Finnish American Lives". The 45-minute documentary attracted a big audience for its first public showing on WLUC-TV. The film showed three generations at work and at play on a farm near Ironwood. The oldest member of the family is a 92-year-old Finnish immigrant whose roots in many respects have determined the lives of the subsequent generations.
The old-timers life parallels the 20th century history of the U.P. He was born and raised in Finland, then worked in logging camps in the central U.P., in Quincy Mining Co. Copper mines in Hancock, and on the farm in the western Upper Peninsula. Logging, mining and the family farm: the backbone of the peninsula.

Michael Loukinen
60 minutes
Item #webf22629
$22.95
currently out of stock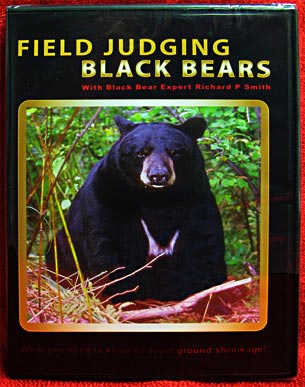 FIELD JUDGING BLACK BEARS
With Black Bear Expert Richard P. Smith
DVD
What you'll see in this video: Bears of all sizes, 4 Boone & Crocket kills. Learn to distinguish males from females and Record book animals.

Item #webf26091
$15.99
Add to your cart
In-stock items shipped within 24 hours