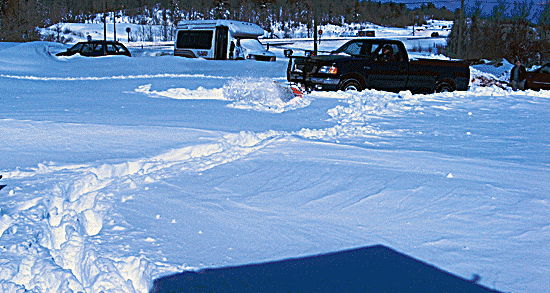 04/01/08
April Fool's day hit us hard! Jesse and I plowed from noon till 6:30, and that was only for the front area of the store. What a mess!
Snowfall totals in some places in Marquette County topped 20 inches, causing a hard day of work for shovelers and plow trucks.
Marquette County Road Commission plows had been out in 12-hour shifts since Monday night, but were hampered by continued snow and winds.
By two o'clock in the afternoon (Tuesday) they were able to make some progress.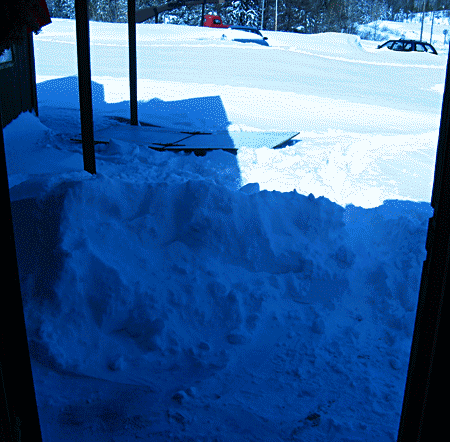 04/01/08
Notice my and Jesse's vehicals are nearly buried.


04/01/08
Jess and I taking a break.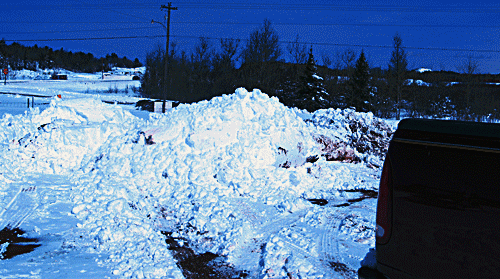 04/01/08
Piles and piles of snow everywhere.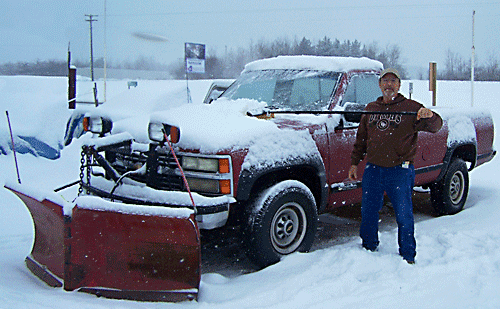 01/02/08
Hoolie helps clear snow from one of the plow trucks. Because we receive so much snow and have such a large area to plow we have two plow trucks here at the Trap.. oh yeah, plus a back-up wrecker/plow truck!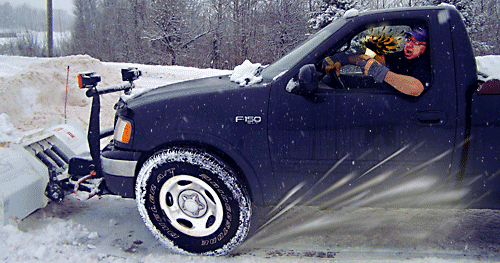 01/02/08
Hoolie catches me getting a face full of hot coffee..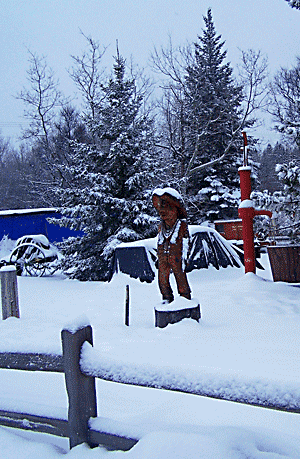 01/02/08
THE UNMITIGATED GLORIOUS SPLENDER!
Hoolie catches a winter scene at the trap to remind him of what he and Norm will truly be missing while basking in the sun in Arizona for the next few months..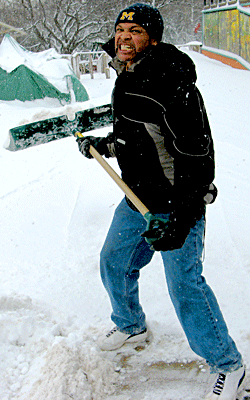 04/06/07
WE BROKE RECORDS WITH THIS STORM!
Hopefully this is our last major storm of the year.. just two days earlier there was very little snow, Skeet's happy though..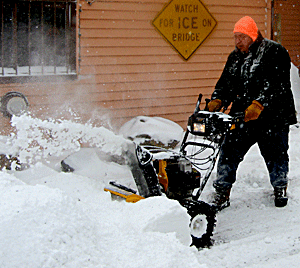 04/06/07
HEY SKEET! I FOUND YOUR WALLET! BETTER GET SOME DUCT TAPE!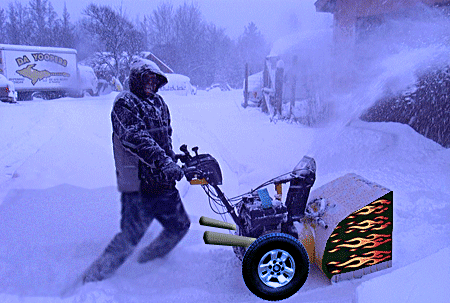 01/15/07
Our first big snowfall for 2007. Here's Skeet blowing snow after modifying the blower a bit....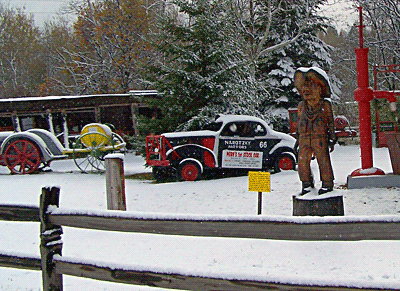 10/13/06
MAN, IT'S LIKE LIVING ON ANOTHER PLANET! WHAT HAPPENED
TO FALL?
Here's our first snow fall for 06/07. It is pretty though....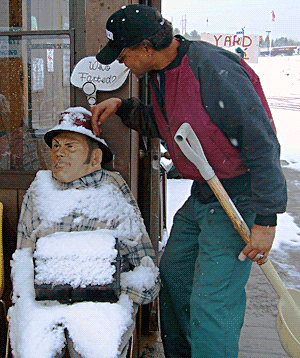 Here's Skeet dustin' off da displays for da color season tourists...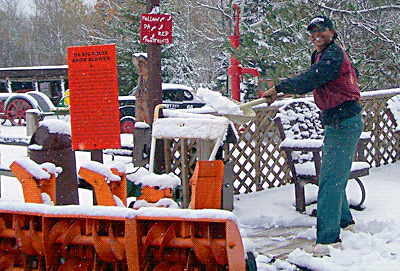 Skeet shovels off "Big Louie" da snowblower. Big Louie was built in the Copper Country and they sure could have used him dis week, eh...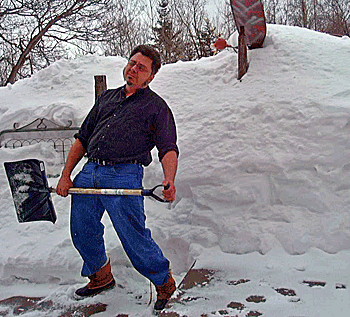 03/13/06
SNOW FOR SALE CHEAP!
I suggested to Hoolie that we may be able to make a truck load of money if we sell snow on ebay. He thought it was a great idea, then handed me the shovel....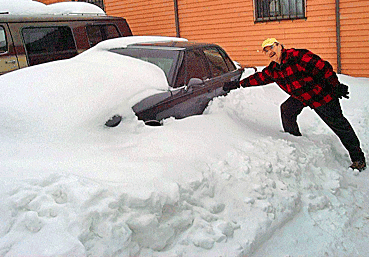 03/13/06
Norm asked Hoolie to check da oil in her olds, after getting one sock full of snow, he gave up, den called her and said it's good....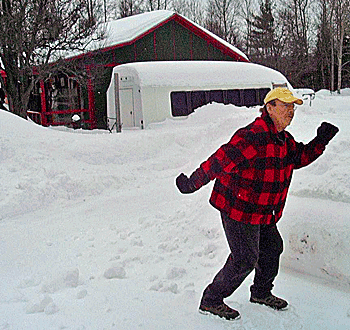 03/13/06
HOOLIE DOES DA HEIKKI LUNTA DANCE!
I told him to stop or I'd kick his ass! We got to much snow already
pretty much a little bit....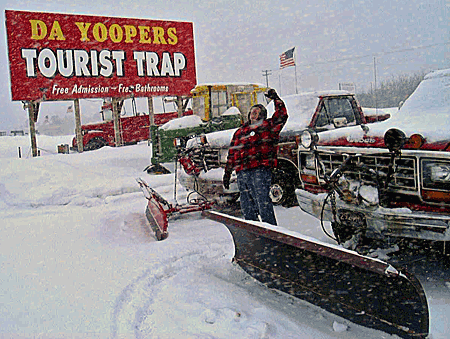 02/16/06
HOOLIE WELCOMES THE BIG ONE WITH CLENCHED FIST!
Our first truly big storm begins to dump its load on Yooperland. The Weather men have dubbed it "Kristina," and it's predicted to drop 20 inches by tomorrow...
We'll snap another pic at the same spot in 24 hours, Hoolie will be standing in the same spot till then....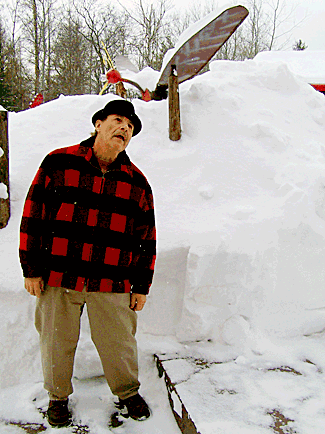 02/07/06
This is what someone suffering from cabin fever looks like...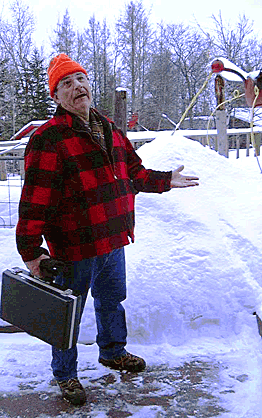 01/18/06
Here's Hoolie waiting for spring...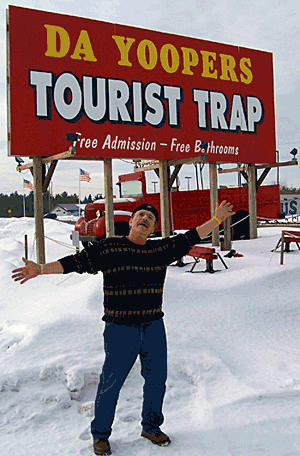 12/29/05
"GO AHEAD LUNTA, TAKE A DUMP!"
Here's Hoolie waiting for the next dumpage from Heikki Lunta...
Winter 2004/2005

01/02/05
"YES, YES! I LOVE DIS CRAP!"
Here's Hoolie taking my advice by looking at winter
and snow with a positive attitude...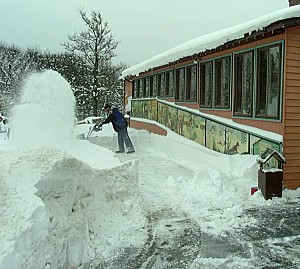 YES, YES! SKEETS ALSO LOVES DIS CRAP!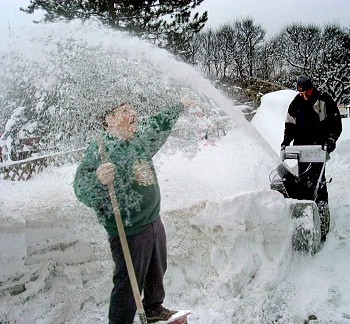 Hoolie directs Skeet as to where he wants da snow blew to....
Winter 2003/2004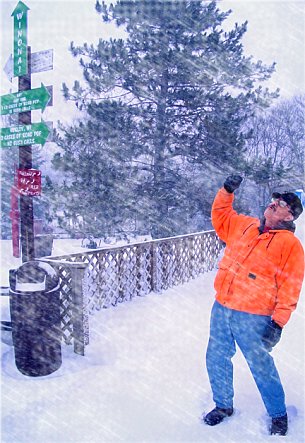 03/05/04
OH NO! WE COME HOME FROM A TWO WEEK ROAD TRIP TO THE TROPICS OF SOUTH WEST WISCONSIN
ONLY TO PUT UP WIT DIS CRAP!
Here's Hoolie giving da Yooper snow god "Heikki Lunta" hell for taking a dump on us poor Yoopers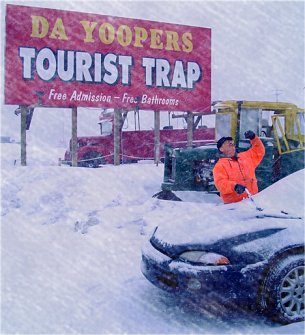 Here's Hoolie da same day giving da Yooper snow god "Heikki Lunta" hell for cloggin' da roads all up. He wanted to leave for Arizona after work (he and da wife Norm need to visit da relatives), but it looks like he'll have to wait a few days for da snow to clear up...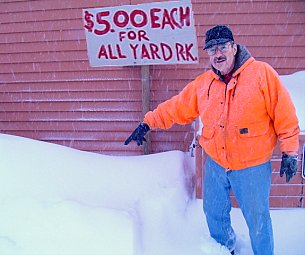 Here's Hoolie showing some customers from Green bay the unique yard rock he hand picked during the summer from all over da North Western areas of da U.P.!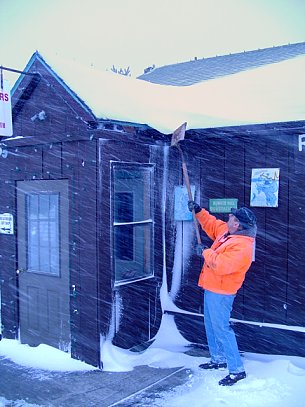 I told Hoolie to pick away at da over hang of snow on da eves wit da shovel,
he said, "yah, dis will be a good pic for da website, eh..."
Den I said, "Hold still now, eh, ...three...two...one..."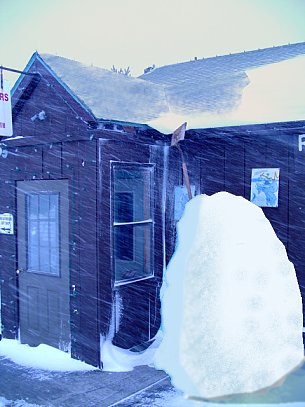 "PERFECT!"
Hoolie gets buried by an avalanche of snow and I (Bella) get a great shot
for da website. Thanks Hoolie!
(I hurried in side from da cold and snow for some hot coffee, ahhh,
- I mean to warm up da camera, eh)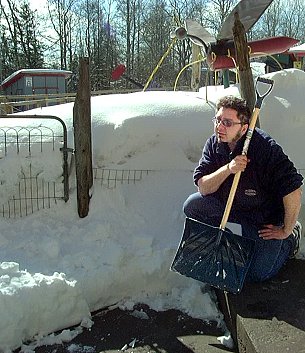 Here's me on Monday the 8th demonstrating a shoveling technique my Great Uncle Arnold Norr taught me...
Wait patiently for the snow to melt a lot a little bit...