Below are photos from Hoolie's 2009 Arizona
"Rock Hunting" adventures.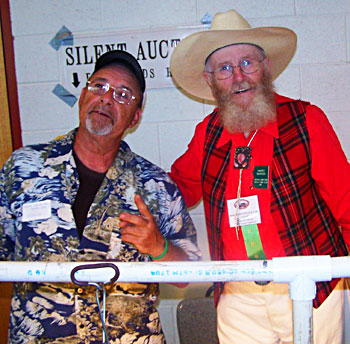 Here's Hoolie with his pal Harry; a real Arizona prospector and the leader of the rock pickin' expeditions.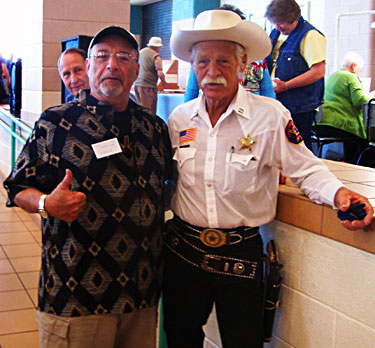 Hoolie meets a real Arizona Ranger at the Apache Junction Rock Club Mineral Show. Hoolie is a member of the club and also an MC for the show.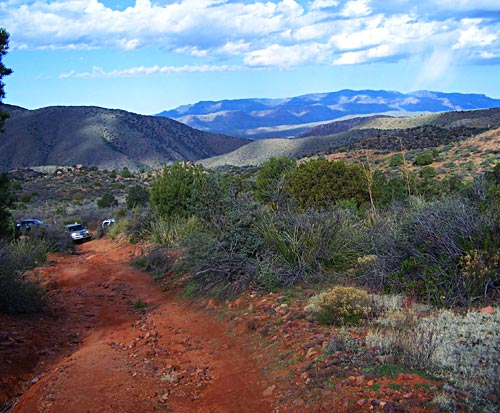 Harry leads on an expedition to an old Onyx mine in the middle of Nowhere Arizona.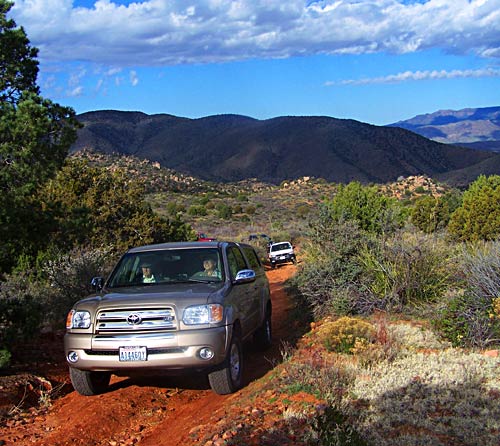 You gotta have a tough 4 Wheel drive to make it out to where we go, eh.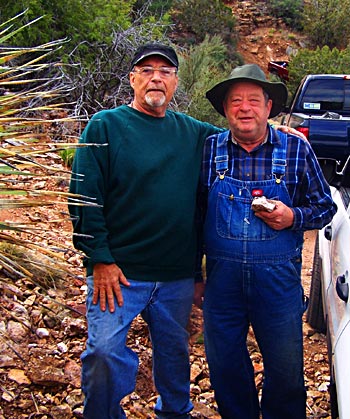 Here's Hoolie and his next door neighbor Ray; a Cheese head from north of Milwaukee. Hoolie talked Ray and his 4 Wheel drive into joining the club so Hoolie could have a ride out da bush (gosh, those cheese heads are easy! It only took a few beers and Bratwurst to convince him).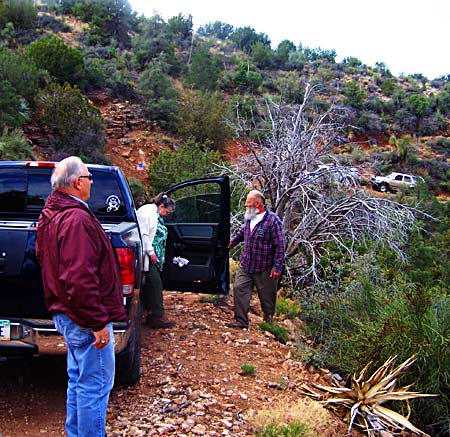 This is an Arizona bush call.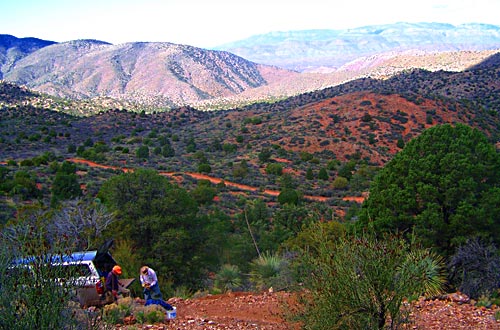 Hoolie took this pic from the top of da Onyx mine. Where those guys and the truck are it's about a 200 foot drop straight down! What some guys will do for a few rocks, eh!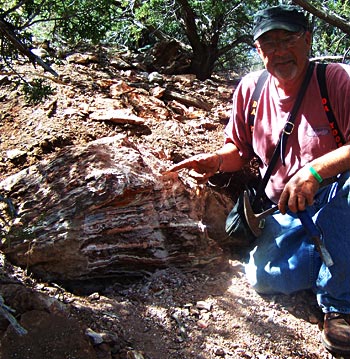 Here's Hoolie working on a vein of beautiful Arizona onyx.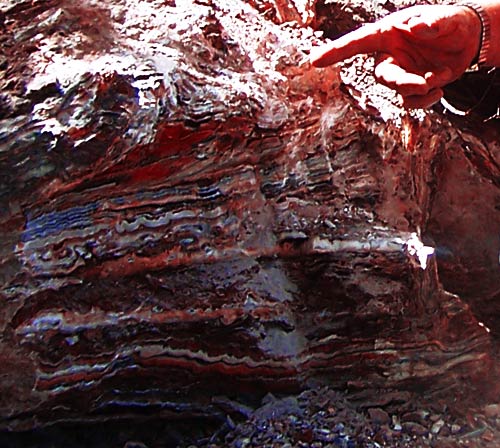 A close up from above pic.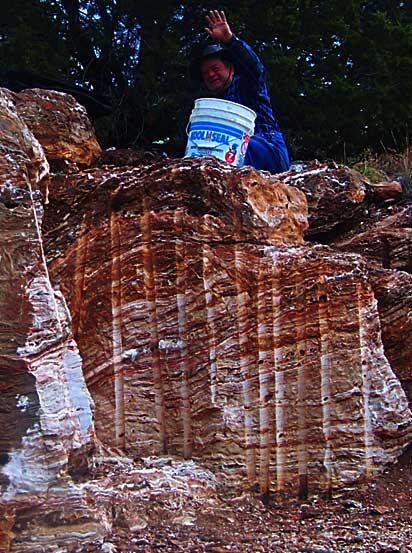 Here's Ray sitting on top of a massive chunk of onyx.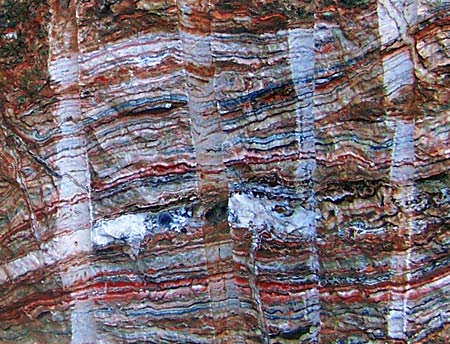 The beautiful banding is very apparent. You can also see drill scars the miners left
many years ago.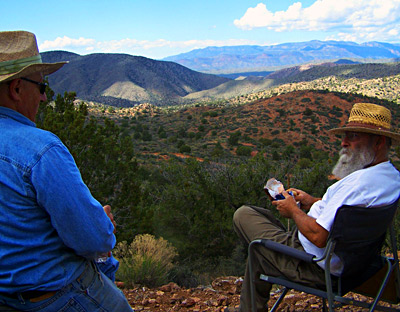 Dis is why Yoopers go to Arizona. What a view! For you snow birds, this is what January looks like in the mountains!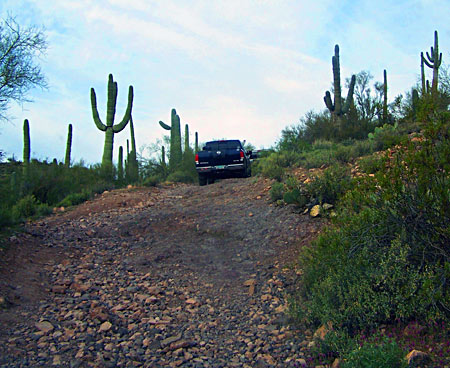 Dis is a trip out to get Arizona geodes.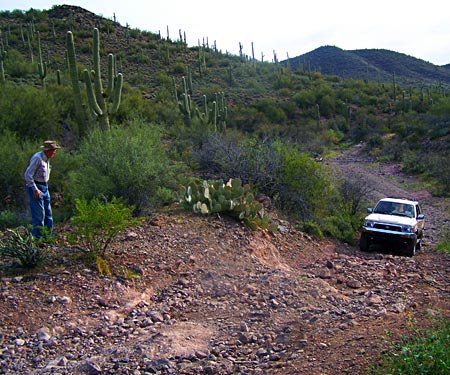 There's Harry guiding Ray up a wash.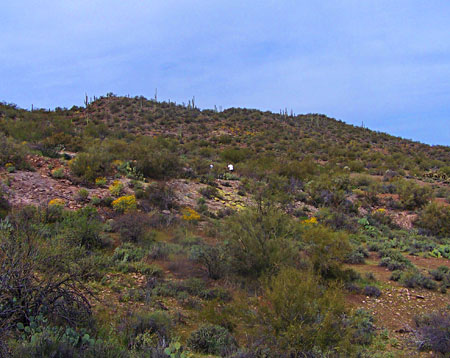 Here's the geode field. Notice some of the members up hill.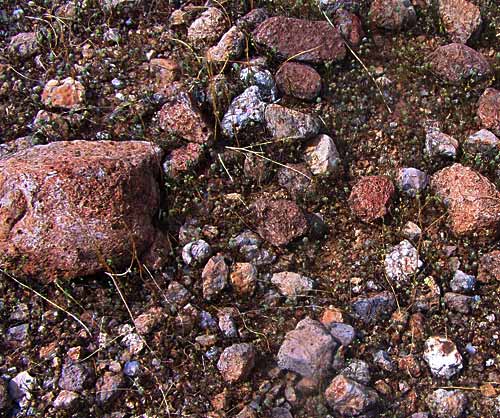 Can you spot the geodes?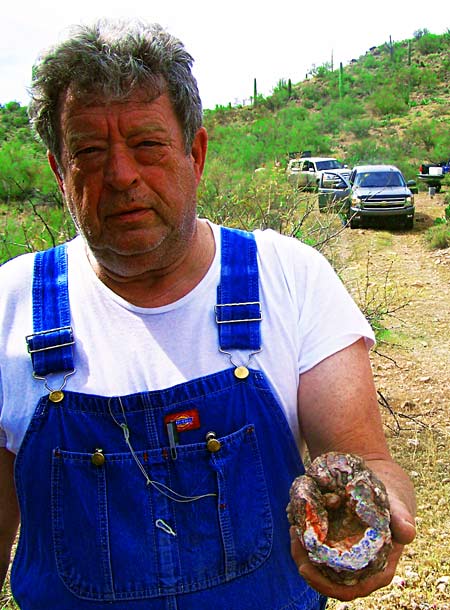 Here's Ray with a broken geode with no crystals showing.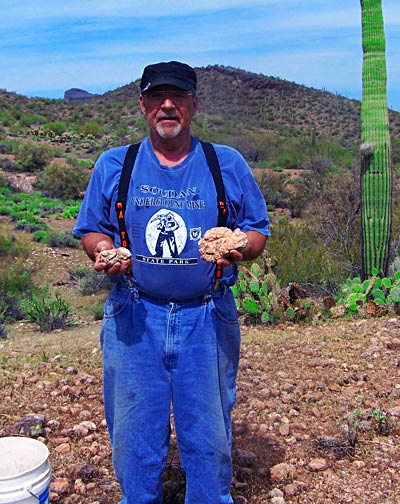 Here's Hoolie showing off a couple of brainy looking geodes.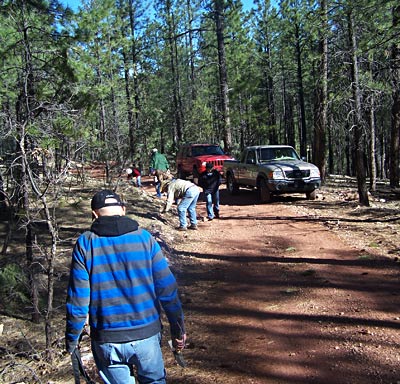 Here we are looking for Zebra Agate; high up in the mountains. Notice the pine trees.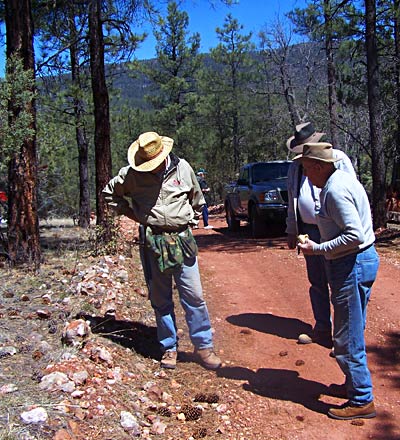 We found a lot of small, nice banded agate along the road.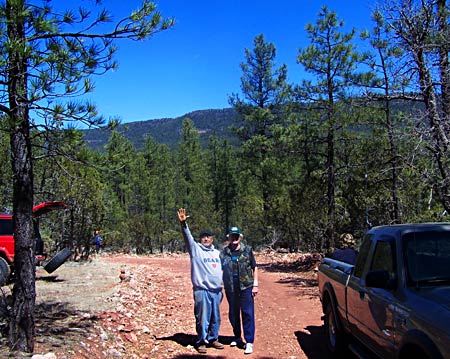 Here's Hoolie with Gracie, a young 87 year old hot rock picker babe.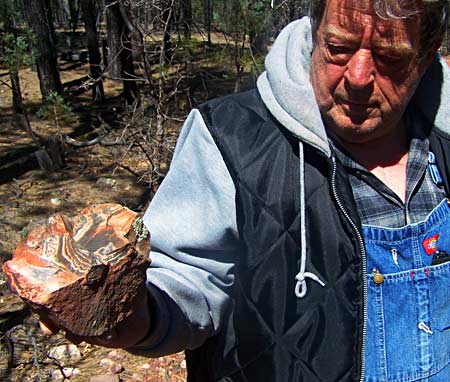 Ray finds a beautiful piece of Zebra Agate. Lucky Bugger!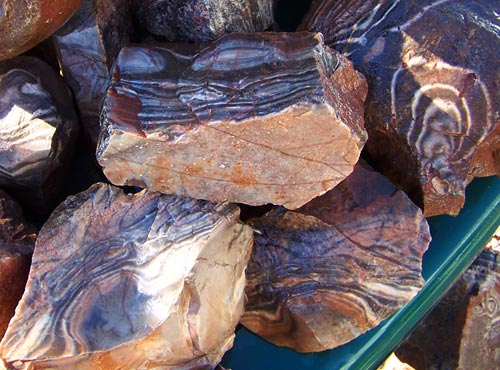 Some of Hoolie's finds.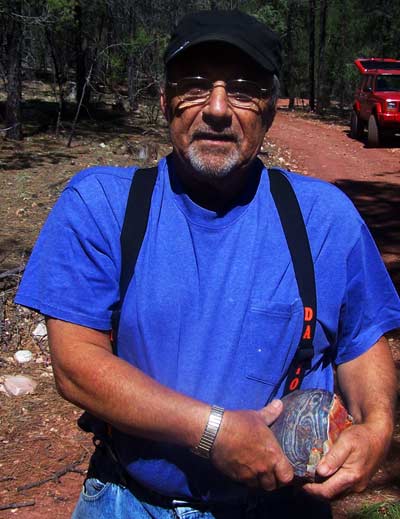 Hoolie finds a beauty in the middle of the road.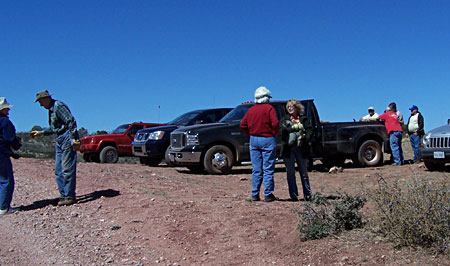 Here's the gang in search of Perkinsville agate.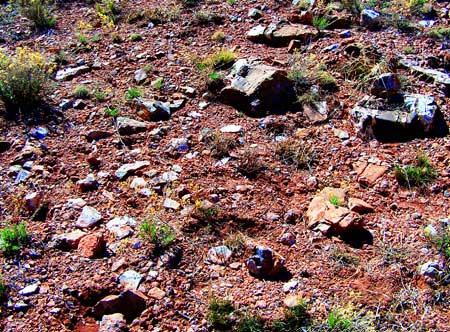 Perkinsville agate field. You can see the blues and the reds. Notice the purple specimen Hoolie placed on the flat rock (upper right).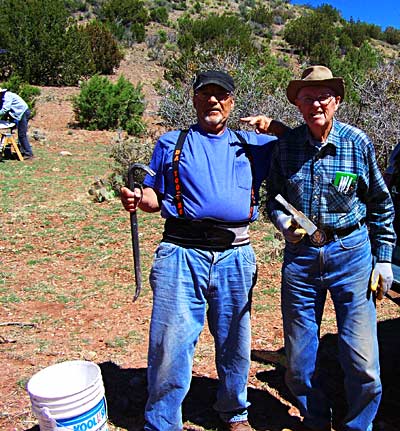 Here's Hoolie and Harry heading out in search of banded Magnetite and Jasper.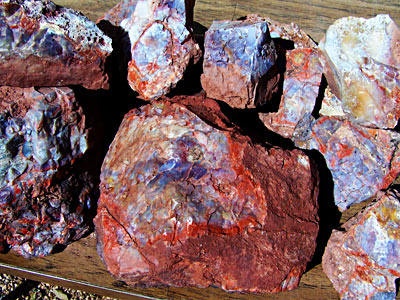 Check out the yellows, purples, reds and cream colors in this Perkinsville agate.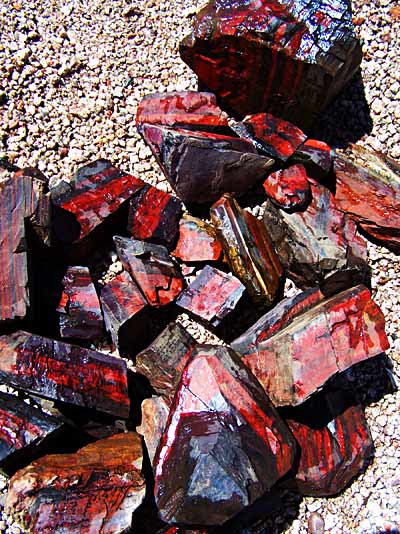 Here's some of the Banded Magnetite Jasper specimens Hoolie dug up (damn near broke his back dragging this up the hill).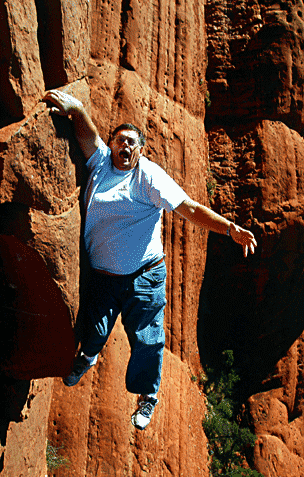 Here's Hoolie's pal John Thomas. John is originally from Negaunee but has been living in Arizona for years. Hoolie hooks up with John whenever he's down there for some
rock-pickin' fun.
During this adventure, Hoolie and John where standing at the edge of a canyon and enjoying the view, when Hoolie said, "I'm sure enjoying hanging with you ole' pal."
Hoolie then gave John a manly pat on the back, resulting in John going over the side.
Hoolie yelled, "You didn't drop my expensive, trusty Estwing rock-pick I hope, did you?" John yelled back, "Who the hell cares, get a rope and get me outta here!"
Hoolie ran back a half a mile to the truck and grabbed his camera to snap this exciting pic. John said, "hurry up, eh! Get on da ledge above me and throw me da rope!" Hoolie told John he'd be right back 'cause he remembered the camera but forgot the rope.. True story!

Hoolie's dream come true, rock
picking in March
Somewhere northeast of Phoenix, Arizona


Norm and Hoolie's brother-in-law Dave had to stop every ten feet for a ciggy-treat,
rock picking in March


Norm, Hoolie and Dave in front of
Norm's land yacht
Phoenix, Arizona


Hoolie and Dave stop at an old west saloon. Hoolie went up to the bar, slammed down
his fist and yelled,
"I needs somethin' strong to
quench my thirst!"

Hoolie and I (Bellmore) on the way to Arizona in January 2002. Here we are in the town of "Crazy Women," Kansas City, Kansas
(Wow, a McDonalds!)

Here we are in Amarrillo, Texas, where they're "Bucking at the County Fair,"
(My how convenient, another McDonalds!)

Here we are in the beautiful city of
Albuquerque, New Mexico
(Culture, culture, culture!)

On the road to Sedona
Beautiful Red Rock in
Coconino National Forest, Arizona

(Above photo) Somewhere in Arizona using a cactus to scratch my sphincter.
(Left photo) Behind me is
Montezuma Castle National Monument, Arizona